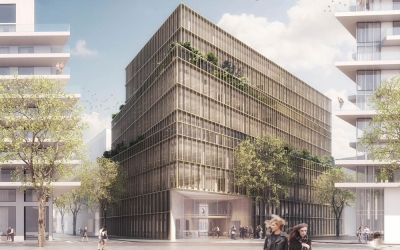 Project: Kaufman & Broad Office Building Winning Proposal
Designed by Studioninedots with Atelier 115 Architectes
Site Developer: SEAM
Construction: Groupe Verdi ingénierie Nord
Clients: Kaufman & Broad
Site: 1696 m2
Location: Boulogne-Billancourt, Paris, France
Website: www.studioninedots.nl
Dutch practice Studioninedots collaborates with Atelier 115 Architectes on the design of the winning proposal for the building of Kaufman & Broad Office.
From the Architects:
The buildingsite is located on the former Renault plant along the Seine in Paris. Situated right at the new park with great views on the Seine.
We were asked to make an office building on a plot which wasn't ideal for officespace. The building was to be perceived as a single clear volume. A front-row building at the park which connects to it's surroundings.
We divided the volume horizontally according to the plotrules and the direct urban fabric and created setbacks for terraces.
The entrance is orientated on the park and connected with the public space and inner court.
The volume scales down to the size of the housing developments but still acts as a clear iconic volume.
The paradox of the site is the fact that Lot Ya directly facing the park Billancourt is the sunniest part. How to design a façade using maximum view to the park and at the same time blocks the direct radiation?
Using vertical blades we expand the view to the park Billancourt and the Seine and at the same time the direct sunlight is blocked. The facade is closing down in rhythm to the top blocking the sun.