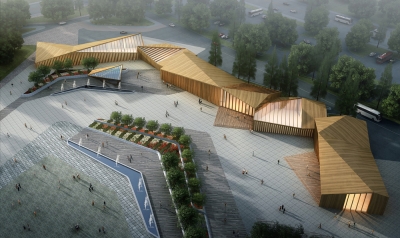 Project: 8th China Flower Expo Information Center
Designed by Lab Architecture Studio
Design Team: Donald L bates , Andy Wang, Chris Y.H. Chan, Shayne Lacy, Irene Yang, Hiker Gong, Ada Ou
Location: Wujin, Changzhou, China
Website: www.labarchitecture.com
Lab Architecture Studio delivers a project for the 8th China Flower Expo Information Center, shaped for a location in Wujin. Discover more of the design after the jump:
From the Architects:
The massing is primitive and only reflects the internal function without any intuition. As the first building appears in front of the visitors in the flower expo park, this information centre is designed to be a simple but modern hut, strengthening the landscape and activation of the building as well as enhancing the wisdom of architectures within Yangtze river region.
The form of the centre has well integrated with the public plaza and created a good circulation system. The vegetation landscape and public furniture on the plaza are leading the visitors to the quiet rest area along the lake from the busy information centre.
Source ArchDaily. *