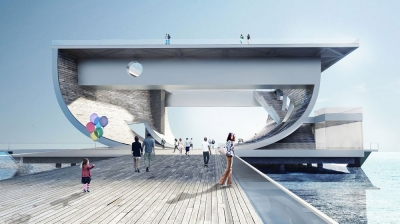 Project: Faliro Pier – U-Topos
Designed by Ksestudio
Project Team: Kyriakos Kyriakou, Sofia Krimizi, Costandis Kizis, Afrodite Lyroudia, Margarita Malliri, Jennifer Endozo, Yubi Park
Structural Engineer: Phaedon Karydakis
MEP Engineer: Christos Zomboloas
Location: Athens, Greece
Website: ksestudio.org
Faliro Pier – U-Topos design created for a location in Athens is work of Ksestudio. Find more after the jump:
From the Architects:
U-Topos proposes a constructed "place", a new "Land-" and a new "-mark". Located at the extension of a major street, towards the water, the site is the last- or the first- plaza of the city and is charged with the potential to carry fragments of the Athenian urbanity into the sea.
In an attempt to optimize climatic conditions, views and generate events, while developing an iconic identity U-topos bends the given square platform to a "U" shape, a shell, an empty vessel, that frames the view towards the city and the sea, while signifying a gate, as small boats are allowed to park at the perimeter of the platform. The form itself resembles a boat, referring to the adjacent port and the navy yards. The perimeter corridor of the platform is elevated to the top of the shell, creating a flying ring that ties the structure and performs as an observation deck, while weaving with the shell to create an outdoor exhibition space.
The shell deriving from the hybrid form of a ship and a theater can host a variety of events. Sitting area is developed on one side of the curve, facing a large cut that serves as a stage while unifying the interior of the shell with the horizontal surface of the platform. The main stair squeezed under the underbelly of the shell closer to the water, violently dissects its surface towards the top to offer a diagonal cross-section experience throughout the event spaces, while being wide enough to serve as seating area. An enclosed exhibition / recreation space is placed at the west side of the platform, next to the shell and partially under the stair to host the necessary indoor functions with a view to the sunset over Piraeus. It's roof performs both as a foyer and a sitting area for the event space inside the shell.
The direct juxtaposition, superimposition and mix of eclectic architectural elements, produces an array of hybrid spaces that can take up many interpretations, as they are not assigned a straightforward character and function. In that sense U-Topos can simultaneously be a plaza, a stage, a frame and a spectacle, but never just one of the above.