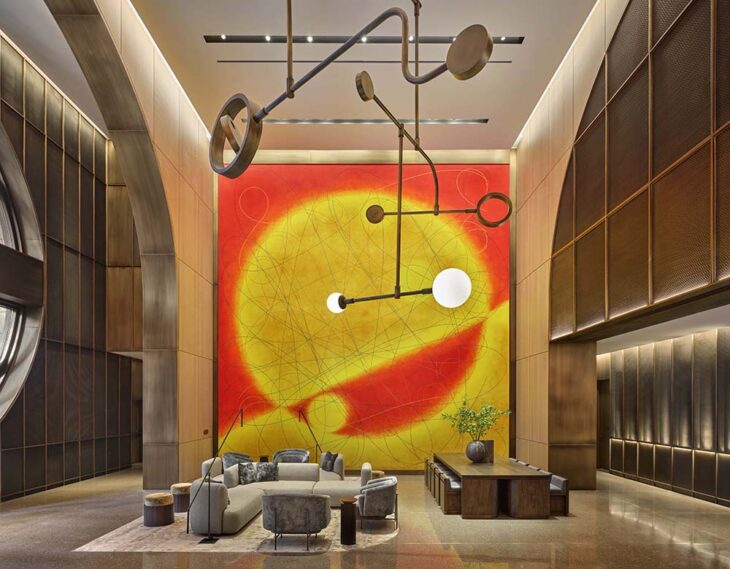 Rockwell Group has just unveiled 550 Madison Avenue, a New York office environment recently renovated by Snøhetta. 550 Madison Avenue is a well-known architectural landmark in New York City, a contemporary jewel distinguished by its "Chippendale" curving roof pediment and streamlined facade. Philip Johnson and partner John Burgee designed and built the 37-story high-rise in 1984. The club level facilities were created by Rockwell Group as part of Snøhetta's overall restoration of the office building.
550 Madison provides premium facilities to establish a new paradigm for the working and how many of us smoothly transition between work, play, and relaxation. Just as our daily lives change hour by hour, day by day, so do our amenities at 550 Madison, from transformational meeting spaces that seamlessly transition into entertainment spaces (at both the architectural and furniture scale), to elevated food options and wellness offerings that go beyond a fitness center to create holistic lifestyle support. Rockwell's design refers to and respects the building's heritage while also looking forward with a harmonious combination of technology and offers that expands what an office building may represent to today's business.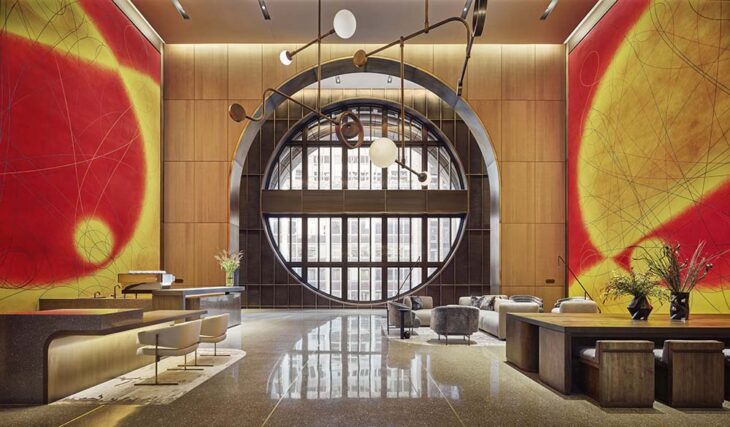 Grand Hall
The magnificent Grand Hall is a sunny meeting place located on the Club Level, one level above the main lobby and framed by 550's original rose-window oculus. Dorothea Rockburne paintings "Northern Sky" and "Southern Sky" (part of a 1990s makeover) are placed against bleached European walnut millwork wall panels. The Club Level features artwork by an international collection of 14 female artists.
Rockwell Group designed a bespoke chandelier with a diameter of around 25 feet made of opal glass and vintage brass.
The centerpiece is a large, interconnecting wood table that may be used for community meals, chef's tables, stylish bars, or buffets at night as well as for cooperation during the day. Other components, such as a tambour newspaper cabinet that shutters in the evening and a bespoke espresso bar that changes into a wine bar with a revolving counter, also contribute to the dayparting. Additional features include carpeting that is handwoven and inlaid, modular couches, luxurious ottomans, Modernist lounge chairs, and sculptural side tables, all designed by David Rockwell for The Rug Company.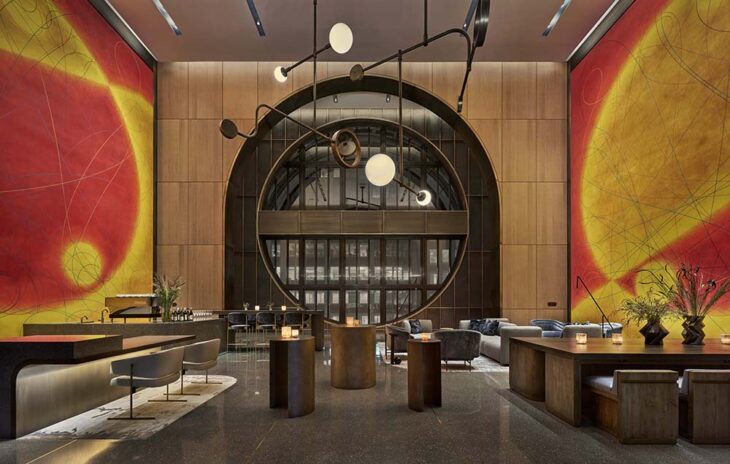 Four conference rooms that may be merged in different ways or used as one big space surround this dining, working, and lounge area. Modern technology is fully hidden, allowing visitors to use the spaces for optimal office productivity while retaining a luxurious home atmosphere. Under a ceiling made of light European walnut wood, constellation-like lighting fixtures made of antique brass and pressed glass are set. The spaces are separated by a row of fluted wood walls, and the ceiling is made of a reflective woven metal mesh. With the addition of brass and bleached walnut shelves, metal mesh, and fluted glass sconces, bronze metal treatments are employed throughout.
The cozy café with a seasonal menu of hot dishes and sweets offers a casual bistro atmosphere. In contrast to the lounge, the end grain woodblock floor offers a gentler environment. A canopy made of warm European walnut wood dematerializes the ceiling and adds a layer of design and texture. An antique brass-finished scalloped metal mesh wall adds to the room's opulent materiality and offers some transparency. Sage banquettes are contrasted with further bronze elements and mesh sconce lighting. The counters are anchored by substantial stone slabs that are held up by aged brass rods.
The Library
With its relaxing sitting choices, scalloped wood walls with carved metal niches for display, and carefully chosen art collection, The Library offers a change from the typical office setting. A bespoke drink cabinet wrapped in ribbed glass that offers refreshment alternatives around-the-clock welcomes guests. The room is defined by walnut woodwork, and a blue area rug adds rich detail. Leather sitting nooks, softened by patterned cushions, and lounge chairs are illuminated by turned wooden wall sconces.
A handcrafted 10-foot-long black walnut community table is illuminated by sculptural glass and metal pendants above, while peacock-colored velvet seats provide a textural contrast.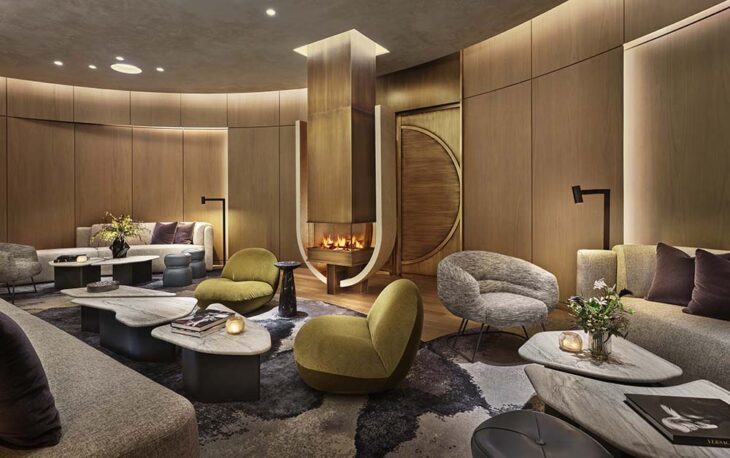 Hearth Room
The centerpiece of the Hearth Room, a totally unique and personalized product in the office setting, is a sculptural stone and bronze fireplace that visitors could find in a posh urban apartment. The space has walnut millwork panels, wood flooring, stone side tables, leather poufs, angular beige couches, circular interlocking area rugs, cocoon lounge chairs, and stone slab coffee tables. It also has leather poufs.
Screening Room
The Screening Room is designed to host meetings, presentations, and entertainment. A tranquil, adaptable setting is created by the custom cast glass coffee tables, walnut millwork wall panels, leather and woven fabric lounge chairs, watercolor-patterned area rugs in deep gem tones, and textured velvet cushions.
Pool Room
A minibar is placed behind a tambour panel in the Pool Room, and alabaster pendant lights add a romantic feel. With dining chairs that nest beneath it to produce a fluted sculptural form, a billiard table with a bespoke bronze base may be converted into a functional dining table. A wood eating top for private dining and conference purposes can also fit on the pool table.
Fitness Center
This holistic wellness facility offers meeting spaces, yoga, meditation, retreats, spa treatments, acupuncture, massage, and dietary assistance. In order to create a warm and lively palette, we employed lighting as a prominent material and integrated it with the building. A grid of pendant lights suspended from the ceiling is reflected by mirror-paneled columns, giving the space a contemporary, geometric vibe. Scalloped paneling surrounds the exterior of the main space, which is illuminated from below.
Private shower rooms with custom locker rooms are concealed behind opaque glass walls. Circular mirrors on vanities are inspired by the oculus design feature found in 550 Madison. Health consultations, massages, and acupuncture may all be scheduled in a treatment room.
Six digital canvases in the conference room, elevator lobby, and fitness facility at 550 Madison were conceptualized and produced by The LAB at Rockwell Group. Real-time art memorializes and celebrates life within and around the building by abstracting and mirroring architectural elements as well as the adjacent Snøhetta-designed garden and its vegetation on these surfaces when they are not otherwise in use.
The architectural perspectives incorporate geometric patterning, window details, interior and external finishes, including fluted glass and marble, all of which were influenced by the architecture of the old structure. The garden views are a collection of dynamic digital windows that offer a glimpse into a multidimensional garden setting with both natural and artificial features arranged in a styled tessellation.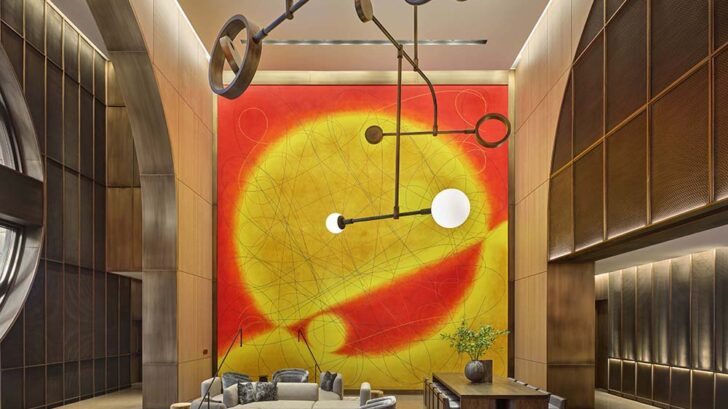 550 Madison
Project Type: Office Tower
Location: 550 Madison, New York, NY
Client: Olayan Group and RXR
Size: Amenities total >30,000 SF
Opening Date: Fall 2022
Services Provided: Architectural Design, Interior Design, Custom Furniture and Fixture Design
Find more projects by Rockwell Group: www.rockwellgroup.com