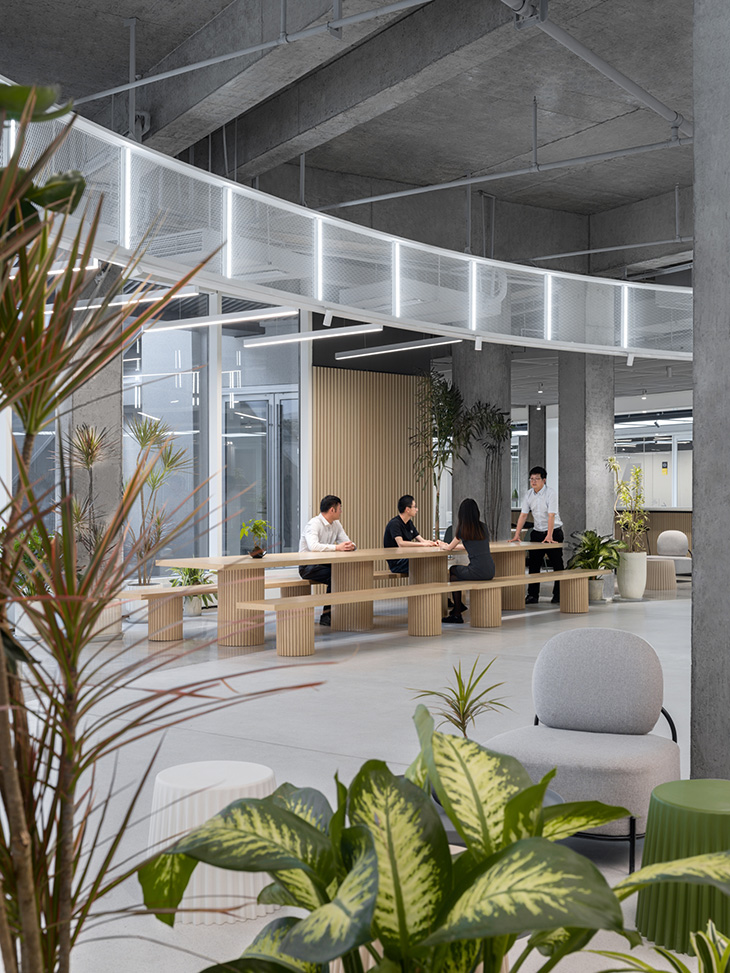 Superimpose Architecture team shares with us images of their latest project finalized little over a month ago in Hangzhou, China. The Superimpose team had a task of transforming an underground shopping arcade with no daylight into a welcoming conference center.
The client was looking for a space redesign ready to appeal to younger generations and businesses. "The Arcade" faced the most difficult problems of them all, no daylight. The features of the traditional European shopping arcade inspired the designers to shape the space. The architects brought in two long floating acrylic ceiling boxes to mimic the much needed skylight. The skylight design by Superimpose Architecture draws from the signature design of a shopping arcade, where the skylight in the middle was the only source of light for the storefronts.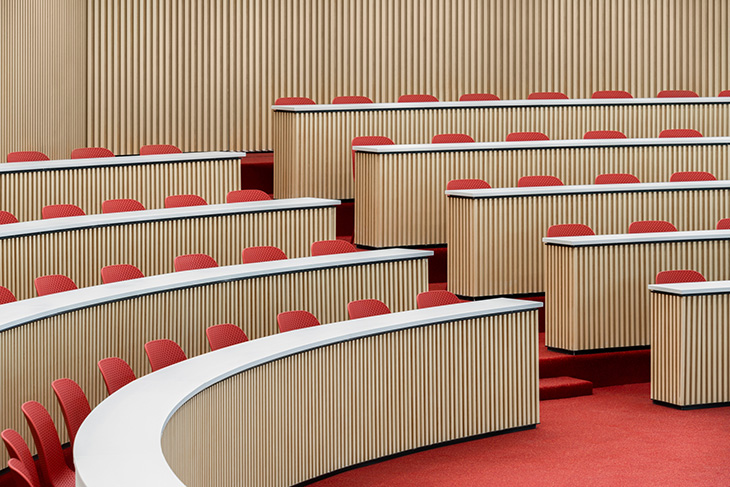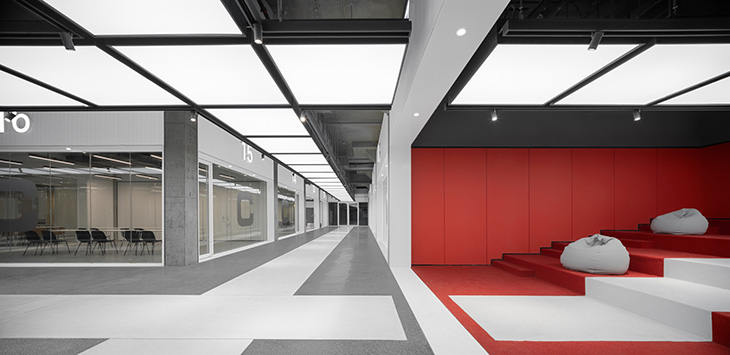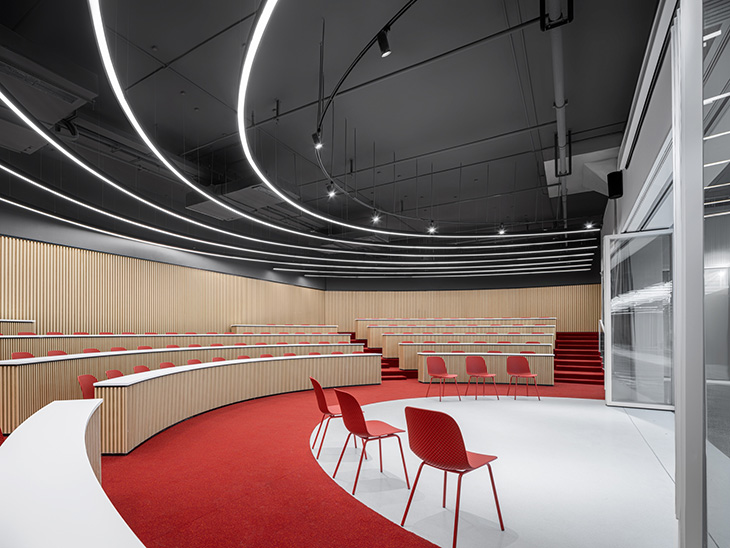 "Each conference room has a distinct spatial concept and character, which is achieved through color selection, light fixtures or materialization. The seating in the large auditorium is organized in a semi-circle that runs the entire length of the space to create a forum-like setting. Linear light boxes follow the seating arrangement and provide character to the space. Wooden louvers and red carpet help to improve acoustics and provide a warm atmosphere in the auditorium," shares the Superimpose Architecture team in their notes.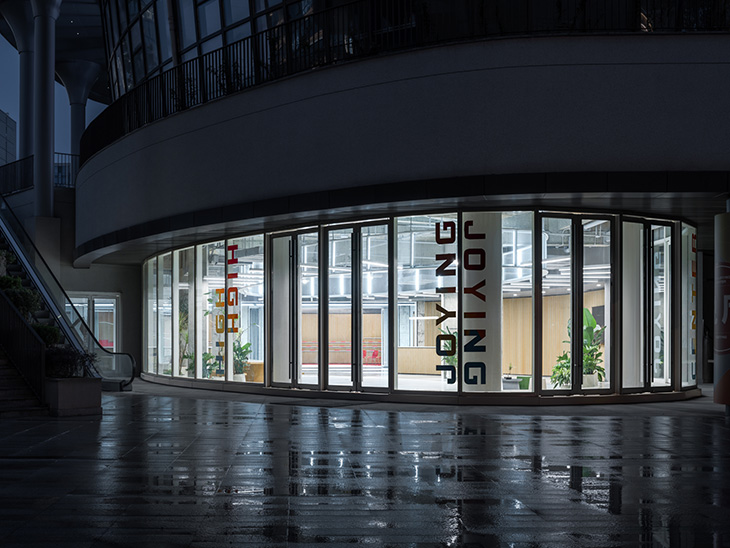 To create a welcoming space the entrance area is transformed with a sentiment of a living room in mind. The space holds a cafe and a lounge section, shaped with a green welcoming environment in mind. The space will allow visitors of the conference center to relax between meetings, appointments and conference lectures.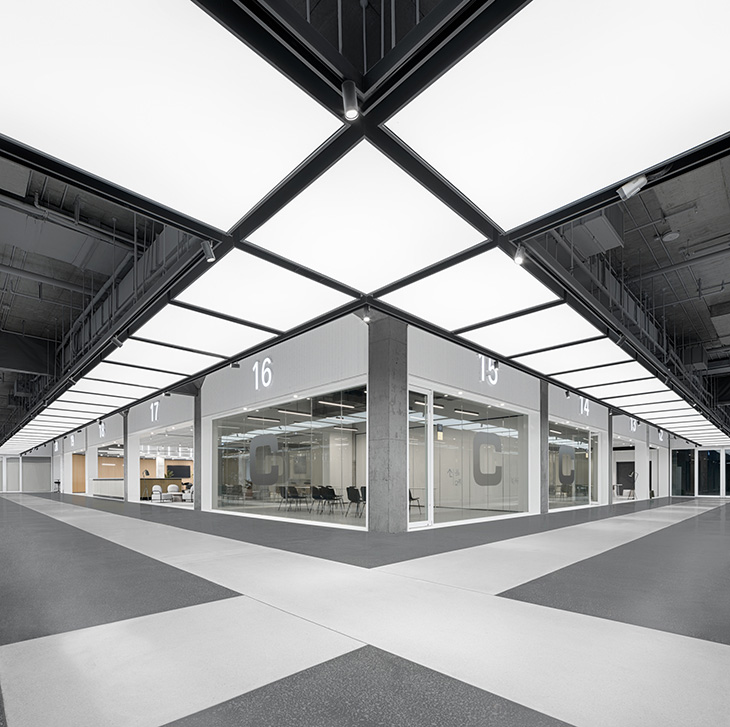 The design makes the best of the project's basement position, with architects turning these disadvantages into inspiration while shaping the contemporary looking space. Discover more of the Hangzhou Conference Center transformation in our gallery.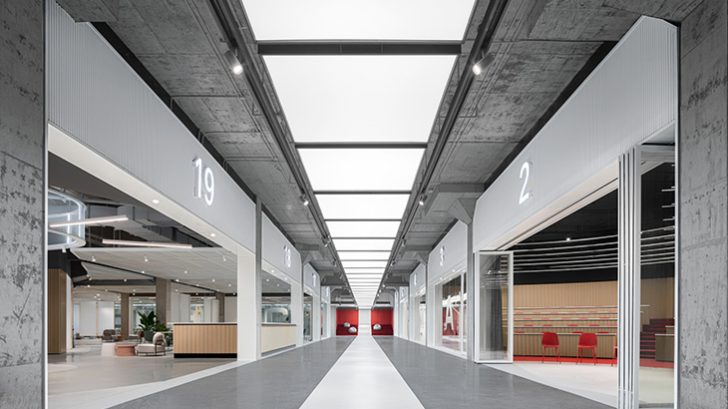 Project Name: The Arcade
Client: Hangzhou Haiyue Real Estate Co., Ltd.|
Location: Hangzhou,China
Function: Conference center
Scope: Interior Design
Design Company: Superimpose Architecture – superimposearchitecture.com
Directors: Carolyn Leung, Ben de Lange, Ruben Bergambagt
DesignTeam: Carolyn Leung, Ben de Lange, Ruben Bergambagt, Ana Raluca Timisescu, Yunqiao Du, JunweiLoh, ValeryiaMazurkevich, Shuyang Li, Michal Marcinkowski, Rafaela Agapito, Jay Peng Shijie, Xiaoyu Xu
Size: Phase 1 – 2,600 m²
DesignCompletion: 2021.01 – 2022.06
Photographs: Wu Qingshan
Architectural Drawings