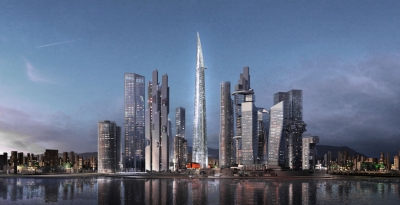 Project: Landmark Tower – Yongsan International Business District
Designed by Renzo Piano Building Workshop
Location: Seoul, South Korea
Website: www.rpbw.com
One of the latest projects to shape the massive Yongsan International Business District is the appropriately named Landmark Tower designed by Renzo Piano Building Workshop. Building will reach the height of 620 meters, dominating the skyline among twenty towers to rise in the district.
About the Project:
The new business district will boast twenty 'iconic' buildings in its centre, anchored by a towering 620m spire by Renzo Piano Building Workshop entitled the Landmark Tower. The glittering beacon starts life with a 76m diameter footprint and rises to a tiny 22m-wide splinter at the apex, high in the clouds. If the building was completed today it would be the second tallest structure in the world after the Burj Khalifa in Dubai and its height has meant some complex design features.
Two pairs of twin tubes rise up through the form, spiralling in opposite directions to strengthen the building against strong winds and potential seismic shudders. This external double-helix bracing will act as strengthening latticework and create a recognisable aesthetic for the Landmark Tower.
Arup is working on eight of the twenty main towers in the Yongsan International Business District, providing advice on everything from acoustics to electrics and façade engineering to sustainability. Alistair Guthrie, Director at Arup, explains: "The Dreamhub Consortium has huge ambitions for this development at the heart of Seoul and this is very much reflected in the scale and stature of the buildings we are working on at Arup.
"We've been supporting the client on this project for some time now and it is very exciting to see it come to fruition on the Landmark Tower and the other truly amazing designs." Arup designed the original masterplan for the project with Studio Daniel Libeskind.
Source WorldArchitectureNews. *