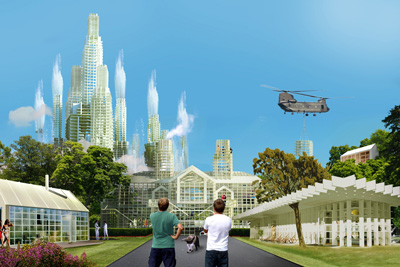 Project: "Spröjs Series"
Designed by Visiondivision
Location: Sweden
Website: www.visiondivision.com
Visiondivision shares with us their showstopping Spröjs Series concept exploring the use of their design in a variety of options. Discover more of their design after the jump: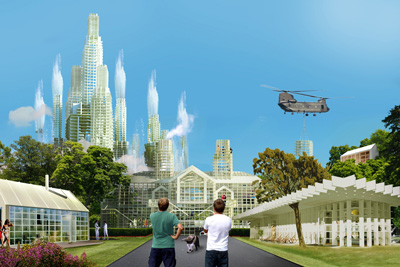 From the Architects:
Spröjs Shed. Spröjs Shed is designed with an area of 15m2 to provide an extension alternative to existing summerhouses in Sweden without needing a building permit. The house has a Swedish look that can be incorporated to most Swedish summer houses without standing out too much, still looking great by its own and still having a modern inside that covers many needs.
The small shed is designed to host many different functions depending on what extension is needed for that particular summer living. The size of the Spröjs Shed enables a decent guest house with a WC and kitchenette in various combinations depending on particular needs. The size of the house is also perfect for a sauna with relaxing possibilities. This small size house can also be adapted to more specific needs with great variety with the help of the Spröjs System. The mullions offers just as in the original "Spröjs House" functions as storage, cooking, workplaces and even seats in the Sauna version or whatever is needed for this small summer house.
Spröjs Cabin. Spröjs Cabin is a small 40 m2 summer house with a 20 m2 loft to host a normal family of a couple with two to three kids. Although it is fairly small the house includes a kitchen, a living room, a medium sized bathroom and an extra room plus a sleeping loft. The small size and the simple design of the house make it very easy to fit into almost any Scandinavian environment. The interior is however light and modern and very functional to serve the custom-made needs for any particular client.
The long mullion/shelf system along the main façade gives a light environment still packed with functions such as a wardrobe and changing bench in the hall, a kitchen table and storage space in the kitchen and a workspace, TV space and shelves in the living room. The extra room can either be used as a bedroom or as a workspace depending on the need. The loft can either be full-length enabling four beds or of half length giving only two beds but an extra height in the living room. Since the house is designed after a modular system, various changes can be made upon request. Both long facades can for example be mullion facades and the house can easily be shortened or lengthened after demand. And since it is part of the Spröjs Series perhaps a Spröjs Shed can be added later if an extra space is needed.
Spröjs Villa. The Spröjs Villa is a modern style summer house for people with high architectonical taste. The building is based on the Spröjs modular system and can grow in length to any size requested. The house could be just 30 m2, being a small pavilion, to being a slick 200 m2 villa. The house modular system is on every façade as well as the roof. In its original design the spröjs serves as beds, kitchen tables, sofas as well as bath tubs or pretty much any use that can be fitted into the Spröjs grid. The house slim floor plan does so that you will never be more than two meters from the outside and its open facades creates a house that always are in close contact with the outside just as a summer villa should be.
The roof is hovering around the building, letting the low winter light or sunset coming in, still protecting the house from overheating form the midday sun. The modular system also allows opening in the grid for lanterns or for trees to grow through the grid.
The house lean floor plan and slim construction gives the house a very refined look that fits in any part of the world and its program can change easily for any use. Visiondivision promise that this is the best and most refined summer villa system known in the world today.
Spröjs Mansion. Spröjs Mansion is a house for someone with a go for gold attitude. The house includes all good-life functions a person with assets and taste could beg for. The cellar contains a double garage connected to a wine cellar with an under water pool view. The first floor contains a spatial kitchen, living room and the main hall with double ceiling height if wanted. Two smaller outcrops on this floor contains on the kitchen side an orangery so the household always have fresh vegetables and fruits, and a relax room with sauna on the living room side.
The second floor holds two master bedrooms with connection to the pool via a trampoline and private balconies. The third floor resides a loft for guests or other use. The floor has a glass roof which is perfect for visitor's lying in bed watching the sky or for an atelier space. Two towers penetrate the building; one is a chimney and the other one has a small view point where late drinks can be enjoyed.
The house has the form of a classic mansion but with a façade and program made for a fun and free life. The house contains several three dimensional movements with both stairs on the inside and outside of the house as well as ladders and diving-boards on the façade connecting the different levels of the house. To protect from overheating, the position of the glass panes varies in depth in the mullion and can be adapted to the specific site.
Spröjs Castle. Spröjs Castle is the residence of choice for an opulent lifestyle where you can combine different modular towers into your very own magnum opus or chose from a premade composition that comes with the promise of excellence.
There are various layout possibilities of your castle that all have different advantages.
If you want to work with a small amount of towers but still want to achieve an impressive façade, build a long series of towers along an axis. This will work excellent if you approach the house from only one main direction, say with a lavish park in front of it.
If your house are seen from many directions and have many entry points, then why not go for a more compact look, where the verticality is the most significant visual tool.
If you invest in a great number of towers you can almost get a small Manhattan of your own.
Outclass your neighbour and become the talk of the town.
We have created a broad selection of towers; all with different floor plan sizes to suit your specific needs.
The smaller towers are perfect for the maid or the guests of the guests.
These have stairs or can be combined with smaller towers with a shared elevator between them.
As the scale of the towers increases, so does the comfort and the specific installations.
The spröjs have different characters depending on the tower size, from following the original dimensions seen on previous houses to becoming small rooms themselves and even greater rooms where your friends can move and put their old houses in.
One of the larger towers is exclusively a tower meant to show off for your friends, which will increase dramatically in numbers once you own a Spröjs Castle.
A central, large elevator will slowly ascend through the different levels that are filled with awe; a shark aquarium for example, a statue collection, a private concert or maybe an exquisite library filled with rare and exclusive content.
Another big tower is the master bedroom tower that takes the art of sleeping to another level.
Thirty stacked bedroom levels, all furnished differently to avoid boredom.
There are also towers that have thirty stacked living rooms with different themes or thirty stacked toilets with different preferences.
You chose the limits for your excess, if you want thirty more toilets, just buy another tower.
Collect great things from all over the world, regardless of the size, have them flown over to one of your many helicopter pads. This is not just any home; this is a majestic mark that will outshine every private house on the market, you will simply know that you're on top of the world and your lineage is forever secured, because once you own a Spröjs Castle, nothing else matters.
Collect friends and family in your house, invite friends of friends and their friends, there is room for everybody, create your own tower of Babel or Xanadu and reach for a heroic foot print in the history of mankind.