Designer Keiji Takeuchi designed the new Living Divani 2018 collection revealing the international soul of the brand, engaged in a restless search for new talents, ideas and suggestions that knows no geographical boundaries, but favours affinities, influences and creative combinations. Take a look at the complete story after the jump.
Perfectly embodies the Living Divani cosmopolitan style Keiji Takeuchi, a designer born in Japan, who grew up in New Zealand, with a studio in Milan. The experience gained over the years alongside Naoto Fukasawa emerges in the two unreleased pieces for Living Divani, the Clivio daybed and the Kiwi coffee tables, that present a simple design, in line with the visual harmony and symbolism typical the Japanese culture.
Clivio Daybed
The new Clivio daybed is summarized in a line that unfolds to shape its profile, supported by a steel rod structure that ties to the ground. Essential object that becomes a versatile project, from a daybed to a bench, offering multiple ways of use, alone or in a group.
Dimensions: cm.190x80x53.
Finishing: Tubular steel base lacquered with epoxy powder coating gunmetal grey colour. Fabric or leather upholstery, both fully removable by zippers.
Kiwi
Kiwi coffee table is a daily furniture with a primordial shape, that reveals the attention to detail, the delicacy and the poetic nature of small things in the surface of the table top, as in the interweaving of the legs in tubular steel, which recalls the structure motif of the daybed.
Dimensions.: cm. Ø39 x h.45, cm Ø43 h.35.
Finishing: Top in lacquered matt black or veneered in charcoal dyed oak or Stone Oak®. Available also in countered marble, in the finish in white carrara, black marquinia, red levanto or sahara noir. Base made of two curved steel tubular, finished with epoxy powder coating gunmetal grey.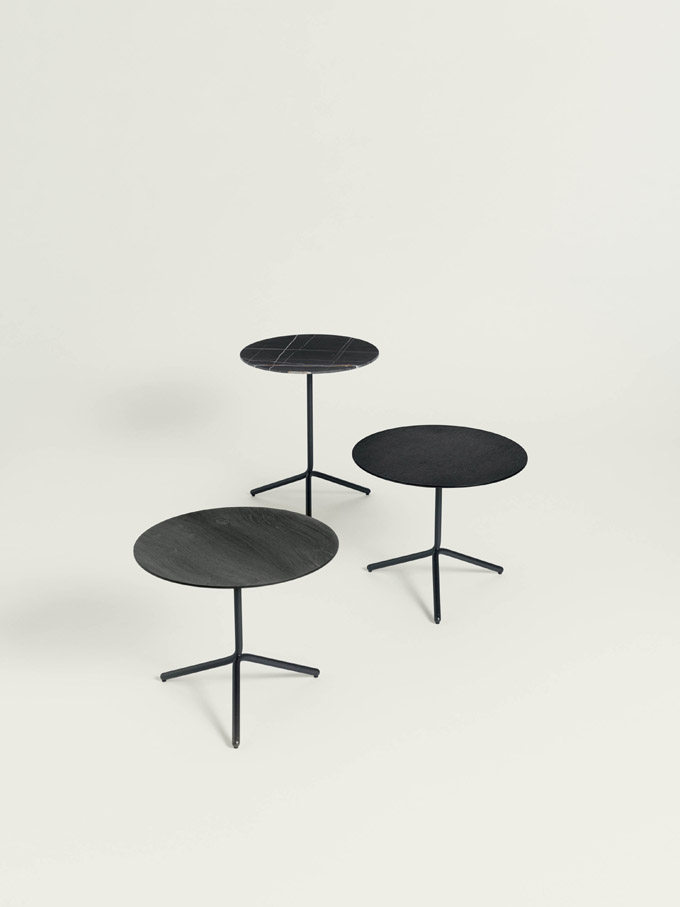 Find more information on livingdivani.it