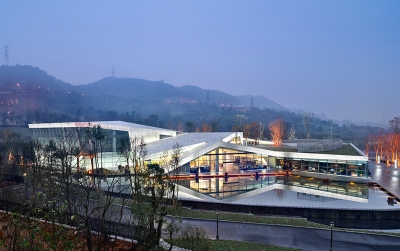 Project: Forte Nanshan
Designed by SPARK
Location:
Chongqing,
China
SPARK has design the impressive Forte Nanshan for the Chinese city of Chongqing, see more of the massive clubhouse after the jump:
From the Architects:
The project consists of a 5420m2 showroom cum clubhouse, a 12000m2 hotel and 13000m2 retail street plus the adjacent landscaping. Together they form the center of a larger luxury villa master plan of Forte in the outskirts of Chongqing. Starting the first sketch in February 2011, the exterior of showroom/clubhouse building was completed as the first phase in late October of the same year. The design was aiming to emphasize the progression from the entrance to the site on top of a hill down to its base. Instead of flattening the landscape, there are multiple ground levels and points of entry to the buildings. The clubhouse was formally conceived as a continuous loop, folding up and down to create the different and intricate spaces inside, which include the sales/showroom, offices, small retail spaces, a pool, gym rooms, a restaurant and a café.