International interior design studio Jolie have recently completed their latest interior design project for Manchester's striking new Japanese Izakaya and cocktail bar, Kitten. The designers aimed to create a trans-continental journey through their evocative designs. Discover more after the jump.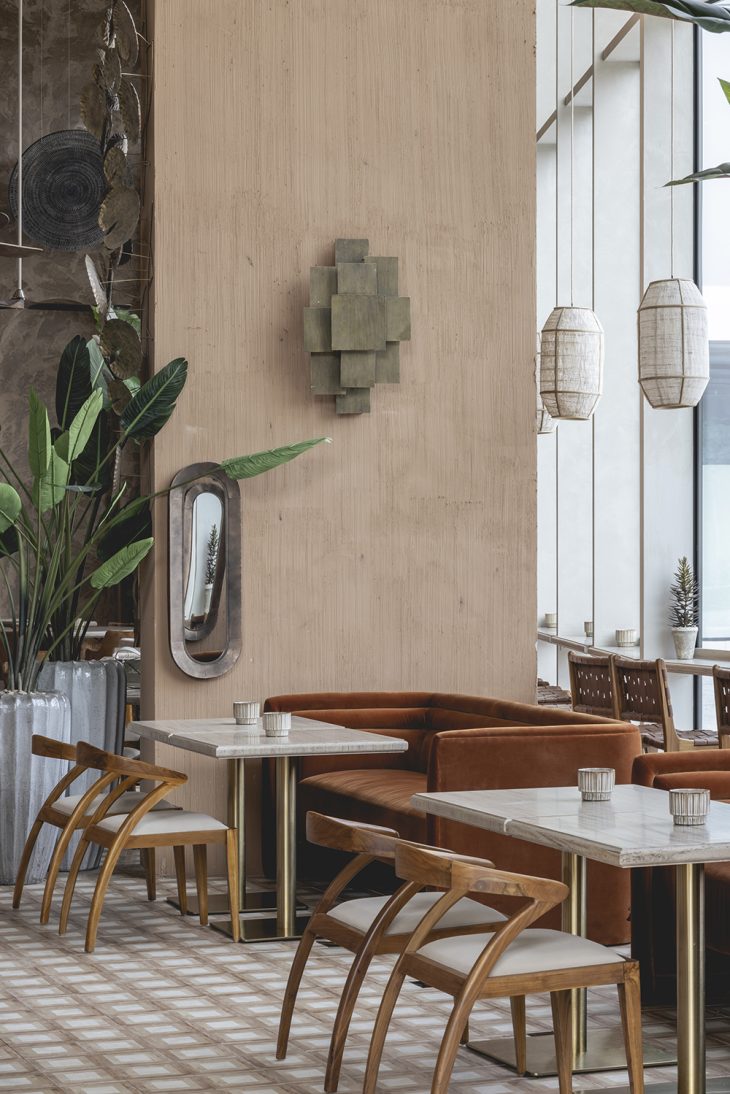 From the architects: Located within the burgeoning new Deansgate Square district on the southern edge of the city centre, Jolie has created a fantastical space that exudes the sophistication and elegance of comparable restaurants in London, New York and the United Arab Emirates. Appealing to an affluent millennial-mindset clientele known for prioritising experience over possessions, the design studio has eschewed a purely aesthetics driven approach and have instead utilised sensory zoning by considering the feel, fragrance and soundtrack for each internal area, to enhance the customer journey throughout the space, from morning to night.
Unique within the commercial interior design industry, Jolie is committed to creating community spaces that puts 'sensory-balanced' design at the heart of everything they do, collaborating with
neuroscientists in each sensory field to carefully source and combine materials and fragrances to craft each environment from the inside out. This signature approach to the design process helps ensure the longevity of their work, by creating socially sustainable and adaptable spaces that encourag interaction and connection, thus meeting the needs of their clients both now and into the future.
"For us, social sustainability comes down to the idea of building lasting communities that nourish people and the planet, and nurturing spaces that improve collaboration, connection, and wellbeing," says Founder and CEO Franky Rousell. "When we design spaces such as Kitten we not only incorporate sustainable practices and elements, but take it a step further by influencing behaviours that promote a socially and environmentally sustainable future landscape. We want to lead with authenticity in our developments, weaving responsible choices into every decision, stage, and feature."
In a post-pandemic era where experiential travel is highly desired but not always attainable, the transformative nature of wanderlust became a key component of Jolie's design approach to Kitten. The studio wanted to infuse the space with a sense of culture and destination-driven dining without drawing upon tired clichés and caricatured design. Instead they adopted a quintessentially Japanese approach by crafting a holistic and sensual environment that feels both fresh and contemporary, yet culturally ambiguous – and therefore easily adaptable long into the future. The towering 5 metre Bonsai tree and bamboo-clad back wall of the front lounge area offer the only direct material nods to the restaurant's current cuisine.
Echoing the splendour of the 200 metre-high skyscraper in which it sits, the cavernous interior of Kitten inspires awe and wonder from the moment guests step through the triple height entryway. Huge archways on the wall behind the central bar offer a cathedral-like "higher power" experience, clad in a neutral tone marble that exudes a sense of prestige and wealth and forms an impressive backdrop to the bar where the crafting of sushi and cocktails – aka 'the magic' – happens.
"The food and cocktail offering of Kitten is really innovative," says Rousell, "and we really wanted to
draw people's attention to that. We've then softened this sense of grandeur in other areas by using a more natural and down-to-earth palette, particularly at the rear of the restaurant where we want people to linger, so that the experience is all about a shared coming together over food. For example, we've maintained the same archway silhouettes for visual continuity, but with a plaster finish that makes the space feel more grounded and comfortable. The use of leather upholstery is reassuring and gentle, like the human touch, while the plush velvet of the armchairs has been incorporated to promote open and meaningful conversation."
"We've been quite clever with how we want people to behave throughout the different internal spaces by changing up that materiality," says Rousell, "and, in turn, softening that feeling of initial impressiveness as you walk through into comfort by introducing plenty of wood tones, which is psychologically one of the most reassuring materials because of its inherent connection to nature."
A scent profile of amber (calming), incense (inspiring) and patchouli (uplifting) has been devised by Jolie for use throughout the interior to help unify each of the internal areas, while a soundtrack of Tropical Bird Club and Japanese Tech has been compiled to showcase the cultural narrative of the restaurant's food and drink offering.
Project: Kitten
Client: Kitten Restaurant – kittenrestaurant.com
Interior Design: Jolie – www.joliestudio.co.uk
Size: 270sqm / 56 covers
Location: 9 Deansgate, Owen St, Manchester M15 4YB
Year: 2022
Photography: Billy Bolton