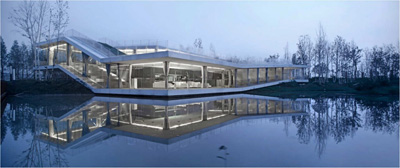 Project: Riverside Clubhouse
Designed by TAO (Trace Architecture Office)
Design Team: HUA Li, Zhang Feng
Client: Zhongti Corp.
Floor Area: 500 sqm
Location: Yancheng, Jiangsu, China
Website: www.t-a-o.cn
Constructed alongside a river in Yancheng Riverside Clubhouse is work of Trace Architecture Office, view more of the project after the jump:
From the Architects:
The Clubhouse is located on the north side of a small river, surround by a park and sports field. The design concept takes Farnsworth House of Mies as a prototype and creates a new form through a series of action: stretch, loop, and fold. These actions lead to following results: smaller building depth with better views, an introverted courtyard space offering more privacy, getting closer to water and accessible roof as part of artificial landscape.
The transparency dematerializes the building and creates a continuous flowing spatial experience interacting with natural elements such us river and bamboos. Since the site has a strong horizontal feature and there is a two meters level change between river and site, a linear and folded form fits with natural landscape.
The foundation of site is soft soil, so we conceive the building to be supported by columns sitting on pile foundation and float above the ground freely. The floor thickness and columns are made to their minimum dimensions to emphasize the "light" character of architecture and feeling of floating. The low iron glass, white aluminum panel, travertine floor, precast concrete panel and translucent glass partition are used to create the pure and abstract atmosphere.
Source ArchDaily. *