Dana Shaked designed this new stunning clothing store located in Azur, Israel. Take a look at the complete story after the jump.
From the architects: The "Top Model Collection" clothing store offers a wide range of clothing and accessories for women and children. On top of that they feature tanning rooms and an in-house seamstress for altering swimsuits and dresses.
The store is located in Azur and is the second branch of the successful chain.
As befits the glamorous clothing, the store transmits luxury and incorporates quite a few items made of brass and other elements especially designed for the store.
The floor is made of smooth concrete and features a random layout of a wooden surface as well as brass strips leading to the tanning rooms.
The display shelves are made of black iron and industrial grids for a contemporary urban feel.
The main counter and the media wall behind it were covered in an oak veneer sandwich wood combined with display screens.
The main counter is covered with a delicate construction made of iron in the form of frames and diagonals that correspond with the diagonal stripes found on the adjacent wall. It has plenty of storage space, a packing area and a bar for customers.
The ceiling is considerably high but the main wall does not reach the ceiling in order to create an open and inviting space.
Behind the wall, you'll find tanning rooms that have been equipped with state-of-the-art tanning beds.
On the main left wall, a sign made of brass, guides the customers to the second floor, where they can have special items designed or altered by a seamstress. In addition, the second floor offers lockers and a seating area.
In the front of the store, podiums made of real brass were designed to feature the mannequins. There is also a mannequin swinging from the ceiling.
The store manages to create a pleasant and welcoming environment for the customer. The space allows for a large display of all they have to offer. The clothing, shoes, bags and a variety of accessories go exceptionally well with the modern and industrial design.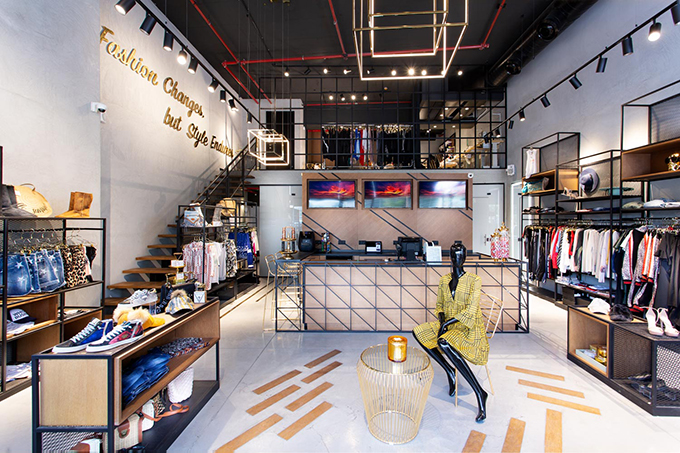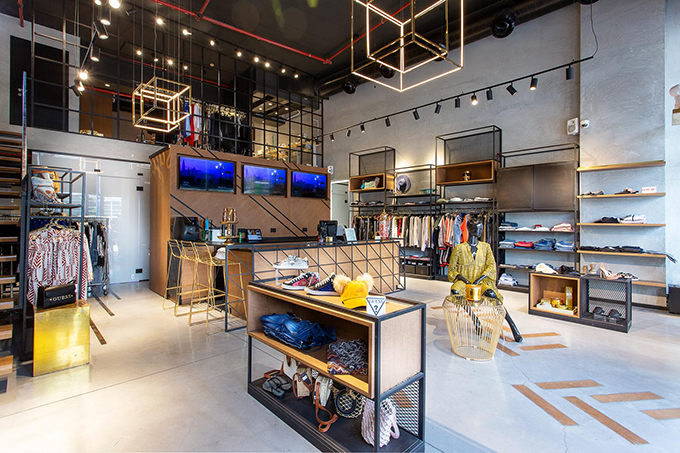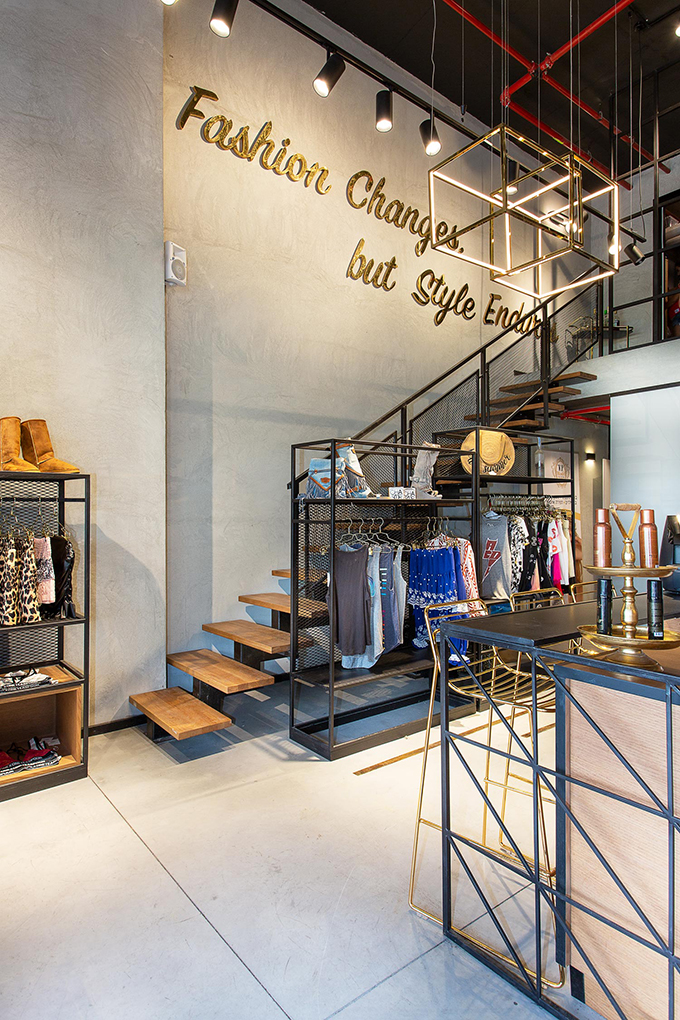 Location – Azur, Israel
Interior designer – Dana Shaked – dnshaked.co.il
Photography – Tomer Rubens