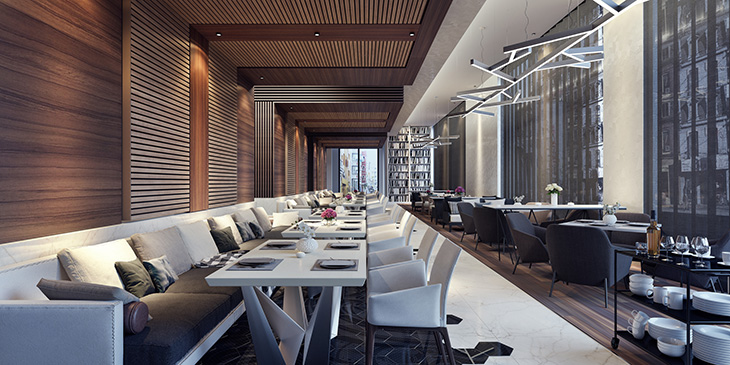 When it comes to your city's most prominent restaurants, there are several things they all seem to have in common; exquisite food, exceptional service, and unique décor top the list. But for a restaurant to truly stand out from the pack, restaurateurs need to scrutinise everything down to the tiniest detail of their establishment in order to provide a unique and memorable experience for their customers. This includes how they present their windows.
As beautiful as a restaurant may be or as inspiring as their food is, there's nothing quite like taking in a breathtaking view while enjoying your meal – whether it's a cityscape or the rolling hills of a picturesque rural community. With that in mind, your windows need the best treatments to showcase one of your restaurant's most competitive advantages.
This article will explore how to choose blinds or other window treatments for your establishment.
Considerations for Choosing Window Treatments
Window treatments for restaurants should not be considered simply from a design perspective and no other. In fact, the act of choosing window treatments for your restaurant can have a direct impact on the profitability of your business.
As you consider the various restaurant window treatment ideas and examples available to you, there are six criteria beyond style that you need to keep in mind: safety, fire code adherence, seasonality, privacy, security, and comfort.
Before settling on a window treatment for your restaurant, be sure to check your local ordinances or fire department to ensure the blinds, drapes, or curtains are made using the approved fire retardant materials designated for commercial businesses. If your restaurant caters to families with young children, choosing window treatments that operate without the use of cords will eliminate any potential choking hazard.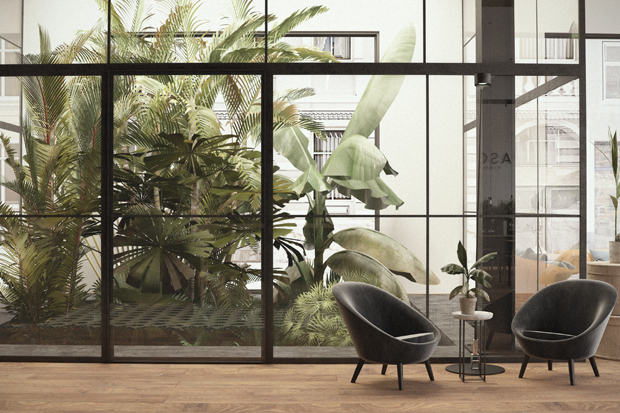 For restaurants located in temperature zones, your window treatments will need to perform admirably regardless of the season. For example, during the summer months, the ideal commercial blinds for restaurants will help keep your customers cool and protected by reducing the amount of solar heat that enters your establishment and by blocking harmful UV rays. During the winter months, the same window coverings should allow as much light as possible while also helping to insulate the space. Installing window coverings that meet these requirements can help reduce the restaurant's heating and cooling costs effectively saving your business money year-round.
Though it may seem illogical that one type of window covering can perform better at opposite times of the year, many restaurateurs strike the balance by installing solar shades. Solar shades also help to promote privacy and security where and when it is needed based on exterior lighting conditions.
Finally, you'll need to consider the comfort of your customers before you choose the window treatments for your restaurant. Some questions to consider may include, is there enough light in the space or too much light? Are customers too warm to be comfortable?
Window Treatment Options for Restaurants
Here's a breakdown of the various commercial window blinds and shades that you may consider for your restaurant, provided they meet the criteria listed above.
● Solar shades:
These versatile window coverings can help you achieve several goals. They help to reduce glare, UV rays, and the amount of solar heat that enters through your restaurant's windows. Since they are often made with semi-opaque fabrics, they still allow a partial view of the outside, something that can be difficult to achieve with other types of window treatments. Some solar shade products promote a high degree of privacy as they allow patrons to see out but prevent pedestrians from looking in. Many solar shades come in the cordless variety, making them safe around young children.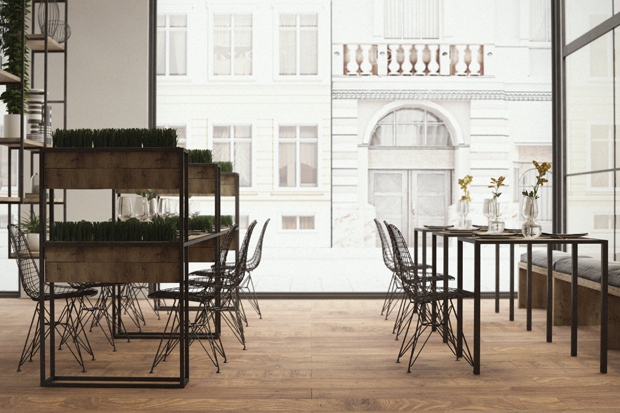 ● Roman shades:
Roman shades are clean, elegant, and can accommodate a wide range of interior design styles. Like solar shades, this type of window treatment offers insulating properties and promotes privacy when required but offers more in the way of style than traditional solar shades. Flat shades, for instance, can be drawn up cleanly and uniformly whereas Roman shades that incorporate pleated folds provide a more elegant aesthetic.
● Blinds:
A blend of style and function, blinds are widely used in commercial spaces. Among the most popular are those made of wood which allows you to bring the outside in. Blinds generally come in a wide range of colours and styles, including warm earth tones and rustic details that can effortlessly tie-in to just about any décor.
While focusing on things like food and service will help your restaurant exceed your customer's expectations, taking the time to examine the details that will take your establishment to the next level will keep your patrons coming back again and again. As we've seen, having the right window treatments can benefit your business financially in a number of different ways. When you combine form and function, your restaurant will have window treatments that work as hard as you do.