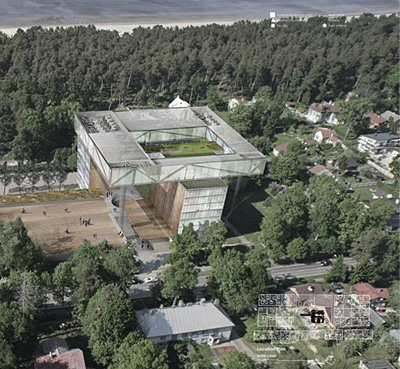 Project: Hotel Liesma
Designed by Venture Trindade Architects
Client: Hotel Liesma
Location: Jurmala, Latvia
Website: www.venturatrindade.com
One of the latest competitions to gather the attention of world's architecture scene is Hotel Liesma, winning proposal for this music themed project is work of Venture Trindade Architects.
About the Project:
The entry is overwhelmingly inventive in architectural concept, thoroughly elaborated, follows the rules of the brief well and is one of the most comprehensive presentations in the whole competition. It shows very high professional level in its striking, beautiful and personal architectural design. The architectural composition, natural materiality and skilful detailing of the architecture are very fresh, and still very balanced.

The design strategy is crystal clear and the concept is essentially based on local conditions, site features and the music theme, as is seen in `Estrãdês´, the stage for outdoor performances and concerts. Delightfully, the solution encourages even bypassers to participate in the events organized on the elevated courtyard square, emphasizing that the local community is an equally important target group of the new hotel. However, the visibility of the performers to the audience still has to be developed further.

The functional scheme and logistics of the building are clear and well working. The idea of the conference spaces and public facilities placed delicately on the top floors, in the best part of the building, will create outstanding competitiveness for the hotel among all the other hotels.

The hotel rooms are simple, tuned for music enthusiasts, yet elegant with good proportions, large windows and generous views. The presidential sweet is convincingly designed and located in the building to meet the exclusive standard. The placement of the swimming pool is structurally challenging.

The structural carcass of the existing building is taken into account; still the rooms are well usable and spacious, despite of relatively low floor heights. Some minor adjustments are necessary from the furnishing point of view, e.g. beds by the exterior wall.

The site plan is organized in a functional and logical way, allowing for differentiation of circulation; customers, cars and service.

Even the construction process has been suggested, perhaps one of a kind in the game.
Source HotelLiesma. *