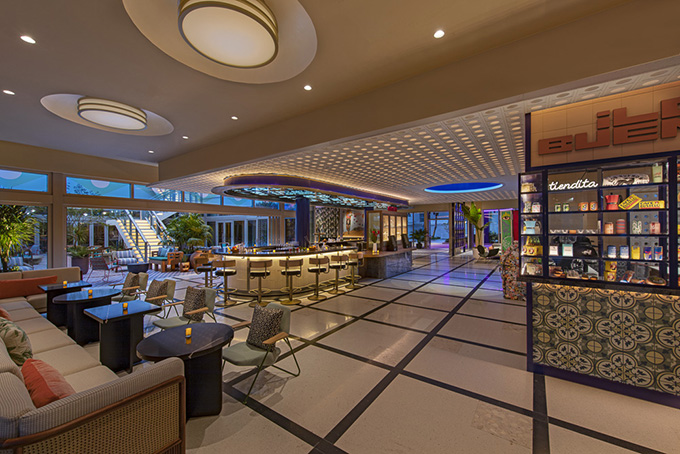 Rockwell Group recently completed their latest interior design project – Moxy South Beach in Miami, a seven-story boutique hotel with 202 rooms that draws on its vibrant context to create a rich fusion of style and culture. Take a look at the complete story after the jump.
From the architects: Leading New York based interdisciplinary architecture and design firm Rockwell Group has unveiled the interior design of Moxy South Beach in Miami, a seven-story boutique hotel with 202 rooms that draws on its vibrant context to create a rich fusion of style and culture. The dynamic new destination references the unique impact of Miami culture, from 1950s glamour to the romance of cruise travel to Havana, creating a blend of evocative spaces, curiosities and experiences throughout the hotel, including several site-specific installations.
Moxy South Beach celebrates a spirit of carefree sophistication, with guest amenities that include a 72-foot pool on the second floor, a state-of-the-art fitness centre and a rooftop lounge with breath-taking ocean views over Miami Beach. A blend of colourful Havana textures and distinct deign touches tie these elements together into a playful yet refined environment in the centre of South Beach.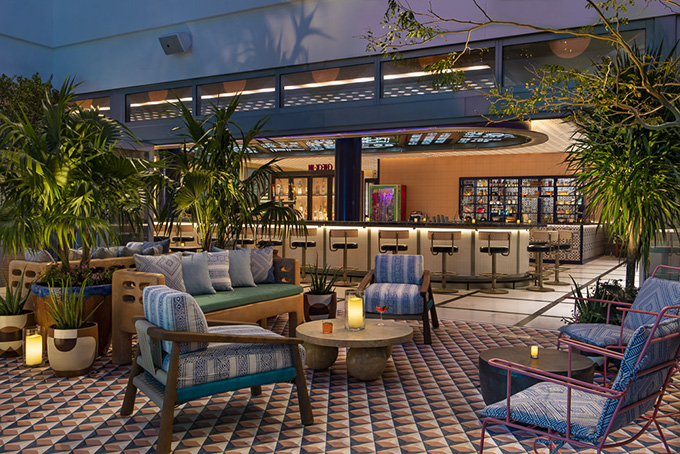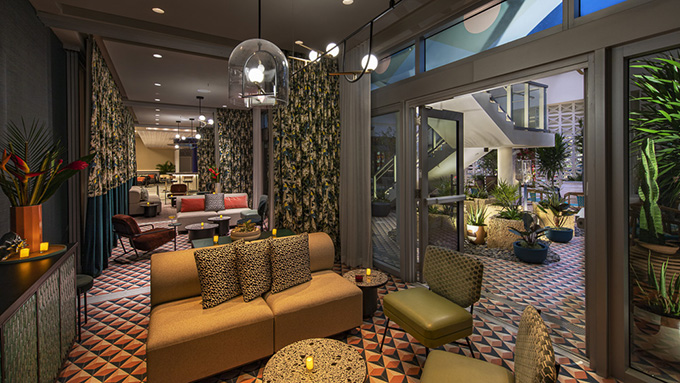 Ground Floor
Guests enter the hotel either through a modern porte-cochère at the east entrance, or the main walkway on Washington Avenue, passing through the historic, preserved Art Deco façade into the colourful terrazzo lobby.
The focal point of the lobby is Bar Moxy. Above the bar, an infinity mirror installation contains the phone number of El Floridita, the legendary Havana watering hole, a nod to Miami's Cuban heritage and is furnished with retro-inspired swivel bar stools. A backlit storage bar located beneath a breezeway panel ceiling permits year-round ambient light and reveals a striking 8-foot cut out glass oculus above the pool area. Surrounding Bar Moxy is a relaxed seating space with quartzite tables and brightly coloured metal and upholstered armchairs overlooking the open-air courtyard. Adjacent is the Los Buenos, an all-purpose, vibrant, tiled a taco stand and bodega inspired by the newspaper, coffee and convenience kiosks of Little Havana.
The lobby features patterned tile flooring, a lush assortment of plants and a monumental site specific abstract architectural screen designed by Rockwell Group. Past the lobby, guests encounter a selection of amusements, activities and table-top games enhanced by colourful seating and the bold terrazzo flooring.
In the nearby studios, sliding glass walls, custom tables and modular furniture on casters can transform the space from a conference room environment to an evening lounge. Guests can book private meetings in partitioned micro lounges or relax amidst a vibrant layering of textures and patterns. Toile bird wallpaper and rectangular Art Deco vitrines feature in the space and tropical greens, pinks and mauves complement the blackened metal light fixtures and smooth leather curved-back sofas in black and white upholstery, with powder-coated blue dividing sliding doors.
On the approach to the side stairwell, which leads to the second floor, guests can roam freely through the lush oasis of the courtyard, an indoor-outdoor space layered with coloured tile work, hanging plants, and modernist planter boxes sectioned off from the pathway and an adjacent dining area by large breezeblock screens. Design touches include vintage-influenced Art Deco furniture pieces, metal wall sconces that provide an amber glow, and stained-glass detail work in the floor-to-ceiling window area.
Pool Terrace – Level Two
Terrazzo tiled outdoor stairs connect the first floor to the second-floor terrace area. Guests can walk through the open-air space to the 72-foot pool, which features oversized graphics, tiered and lounge seating, luxury private cabanas and a pool shower shaded by palm trees and decorated with flamingo artwork. The pool area features a large circular window that looks out onto the lobby, creating a sense of openness. In the evenings, the pool area is activated by local DJs and live music. A stairway on the north side opens by key card, permitting guests to enjoy walks on the beach.
The state-of-the-art indoor/outdoor fitness centre has been created to look like an art installation, with nearby stairs leading directly to Muscle Beach. Bathed in a muted pastel palette, with fitness equipment and additional lounge seating offset by Art Deco tile work, the space also provides a setting for morning rooftop yoga sessions.
The Upside – Level 8 Rooftop
The rooftop offers a large lounging pool with slightly submerged wire and cord lounge chairs and daybeds for sunbathing and a custom freestanding screen that allows for outdoor rooftop movies. The open, cabana-style concrete roof reveals 360-degree views of the ocean and Miami Beach and communal daybeds, game tables and a dining area provide quiet places to escape the bustle of Miami life. The Brooklyn-based artist Edward Granger has been commissioned by Rockwell Group to create a multi-faceted, custom ceiling mural prominently displayed beneath a giant canopy — a reference to Wynwood, Miami's thriving street art scene, while a custom boat-shaped mobile mini bar adds a playful element to the space.
Guest Floors
As a nod to Miami's glamorous past with Clyde-Mallory cruises to Havana, the "state rooms" take their inspiration directly from the cruise ship experience. Each bedroom is washed in sunlight from floor-to-ceiling windows, while some rooms on the higher floors offer unobstructed views of the ocean.
Guest rooms feature colourful terrazzo floors and vanities and custom light fixtures. Headboards in a gradient of greens, pinks and citrus tones are made from outdoor woven material reminiscent of vintage beach furniture, providing vivid colour and textural interest. An ingenious system of peg wall storage provides functional space for living and dining accessories, including trays, hooks and hangers and is prominently displayed. The space also contains built-in charging stations with wood panelling and matte black powder-coated metal accents. Enhanced storage options, including a seamless under-bed rack, which creates clean lines and makes the most of the available floor space.
Photography: Michael Kleinberg
Find more projects by Rockwell Group: www.rockwellgroup.com