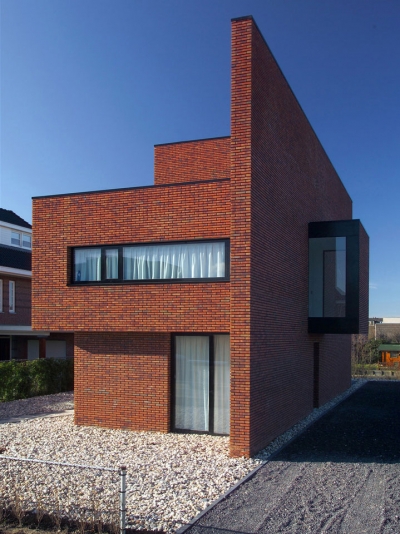 Project: Brick Wall House
Designed by 123DV
Project Architect: Liong Lie
Design Team: Floor Theuns, Jasper Polak
Advisor Construction: Kees Luyten, Rotterdam
Main Contractor: aannemersbedrijf Theo van der Kroon, Vlist
Wood Work and Fitted Furniture: Brandwacht & Meijer
Pictures: Martijn Heil
Plot Surface: 582 m2
Gross Building Volume: 863 m3
Gross Floor Surface: 190 m2
Location: Woerden, The Netherlands
Website: www.123dv.nl
Netherlands based 123dv practice shares with us their design for the Brick Wall House, this 190 square meter home is shaped for a location in Woerden.
For more images as well as the architects' description continue after the jump:
From the architects:
This house is the result of the exceptional conditions of the context. It is squeezed between a five story apartment block and a semi classical house with a gabled roof. An abstract wall guarantees privacy towards the neighboring apartment.
The stacking of blocks is an abstract metaphor for the layered composition of the gabled roof house. Bricks for the facade are used so the house blends in with both surrounding buildings.