Design for the single-family residence named Sky Frame House in the Voorschoten, the Netherlands, is coming from the drawing board of the Rotterdam based 123DV architects. On part of estate Duivenvoorde seven plots will be available for people who want to design their own home. The future residents will be living in absolute peace in an ancient cultural landscape, while The Hague, Leiden and Schiphol Airport are all within reach.
From the Architects:
A square with a base of 20x20m includes a living space with indoor pool, garage and bedrooms upstairs.

For a transparent look, the walls of the indoor living space are fully made of glass. These facades are all set back compared to the square second floor. As a result, the overhang serves as a canopy. It marks the entrance, keeps away the sun and warmth, creating a sheltered terrace as a transition from interior spaces to the garden.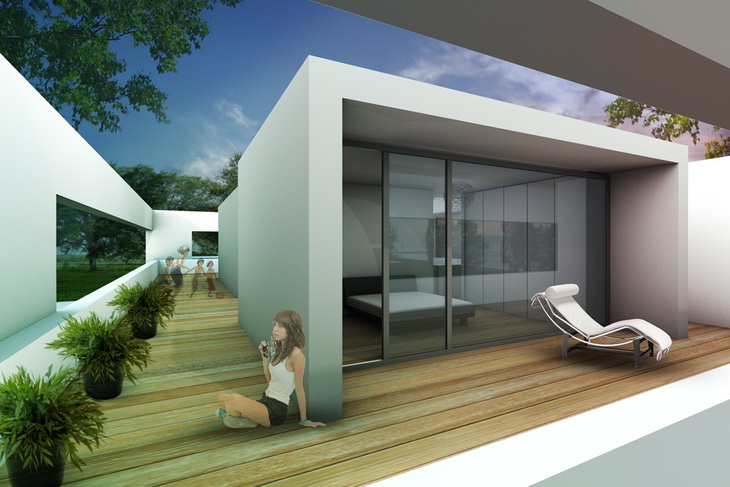 The bedrooms are designed as separate pavilions. They are interconnected by a circular terrace. This terrace can serve as a recreational deck for games, sunbathing, or playing sports.
White stucco discs and beams surround the facades at ground level (as seen in Health House) and offset facades of the sleep pavilions on the first floor. This outlines the highlights of the square for a clean look. The disks and bars also offer more privacy towards the street. The view to the garden is framed, providing you different views when moving through the house.
Project: Sky Frame House
Designed by 123DV
Surface Area: 400 m2 floor space, 295 m2 terrace space
Location: Voorschoten, The Netherlands
Website: www.123dv.nl