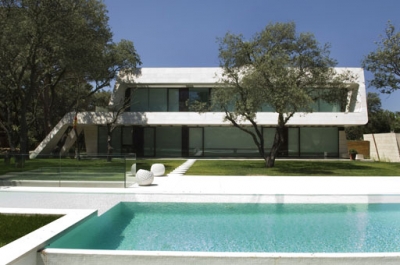 Project: Detached House
Designed by A-cero
Location: Madrid, Spain
Website: www.a-cero.com
Elegantly shaped Detached House is work of A-cero architects, designed for a location in Madrid.
From the Architects:
The A-cero architecture studio presents this project of a propert located on a luxury urbanization in Madrid. Today we show you the daytime pictures. The plot's irregular with four sides and 2 840 m2 surface and North-South orientation. It's a basic property project with two floors above ground and one below it.
Basement. This level has 274 m2 surfice. We locae here: the garage, storage, two installation rooms, laundry, dresser for the service and bath.
Near to the pool we find an installation room, bathroom, locker and two compensation vessels.
Low Floor. Here are: access floor, stairs, wardrove, bathroom, corridor, storage, kitchen, dining room, living room and the main bedroom with dresser and bathroom. Outside counts with pool and control acces with bath. All in 270 m2, added to 120 m of porchs that covers the access zone to the dwelling, garden and service zone.
High Floor. In this level there are a corridos, three bedroom with their own dressers, bathrooms and a terrace with 23 m2 porchs.