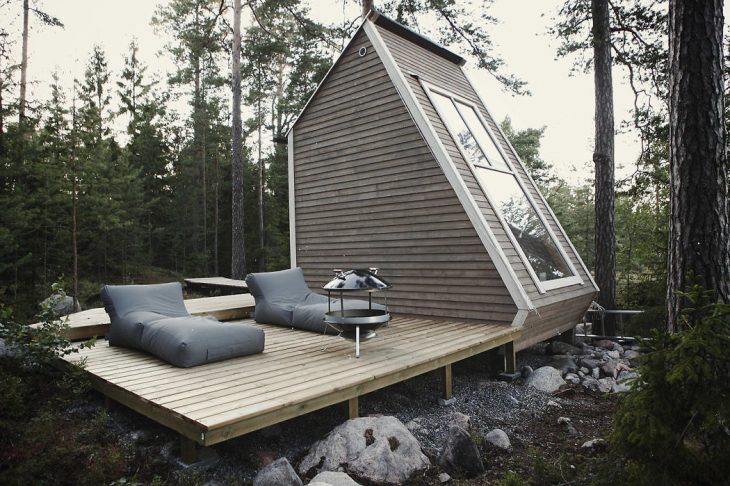 Mr. Falck Studio designed this inspiring modern cabin situated in Sipoo, Finland, in 2018. Take a look at the complete story after the jump.
From the architects: Designed and built by 20-year old Robin Falck (now 27 years old industrial designer). Designed it prior to his military service in 2010 and built it during the summer of 2011 just before his military service. Took him two and a half weeks to finish it. It located in the beautiful Finnish archipelagio of Sipoo. With a beautiful view over the sea. The cabin was designed to be built without a permit. Just under 9 meter square.
Robin wanted to maximize the use of this space, just having the essentials and stripping away all the unnecessary parts, a philosophy Robin now follows as a designer. A lounge/living room with a large window to welcome the beautiful nature in. Along with a lot of natural light and sufficient storage space. The top floor has a bed and space to keep clothes and books. The table and speaker legs are designed and built out of the left over materials. Robin wanted to maximize the use of the materials and minimize waste. He used local wood materials and the help of a local carpenter to build the window frame and door. The cabin is isolated with flax and is heated up during the winter season with a small heat-fan.
Colors and hue's were chosen to mimic a large boulder and let's it melt in to the surrounding easily. Everything was carried by hand to the site to damage the nature as little as possible during the construction. Results in that it looks like the cabin been there for years already.
Photography by Robin Falck
Find more projects by Mr. Falck Studio: robinfalck.com