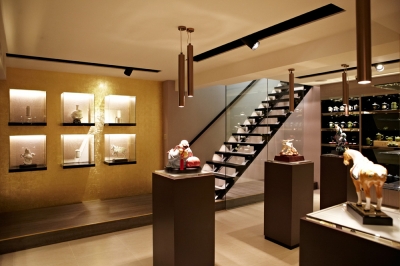 Project: Acera Flagship Store
Designed by Hangar Design Group
Client: Acera
Location: Taipei, Taiwan
Website: hangardesigngroup.it
Hangar Design Group shares with us their elegant design of Acrea Flagship Store in Taipei, this is the first flagship store for this Taiwanese ceramic maker.
From the Architects:
The first flagship store of the Taiwanese ceramics maker Acera will be unveiled on the occasion of its grand opening on July 17th 2012 in Taipei. Acera is a family company based in Taiwan and Shanghai and operating throughout the whole of China. Stemmed from the centuries-old tradition of Taiwanese ceramics, Acera is specialized in home accessories, offering a wide range of one-off pieces as well as a rich catalogue of traditionally decorated mugs.
For its first store in the heart of Taipei, Acera has teamed up with the Italy-based design agency, the Hangar Design Group. Clothed in golden leaves and warm colours, the two-storey boutique stands out for its mix of materials: wood, gold leaf, and ceramics are used throughout the store, in patterns echoing traditional Chinese designs in a contemporary interpretation. The final look matches the brand's style based on colour, tactile sensations and decorations at a crossroads of tradition and modernity.