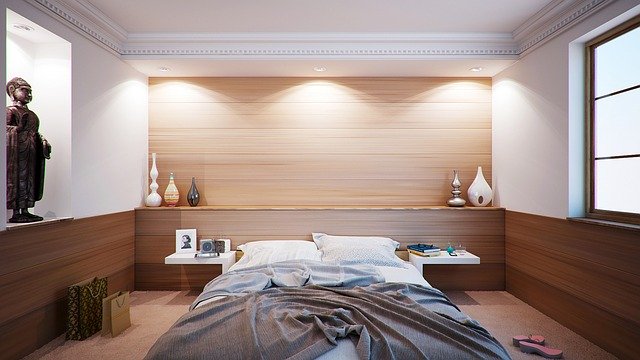 Since people's lives these days are full of demands and busier than ever, what can be more beneficial than a peaceful haven where you can relax and restore energy at the end of the hard day? No surprise, that bedroom is the most important room in our homes, retreat from the world, and the place where you hide away to rest and spend a few moments of peace before drifting off into needed sleep.
If your goal is to create a more relaxing, serene bedroom, it's essential to understand that a peaceful bedroom retreat means more than simply the absence of noise. Whether you are craving to get a peaceful ambience for better sleep, or a luxury cosy environment suited to lie-ins, a few improvements can help to provide a sense of calm. Check out these five tips on how to incorporate a little bit of Zen into your bedroom and make this room more harmonious to retreat after a long day.
Read more after the jump: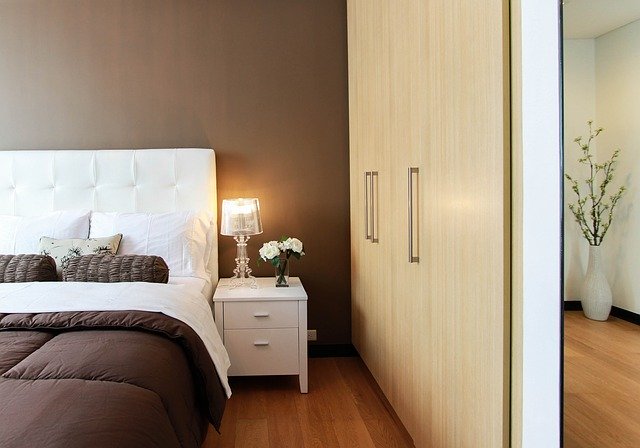 Stick To Muted Tones
As much as you may love bright colours or shiny textures, upbeat colours can do more good in your kitchen or office, helping you stay positive, cheerful, and motivated. After an intense day, overly harsh colours or high-contrast colour combinations can be a reason for making you tired or distracted.
To create a more unobtrusive and restful atmosphere, fill your room with neutrals like dove grey, light coral, pale gold, pastel pink, muted blue or green. In case you are a lover of colour and feeling a little more adventurous, fear not. You will be surprised at how many soft tones you can choose from a palette and how many colours you can add into a room yet still keep it soothing and peaceful.
As natural textures and soft colours are considered the most relaxing, opt for muted tones wall paint, wooden furniture, pure linen pillowcases, and unbleached cotton sheets. Use all opportunities to fill your room with colour and bring a perfect place where you can rest your head at night. The key here is to avoid too bright colours, keep it simple, and stick to feel-good textures and a palette of natural hues.
Connect With Nature
While it might not be possible to have an entire wall of windows, you can bring the outside into your bedroom. Consider opening shades to let in natural sunlight when you want it. At the same time, make sure that you can pull a shade or drapes to avoid waking up early due to the same wonderful sunlight.
Furthermore, a good idea to install greenery in the form of a few potted plants, fresh flowers or attractive foliage. Plants not only bring nature and life into your room but also help to purify the air and alleviate stress.
Invest In Soft Lighting
Bright, jarring light is too intense for relaxation, leads to the visual noise in a room, and keep you awake long after you have turned all the light off. You probably need good central ceiling light in your bedroom for other purposes, but during tranquillity time, it's essential to keep the lights soft. A dimmer switch and three-way light bulbs are the easiest ways to adjust the light level to set a peaceful mood.
If you don't have overhead lighting, place several smaller lamps and lampshades that produce just enough light yet not enough to be bright. You can install lamps around the room at varying heights, such as on your nightstand, low, and tall dressers and turn on them when it's time to relax.

Awaken Your Senses
Bringing pleasing and calming scents in your bedroom can help to set the mood for a peaceful environment. Aromatherapy with lavender and jasmine essential oils are known to have a calming, relaxing effect, Cananga tree gives a sense of confidence, fights night fears in children and astheno-depressive states. In contrast, combining CBD oil and aromatherapy can help to relax, combat anxiety and stress, boost your immune system, and increase energy levels.
As an alternative, you can light a scented candle with soft scents from nature such as lavender, rose, linen or others. Choose any scent you love, and that will make you look forward to spending time in your bedroom.
Keep Your Bedroom A Clutter & Gadget-Free Zone
Kids' toys, clothes, papers, stuff from work, laptop – having chaos surrounding you contribute to an inability to calm your mind and relax. Invest in a few storage boxes, shelves, or cabinets to eliminate clutter and hide away everything that doesn't need to be on display in your tranquillity room.
Finally, your bed should also be a zone with no electronics, which is usually more disturbing and stimulating than relaxing. That means saying "no" to your phone, video games, laptop, and television. Take time to rest with your own thoughts, instead of electronic entertainment, information, and sounds.