It can be wonderful to be able to retreat to the joys of your own bedroom. It can be particularly wonderful to be able to head to one that is the portrait of coziness. If you want to do your part to design a bedroom that essentially defines pure serenity, then there are without a doubt various strategies that can help you out. Bedrooms function as safe sanctuaries for people. It can be overwhelming to deal with the stresses of daily life. Retreating to a bedroom that's cozy can often help people recharge and stay sane. If you're interested in revamping your bedroom and making it cozier than ever, you should think about all of the options that are available to you. It may even be beneficial to zero in on Tempur Cloud mattresses.
Read more after the jump:
How to Take Your Bedroom's Coziness Factor to the Next Level
The last thing you want or need in your life is a bedroom that's not exactly inviting or cozy. It can be stressful to have to deal with a bedroom that leaves you feeling cold. If you want your bedroom to be a haven for you and for all of your thoughts at the end of tough days, then you should think about design choices that may be accessible to you. Lighting should be one of the things you consider first. Your goal should be to focus on lighting that's soothing and on the gentle side. Harsh fluorescent lighting can make you feel tense and irritable. It's not exactly conducive to a good night's rest, either. If you want your bedroom to be the dictionary definition of tranquility, then you need to explore all of your choices in lighting fixtures. You should put time into finding lighting that's gentle and flattering as well. Be sure to test out all of the lightbulbs you come across. Don't pick the first lighting options you discover.
Color selection is also critical for people who want to design cozy and enticing bedrooms. There are all sorts of color options available to people who are imaginative. If you're an imaginative and artsy person, you may be fond of colors that are particularly brilliant and eye-catching. Those colors may not necessarily be the best fit for your sleeping space, however. If you want to be able to fall asleep like a wee baby every night, then it may be wise to go for colors that are conducive to pure ease of mind. Colors that are on the subtle side may be preferable. It may help to steer clear of any and all colors that are overly flashy and loud. Red, orange, and yellow may not be tops. Neon colors, in general, may be on your "no-no" list. You may want to gravitate to colors that are rather modest. Think about cream, baby blue, and light gray. These colors may contribute to excellent sleep on a nightly basis. They may be colors that go hand in hand with sleeping success. Insomnia is never a joyous thing for anyone.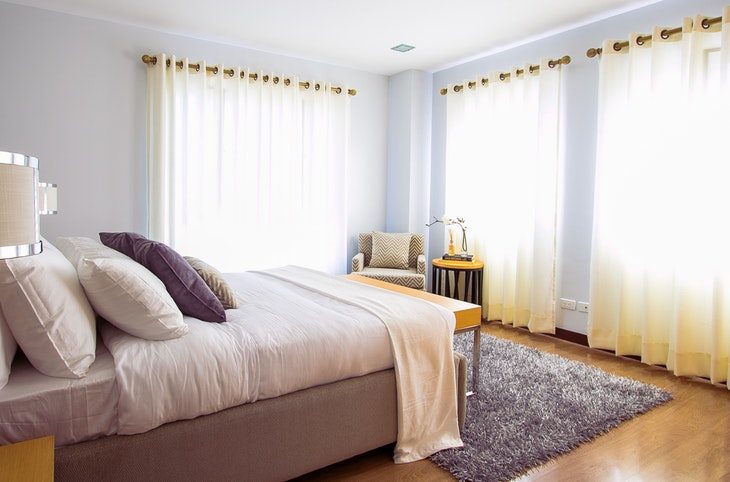 It's crucial to zero in on your mattress choice, too. There are all sorts of considerations for people who are in the process of shopping for mattresses and beds in general. You should never ever make the mistake of buying a mattress without testing it out in advance. It doesn't matter if you sit or lounge around on a mattress at the store for five minutes or for half an hour. You have to take the time to test it in detail. Lack of testing can be a big mistake. It can be next to impossible to fall asleep on a mattress that doesn't fit the contours of your body well. It can be next to impossible to fall asleep on a mattress that's overly soft or overly firm as well. You should research mattresses that are appropriate for your specific body type and lifestyle. You don't ever want to approach mattress shopping in a careless or excessively casual way. Mattresses are a pretty big deal. You should be sleeping on yours for a minimum of eight hours each night. Don't ever forget just how critical it is to get plenty of shut-eye on a nightly basis. Lack of sleep can be detrimental to vitality.