Whether you're designing your first home or you're thinking of updating your interiors, decors and various creative elements play huge roles in conveying your personal style. This is especially true when you're a fan of modern details.
Since modern design elements come in many shapes and forms, the possibilities for your home are practically endless. However, if you wish to go for a warm and homey look, the contemporary style is definitely for you.
Read more after the jump:
What Constitutes Contemporary Style?
The term "modern" usually reminds people of minimalist and "emotionless" designs, but it also covers "contemporary style". It's a design choice that makes use of modern palettes, accessories, and decorations to create a relaxing and welcoming space. The key is to avoid producing spaces that look cold and rigid.
The contemporary style follows classic rules yet chooses elements that are both timely and timeless. It shifts the focus to the scales, spaces, colors, and architectural elements to show its effortless warmth and sophistication.
That said, how do designers and homeowners ensure that their preferences don't reflect the unwelcoming kind of modern?
Here are some things that you need to consider to perfect the contemporary style for your home:
1. Artwork Canvas Size
Artworks feature a variety of styles and subjects, so there are certain guidelines that you must take note of to ensure that you're acquiring pieces that perfectly match your chosen themes.
One of the first things that you must consider before the actual design is the size of the canvas. The general rule is that, when choosing artworks, you must choose a size that can fill the wall's width minus 6 to 12 inches on both sides.
For example, if you have a 40-inch wall, you can go for artworks that are 16 to 28 inches. If you're hanging it over furniture, like a sofa, table, or bed, make sure that its length doesn't exceed the furniture's length.
2. Artwork Colors
When it comes to artwork or decoration colors, there are usually two ways to do it: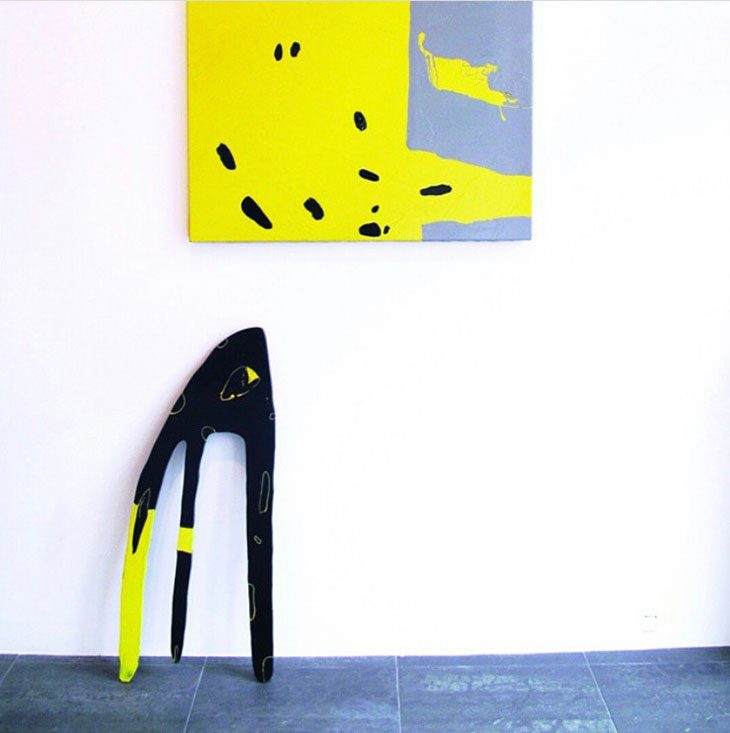 ● First, you can go for colors that are already incorporated into the room. For instance, you can choose the same colors but in lighter or darker shades.
A painting with lighter greens usually looks good in a room with dark green walls.
● Second, you can also choose artworks with colors that are the exact opposite of your room colors, or you can also go for designs that are just in black and white.
It doesn't really matter what colors you choose, as long as it complements the rest of the space and elements.
3. Furniture
Contemporary style usually abides by the motto, "less is more". When it comes to furniture, this can usually be achieved by choosing the right materials, finishes, and surfaces.
For example, you can go for pieces that are made of natural materials with solid hues. Additionally, you may incorporate upholstered furniture in textured fabrics, such as linen, wool, cotton, jute, and silk.
Colors are best kept in neutral tones, such as white, black, gray, or earth tones. Pillow colors should make your furniture pop out, and not clash with it.
4. Lines and Spaces
Lines are among the main components of contemporary style. They are usually used to emphasize architectural elements through the use of high ceilings, bold colors, and geometric shapes in home decorations.
Since contemporary style revolves around simplicity in sophistication, the bare spaces are as important as the decorated spaces. This draws people's attention to the true stars of your theme.
Structural elements, such as air ducts or exposed pipes, can be redesigned so they can blend well with the rest of the interiors. This is generally a creative way to make use of lines and spaces, as it allows the eye to focus on what makes the space warm and comfortable.
5. Personal Taste and Preferences
Ultimately, even though you should carefully consider the details before you go with a particular design, it must be something that matches your personality and taste.
This may already be obvious, but you should get something that you actually love. At the end of the day, having good decors can be pointless if you don't truly appreciate it.
Conclusion: Aim for Complementary Interiors and Decorations
Your home's interiors can do the talking even when you don't. This is why you must carefully consider your preferred details and ensure that all of them will look harmonious when put together. When done right, your home will look exactly how you imagined it.