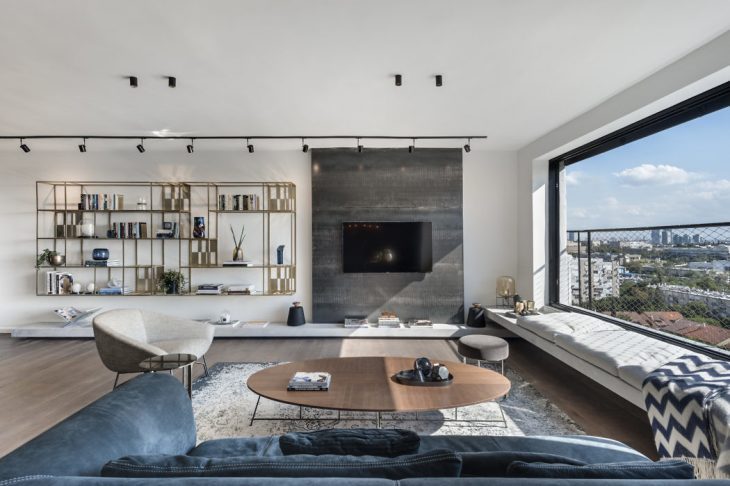 Are you thinking of giving your home an interior makeover? One of the biggest trends of the past decade is creating open plan living areas in your home. While trends come and go, open plan living spaces are definitely here to stay. If you are unsure of whether or not an open plan living space is right for you, then you have come to the right place! In this article, we will be taking you through what exactly an open plan living space is, where it comes from, how best to decorate and the pros and cons of this type of interior design so you can make a decision on whether or not you think this will be a good fit for you and your lifestyle.
Read more after the jump:
What Exactly Is an Open Plan Living Space?
Let's start with what exactly an open floor plan actually is for those who are not entirely sure. Generally, an open plan living space refers to a home in which no walls are separating the rooms. To achieve an open plan living space, large beams have to be placed across the area to carry the weight of the floor above as there are no walls there to support it. Then this will open up your room, and you tend to find that this type of space is solely for common areas of your home and not other areas such as bathrooms, bedrooms and offices. You will most likely have spent time in an open floor plan home as it is a hugely popular trend at the moment.
With open plan living spaces, you will tend to find that the kitchen, dining and living room areas all connected as there is no wall to separate them. If you have an open plan kitchen and dining area, then you will tend to find that the kitchen and dining area share a common space. Some sort of dividing line can usually be found in the form of a peninsula or a kitchen island. On the other hand, if you have an open floor plan space between your living room and dining room, you will often find that there is not much separating these rooms and the most you will tend to see is a different colour of paint used to separate the two.
Where Did the Open Plan Design Come From?
While open plan living formats are in their prime right now, they have actually been around since the 1950s. Before this, kitchens would be in a room of their own along with the living room and dining room in their own room too. It all changed after the second world war and having an open plan living format became something that was revolutionary and more accessible to the masses. This open plan space usually consisted of the dining room, living room and kitchen. As we mentioned before, while this is something that is incredibly popular nowadays, back then, this was a new phenomenon that had rarely been seen by most. Many families, particularly mothers, loved this new type of open plan space as it gave them an easier time getting the food out on the table! Cooking became a social activity where all the family could gather around the room and feel more connected to each other.
How to Decorate an Open Plan Space
One of the great things about having an open plan space is that you can decorate it in a number of different ways.
If you are looking for interior design trends for your open plan space, we would recommend that you keep it tonal. With a natural palette, you can help to bring the outdoors, indoors. Having large windows with your furniture placed around it can enhance the natural light entering your room. Why not opt for some neutral toned blinds and curtains from a retailer such as Fashion Interiors. This website has a fantastic range of gorgeous home interior items that you can choose to create your perfect open plan interior design. A neutral palette can help to create a sophisticated look. The trick here is to try and balance the colour scheme with a few pops of colour to keep it in proportion.
If you want to distinguish between different rooms in your open plan living space, a great idea is to use paint to do this. You can use slightly different shades of neutral to separate them while still maintaining the open plan flow of the room. You can then use accessories such as pillows and curtains to tie the two rooms together and create a functional family living area with clear zones in which you can relax and dine in.
With the interior design of your open plan living space, it is also crucial that you choose the furniture you want to incorporate wisely. What is so fantastic about open plan spaces is that you can select larger pieces of furniture that you may not have been able to fit in your room previously. Why not opt for a corner sofa which is great for adding a sense of intimacy to a large room, plus they are incredibly comfy!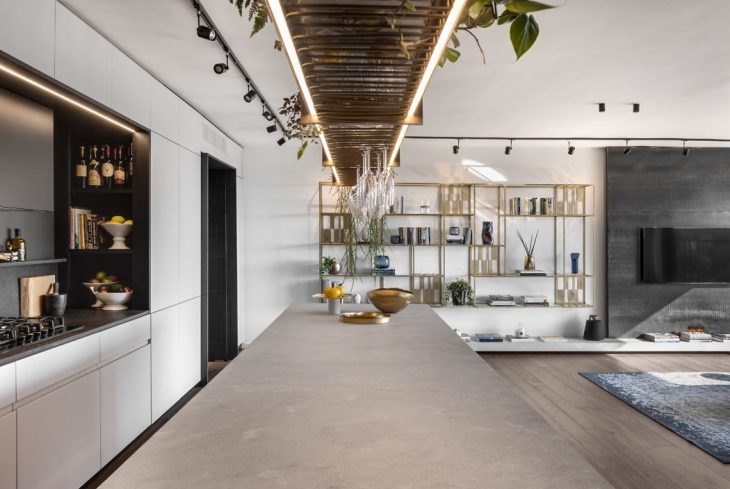 The Pros of an Open Plan Interior Design
There are lots of amazing benefits to having an open plan interior design space. One of the biggest reasons why people love this type of space is because it creates a more natural flow of traffic between the rooms and people can be more sociable. What's more, open plan spaces can allow more shared light between them, and because this is a desired type of space, it will help you in the resale value of your home should you decide to move.
The Cons of an Open Plan Interior Design
When it comes to open plan interiors, there are definitely more pros than cons, but we have listed a few of them below so you can see whether or not this is the type of living space for you.
The first con of an open plan interior is that they can be costlier to heat. When you have separate rooms, you can choose to heat just the rooms that you are going to be sitting in, rather than every single room. With an open plan living area, you have no choice as you have to heat all parts of it.
The second con to an open plan interior is that it is more difficult to control the noise as sound will naturally lead from one area to another. When you have separate rooms, this can be easier to manage.
When you are designing your open plan living space, make sure to weigh up both the pros and cons so you can make a decision on whether this type of living space is the right choice for you. If you do decide to opt for an open plan floor space, don't forget to implement our interior design tips to help you create the perfect living space and make the most of the room that you have.
Images courtesy of Oshri Aviram – Apartment in Tel Aviv by Aviram Kushmirski