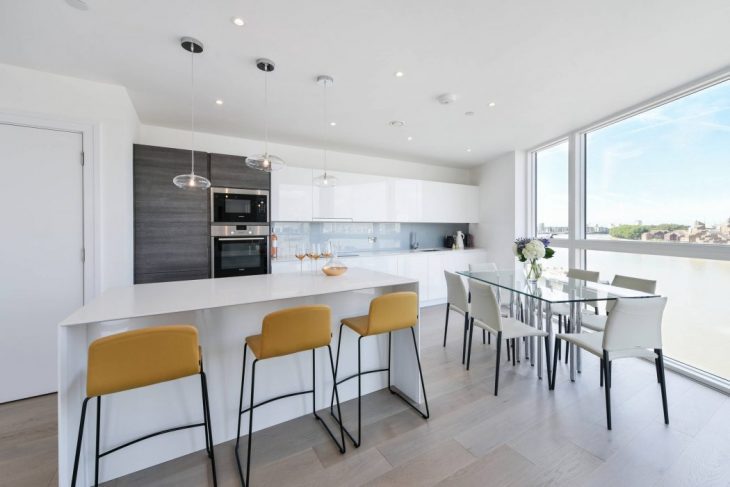 Homes are where people spend most of their time and are where some of the best memories are made throughout their lives. However, one room that often doesn't receive the same attention as comfortable living spaces is the kitchen. Whether you are the cook of the family, or you host small gatherings each weekend, having a beautiful kitchen will be important to you for a variety of reasons. If you're looking to re-decorate your kitchen making sure that you hire the best people is essential! Sometimes, there may be parts of your kitchen that you want to change,which you may be avoiding due to low funds or little time, but there are some great ways you can revamp your kitchen space that almost anybody can enjoy.
Open it up
Open plan homes are something that tops the wish list of many home buyers, where the kitchen flows seamlessly into a homely living area. This is the first step many people follow when they are hoping to do a full refurbishment of their kitchen, and although the upfront cost is quite high, it is a job that will transform your home into a more spacious, light-filled place. It is one thing that is not recommended you do on your own unless you are someone with a flawless eye for interior design. Bringing in a local workforce to do this for you will save you both time and money.
Read more after the jump:
Invest in new countertops
Having your entire kitchen re-done is often not a feasible task, but there are other areas you can focus on before you can commit. It includes investing in new countertops, which can change the look of your kitchen in a matter of hours. People use vintage woods and repurposed stone to reach a unique look, but the most common and sleek look can be achieved through having a granite worktop. This is mainly due to the variances you can get in the stone, where marbled patterns or sparkling surfaces can look both more expensive and ensure you get a unique countertop. Granite price differs depending on which one you choose, so make sure you research fully before you decide to make the change.
Create your own backsplash
Many people assume correctly that your kitchen space can be a canvas for you to unleash your creativity on. If you are hoping to add a feature to a room or make your kitchen more of a personal space, you can do so by making your own backsplash. Doing this will be much appreciated by those who spend most of their time cooking over the stove. Having a family print blown up and sealed under glass is a great way to make it a family-orientated room, but you can truly put your talents to the test by designing your own mosaic. Using different tiles from vintage stores, online retailers, and from old pieces of pottery ensures you will have a backsplash nobody else will.
Introduce color
Your backsplash is also one of the best ways to bring color into your kitchen, but such color can be brought indoors in many other ways. One of the most popular ways of doing this is by covering your walls in a fresh lick of paint, or by investing in some colorful utensils. Anything from neon knife sets to bright wallpaper can make your kitchen into a new place, but you can also make use of different colored lighting to cast a warm glow. For those struggling with a budget, this is a sure-fire way to revamp your kitchen.
Replace your floor
Having a refined kitchen is all about attending to the small details. These details include making sure your flooring corresponds to the rest of your kitchen and makes it pop even more. One rule to stick to here is never to go for a carpet, as it will be easier to ruin when spills and muddy shoes aren't kind to the material. Going to your nearest showroom is the best way to get a feel for how a floor would look in your kitchen, which could be anywhere from sleek vinyl to thick marble. One handy tip is to tile your kitchen floor and buy a small surplus of tiles so that if one cracks, it can be easily replaced without having to replace the entire floor.
Bring nature indoors
Having nature present in any home is key to your physical and mental health, and can also bring a more homely feel to an otherwise stylish room. For city apartments, this is especially true. Luckily, there are many ways you can do this. Restructuring your windows to let in natural light is a good place to start, but this can be a burden on your wallet. In fact, a much easier thing to do is bring an array of potted plants inside, which will also help you introduce color into your kitchen. They can even have practical uses if you create your own herb allotment on your windowsill for use during cooking.
Purchase new furnishings
If your kitchen is the main space for people to eat in in your home, it should ooze comfort above all else. It means that people should feel welcome from the moment they step into the room. A foolproof way of doing this is to purchase some new furnishings to replace your old ones. For example, having a wooden table and benches for people to eat at can be decorated with plush cushions. You could even refinish driftwood to use as your kitchen table as this will also make your kitchen an ideal place for socializing alongside eating home-cooked meals.
Don't prioritize style
It is easy to fall into the trap of valuing style over anything else when it comes to revamping your kitchen. However, it is important to note that your priority shouldn't be whether it looks good, but more if it feels good. If it ticks all the right style boxes but doesn't scream home or welcome you in, then you should think about bringing some pictures, personal items, and soft furnishings into it, which will help you add your own personal touch to your kitchen.