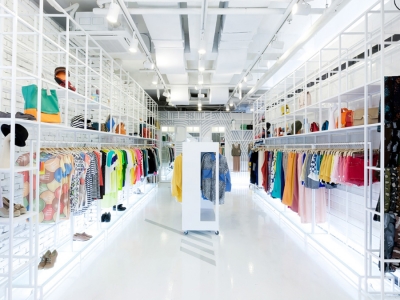 Project: Sumit Shop
Designed by KhanProject
Location: Seoul, Korea
Website: www.khanproject.com
An all white solution is shaped for Sumit Shop interior design in Seoul, the radiant space is work of KhanProject.
From the Architects:
Throughout the 224 sqm womenswear store are hundreds of lattice frames, shaped in squares that can be dismantled and reassembled to adapt to display requirements.
The designers Kwang-Hyun Han and Young-Sub Yun of m4 design opted to leave the décor mostly monochromatic white, allowing the colourful products to stand out. 'It makes the space more cheerful,' they say.
Materials mix from white epoxy floor to concrete and brick walls, plus lacquered ceilings. The result is a myriad of textures and styles that flow from one to another in their monochromatism.