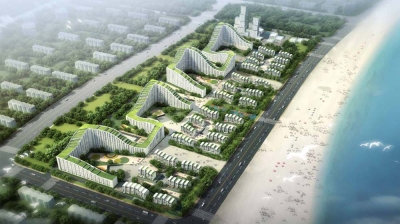 Project: Dongjiang Harbor Master Plan Competition
Designed by Holm Architecture Office (HAO) and Archiland Beijing
Client: Withheld
Size: 280 000 m2 residential, 40 000 m2
Location: Tianjin Banhat, China
Website: www.holmarchitectureoffice.com
Holm Architecture Office collaborates with Archiland Beijing on the project design for the massive Dongjiang Harbor Master Plan Competition located 60 km's from Tianjin. The new project will accommodate 280,000 square meters of residential as well as 40,000 square meters of mixed-use, office and public space.
"With the Dongjiang Masterplan we aimed to develop a housing typology that allows for high density while emulating the natural surroundings of the site. The dune shape buildings create unique apartment layouts, all with direct sunlight, natural cross ventilation and direct connections to the adjacent sea and beach" – Jens Holm founder Holm Architecture Office.