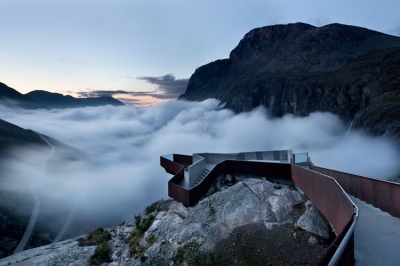 Project: Trollstigen Tourist Route Project
Designed by Reiulf Ramstad Architects
Client: Norwegian Public Roads Administration
Location: Romsdalen, Norway
Website: www.reiulframstadarkitekter.no
The showstopping Trollstigen Tourist Route Project is work of Reiulf Ramstad Architects, defying Norway's extreme and hostile nature. The architects took upon a challenge of building in such environment while at the same time not taking away from the showstopping location.
"Trollstigen plateau is exceptional. When we entered the competition launched in 2004, the shite had been completely spoiled: there was an astonishingly ugly parking lot and poor quality buildings, prefabricated for the most part, whose sole purpose was commercial. I'm always shocked to see how the most beautiful places are destroyed by the pressure of tourism… So I reestablished a conscious relationship between nature and visitors, between architecture and the environment". – Reiulf Ramstad for Once in a Lifetime book by Gestalten.
From the Architects:
The project will enhance the experience of the Trollstigen plateau's location and nature. Thoughtfulness regarding features and materials will underscore the site's temper and character, and well-adapted, functional facilities will augment the visitor's experience. The architecture is to be characterised by clear and precise transitions between planned zones and the natural landscape. Through the notion of water as a dynamic element –from snow, to running and then falling water- and rock as a static element, the project creates a series of prepositional relations that describe and magnify the unique spatiality of the site.