Versace Furniture teams up with Interior Design Sasha Bikoff for a special presentation at the ongoing Art Basel Miami Beach and Design Miami. The "South Beach Stories" exhibition is to also host a series of images from a book published by Gianni Versace in 1993. The book featured images captured by photographer Doug Ordway spotlight Versace men among supermodels Kate Moss and Christy Turlington. Sasha Bikoff has curated an archive of images from the book to accompany her colourful collection for the Art Basel Miami exhibition. Bikoff shared:
Similar to the book, the exhibition shares the life of a family of true artists that came to this city and made such a big cultural and creative impact that is still in our minds and hearts today.
The furniture presented at the exhibition pays tribute to the moment in time for Versace as well as the South Beach Stories book. Interior Designer Sasha Bikoff created unique furniture pieaces for the occasion spotlight signature Versace patterns from the Gianni Versace archive.
Scroll down for more of the latest Versace Furniture collection:

With the sentiment of the Versace Spring Summer 1994 collection the designer worked on a bed made out of surfboards. Bikoff's bed for Versace is accompanied by art-deco style sheets spotlight the label's bright nuances. Displayed are also pieces from the iconic Versace Fall Winter 1992 collection serving as inspiration for the furniture details. While a striking gold-coloured wooden coffee table depicting the famous Versace sun found its inspiration from the Spring Summer 1993 collection. In addition Bikoff worked on also creating three crystal chandeliers for Versace Furniture directly drawing inspiration from the iconic prints and fabrics.
RELATED: VERSACE Furniture at Fuori Salone for Milan Design Week 2019
Versace's Miami Design District boutique will also display three settings created by Sasha, first presented at Fuori Salone during Milan Design Week 2019. For her first collaboration with Versace, Bikoff envisioned installation settings that showcase special reinterpretations of pieces from past Versace Home Collections, playfully referencing Versace imagery and materials in neon shades. – from Versace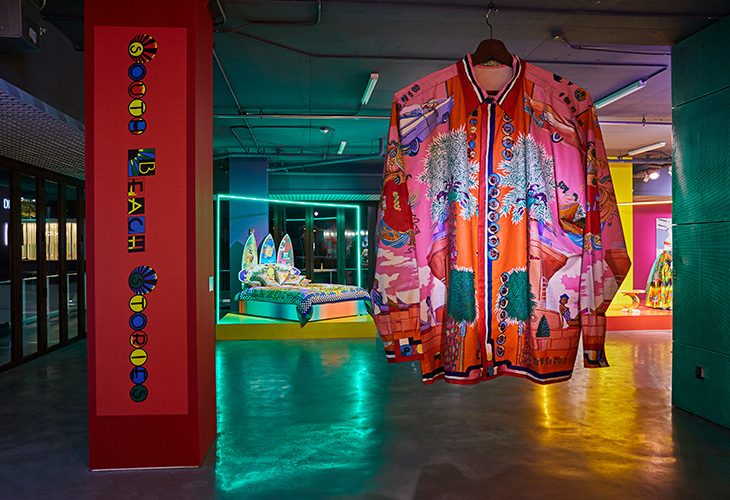 ARTIST ANDY DIXON CONTRIBUTES
In addition the famed Canadian Artist Andy Dixon has collaborated on the exhibition by presenting a new pieces of art. Dixon who is known for examining the relations between art history and contemporary luxury has created an oversized Versace shirt replica. To create the Miami-print silk shirt replica displayed in the space (image above) Andy used acrylic paint and oil stick on canvas. The shirt while it may not seem so on the images is a massive eight foot piece entirely hand painted to resemble the coveted Versace print shirts. Dixon literally created a unique painting in a shape of a shirt!
If you are at Miami for the Art Basel opening festivities the "South Beach Stories" exhibition will be open today December 6th at the Palm Court Event Space of the Miami Design District.