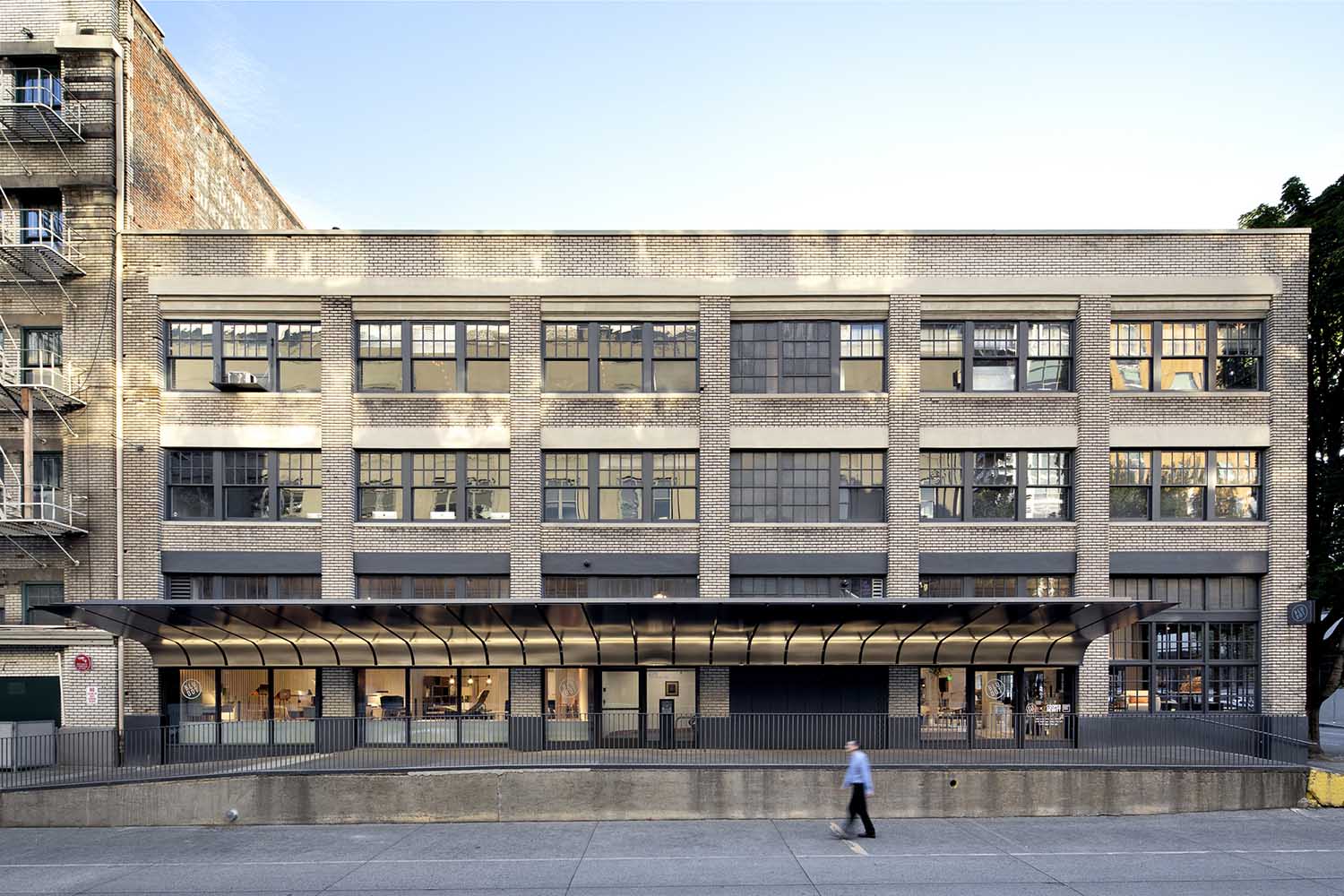 Portland based studio Waechter Architecture has recently completed work on its lates project – Blu Dot Showroom. The showroom, which is housed in Portland's Pearl District, showcases the personality and caliber of the furniture manufacturer Blu Dot. The 7,300 square foot project, which was constructed inside a historic warehouse, was intended to maintain the character of the original industrial structure while presenting a freshly created intervention in the form of a showroom environment.
Conceived as a meticulously crafted object seamlessly integrated into the architectural composition, the intervention gracefully occupies the spatial realm, deliberately distinguished from the preexisting structural framework. The seamless integration of a white-washed wood finish, extending gracefully from the floor to the wall, imbues this new architectural creation with a unique identity. It establishes a harmonious conversation with the existing textures and construction of the warehouse, as well as the contemporary furniture that adorns the space.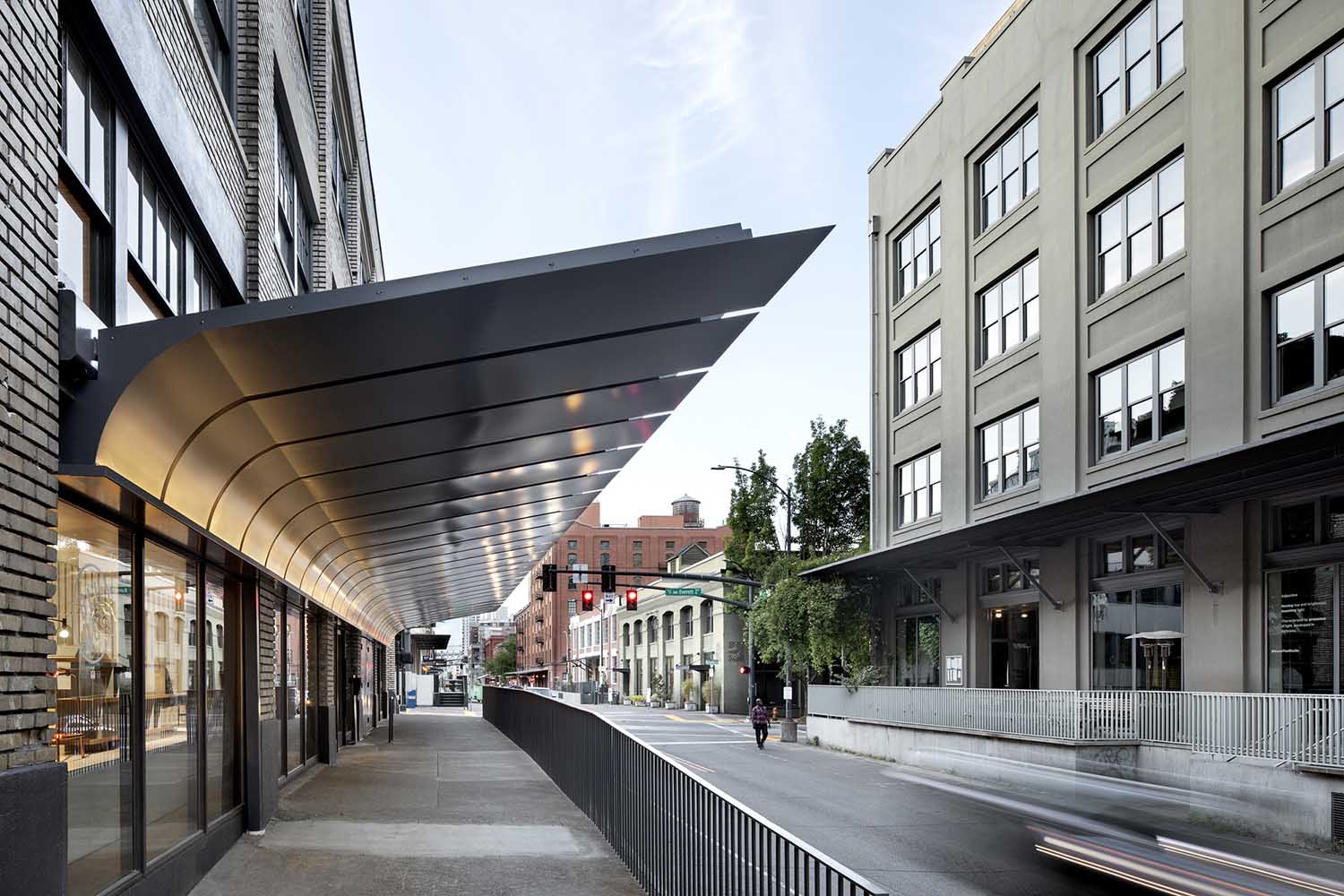 The preexisting space showcased a harmonious blend of historical elements and a diverse array of supplementary additions. The building exhibits a discernible arrangement reminiscent of a pre-war warehouse structure. However, a sequence of renovations has resulted in the fragmentation of the interior space, thereby compromising its inherent coherence. In lieu of engaging in a rivalry with the existing structure, our intervention harmoniously collaborates with the building's framework, skillfully introducing elements that accentuate and reveal its original essence.
In order to showcase the historical framework, the preexisting mezzanine was strategically reduced to enable the infiltration of natural light. In a bold architectural move, a wing comprising of individual offices has been tastefully eliminated, creating a sense of openness and connectivity within the space. This transformation has been achieved by skillfully opening up the infilled bays against the outer walls, allowing for enhanced visibility and a seamless integration with the surrounding environment.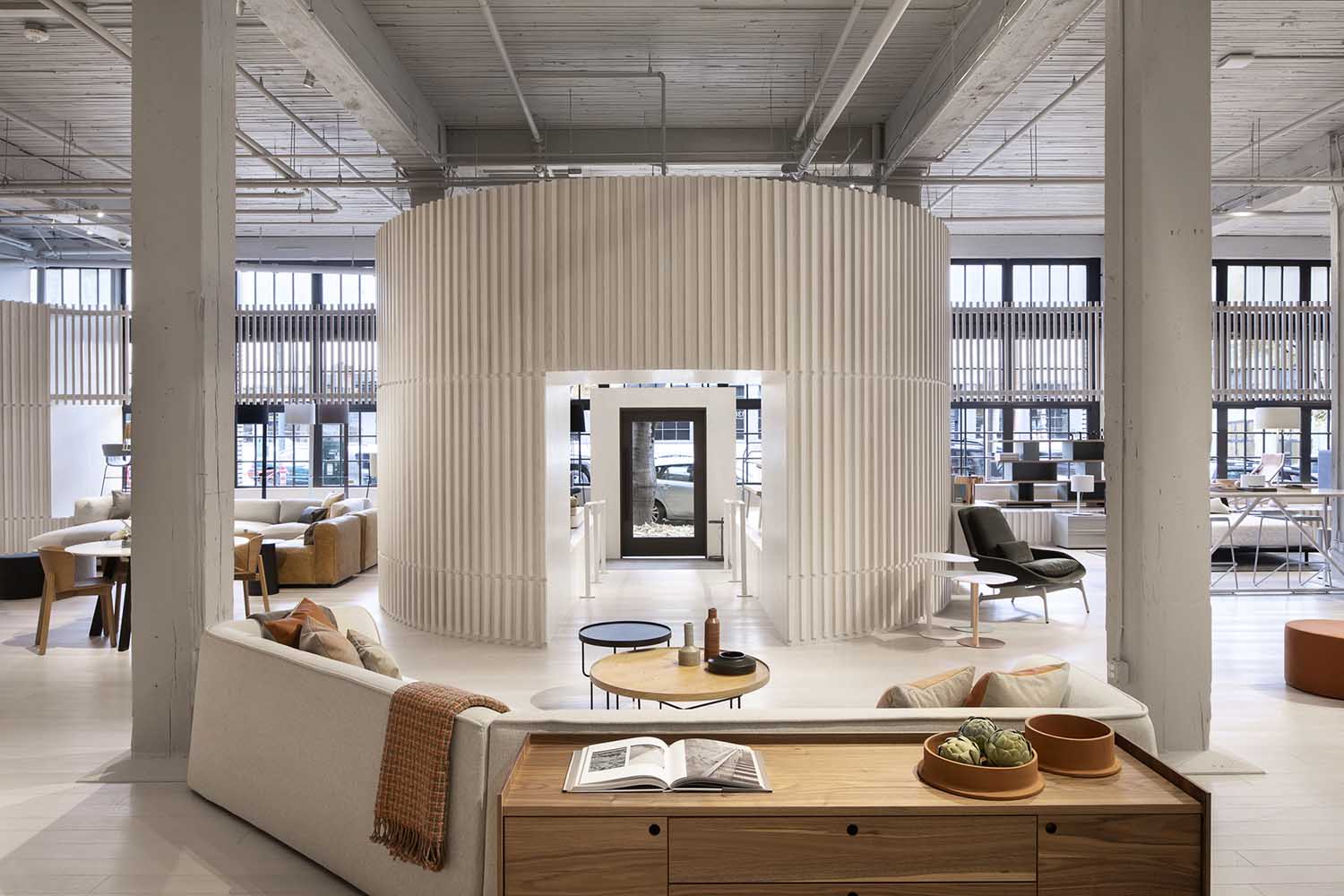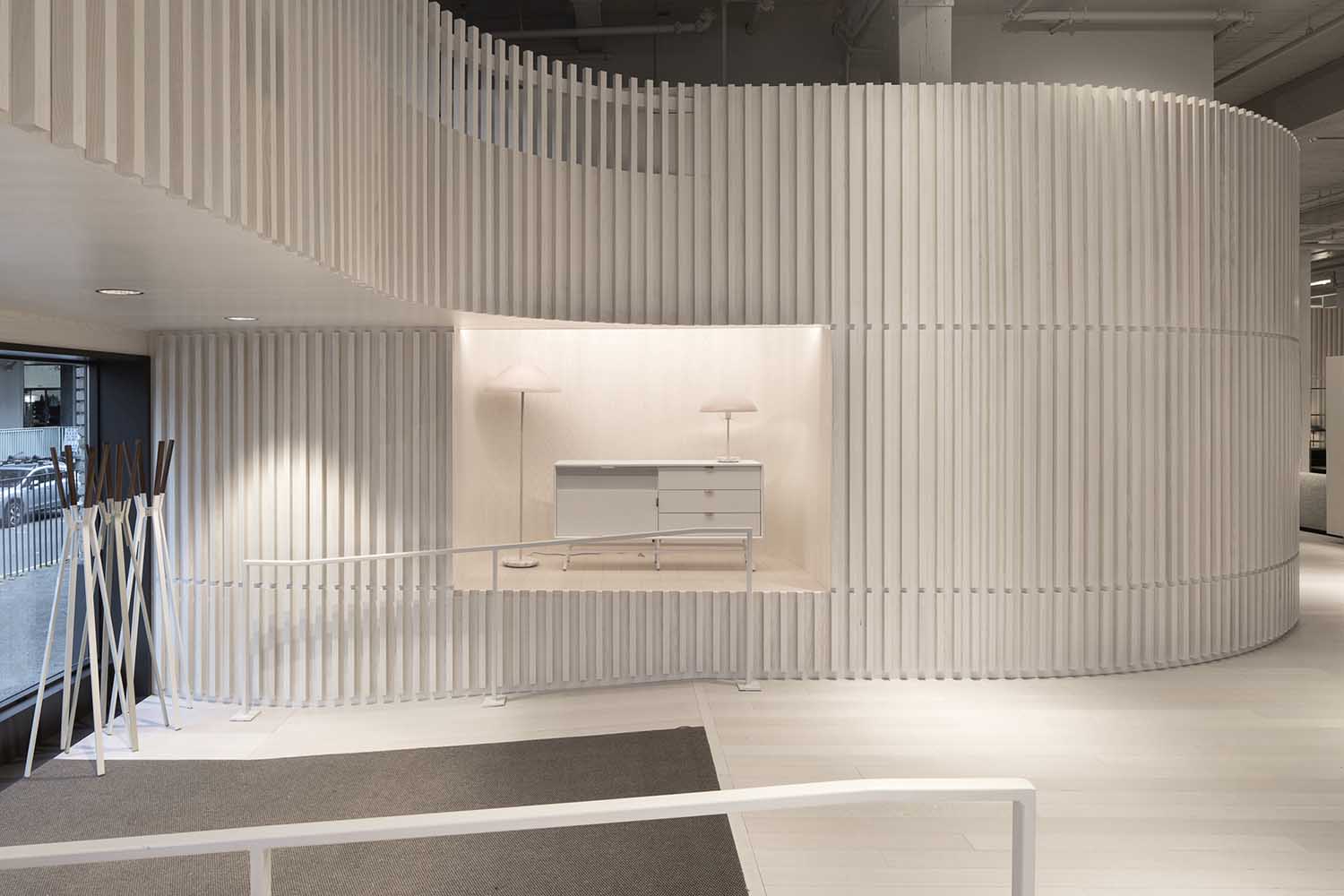 The building exterior showcases a newly integrated canopy that unifies the storefront, loading areas, and elevator access bays, creating a cohesive and streamlined design. The canopy assumes a distinctive character as it gracefully descends, forming a harmonious curve that elegantly complements the brick facade. Its purpose is to artfully enclose and highlight the newly created entrance to the interior space. The newly installed wooden storefronts elegantly grace the foundation of the canopy, serving as a defining element that delineates the extent of the architectural intervention. The outcome is a remarkable architectural expression that masterfully accentuates the juxtaposition of the contemporary and the historic elements.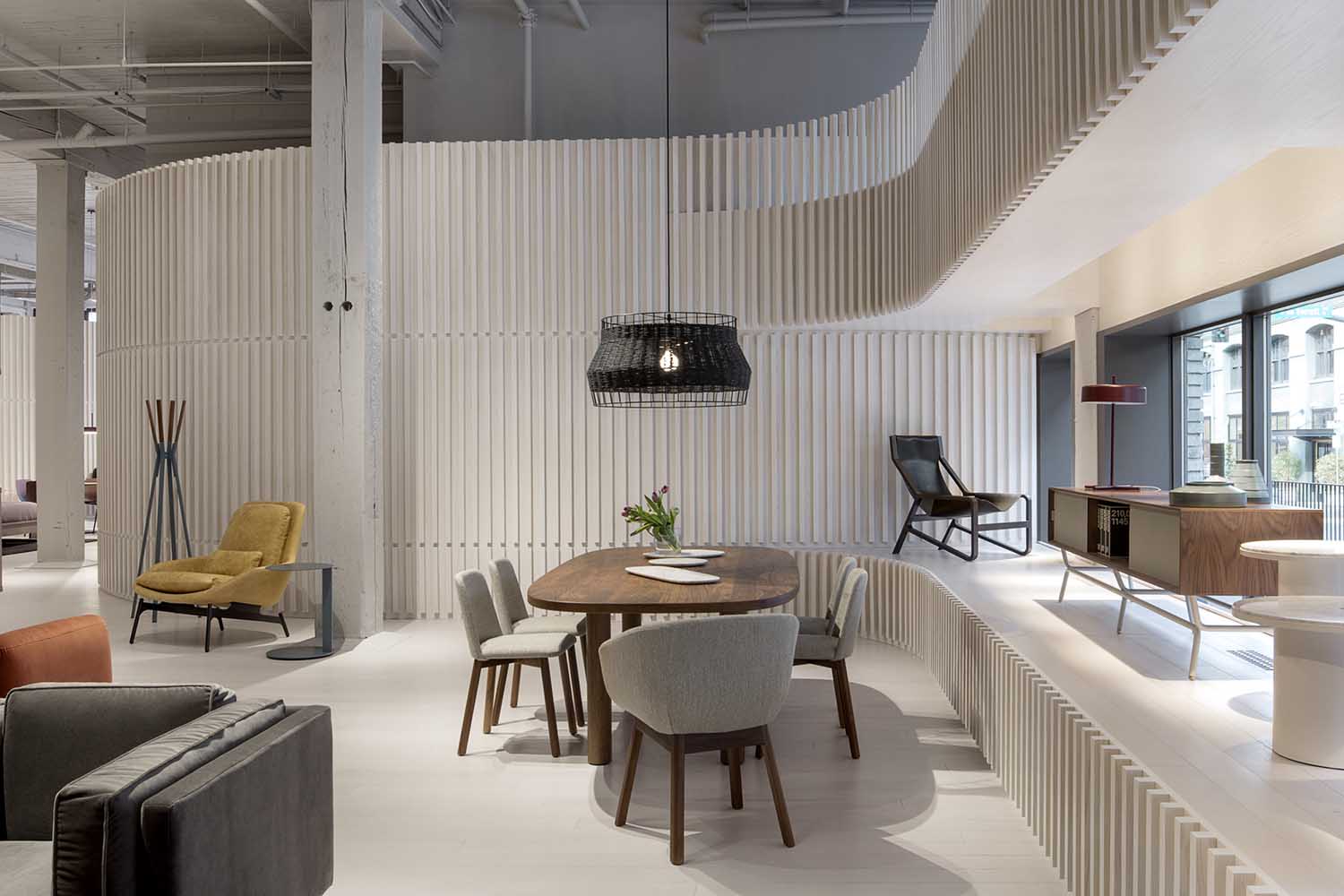 The integration of both interior and exterior interventions serves to redefine the spatial experience and overall character of the building, resulting in a cohesive and unified entity. The showroom embodies a design that showcases the architectural elements through its conceptualization, form, and intricate detailing. However, it gracefully assumes a textured role, serving as a backdrop that accentuates the prominence of the showcased furniture and objects.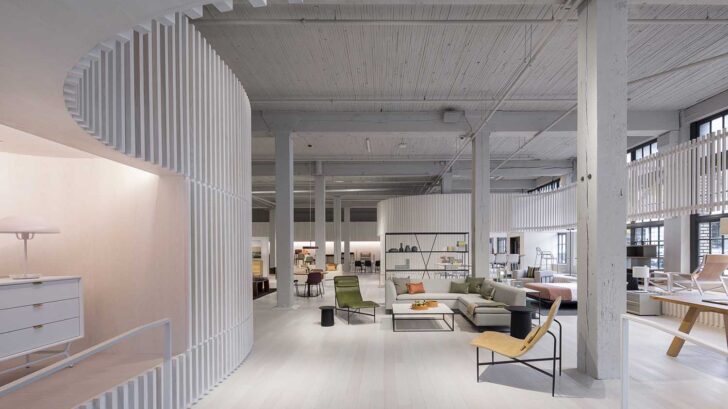 Project Team
Architecture: Waechter Architecture – waechterarchitecture.com
Contractor: R&H Construction
Civil Engineer: KPFF
Structural Engineer: KPFF
Historic Consultant: Peter Meijer Architect
Client: Blu Dot
Photography
Jeremy Bittermann