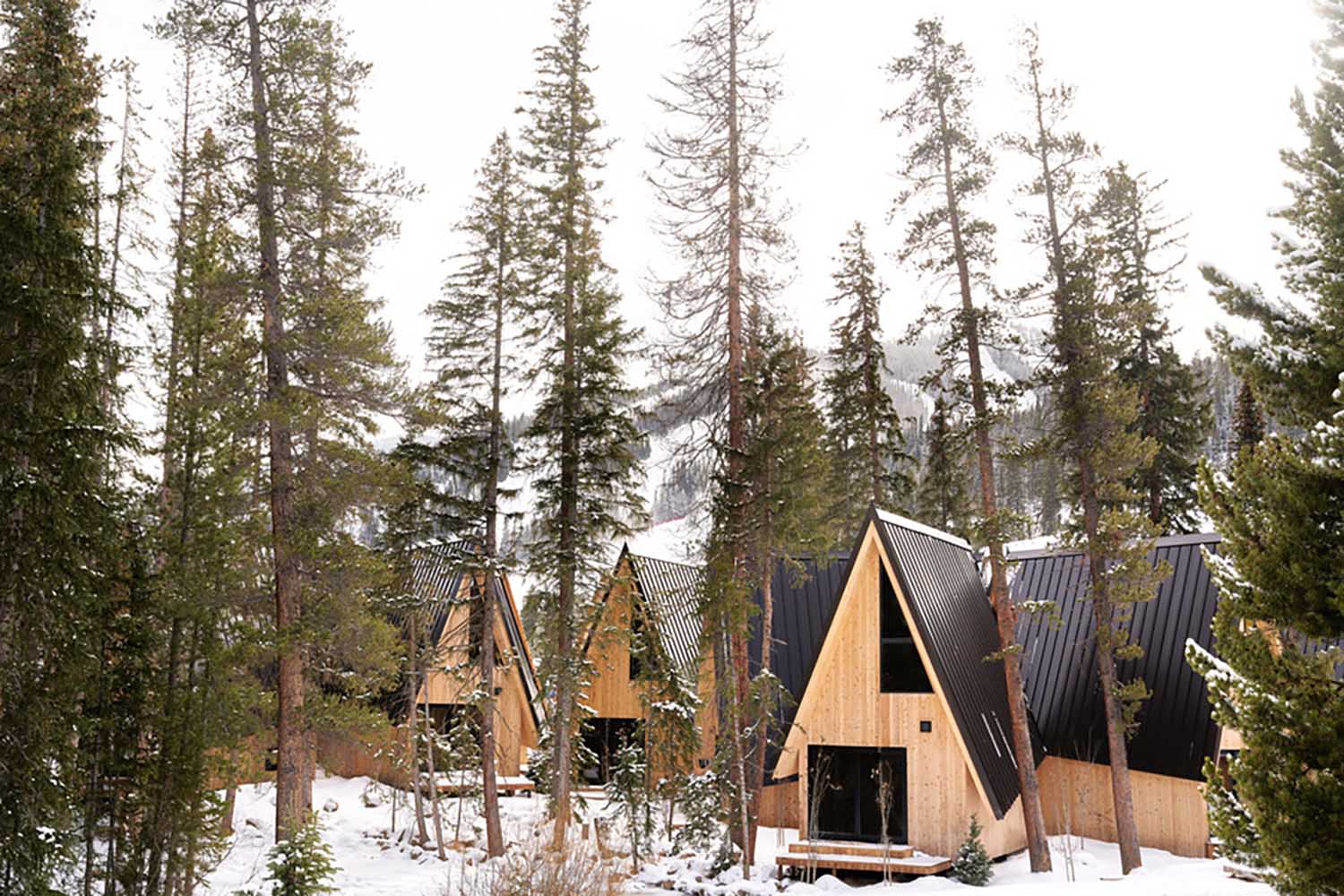 Portland-based firm Skylab Architecture has recently completed work on the A-Frame Club in in Winter Park, Colorado. The A-Frame Club is an innovative hotel brand that draws inspiration from the vibrant ski culture of 1970s America and the timeless charm of the iconic A-frame cabins that defined that era. The inaugural Club showcases a collection of 31 meticulously crafted cabins, thoughtfully designed to harmonize with the surrounding Winter Park, Colorado landscape. Complementing this architectural ensemble is a captivating bar and restaurant, nestled within the walls of a cherished historic saloon building. Nestled among a lush canopy of mature pine trees, the stand-alone cabins gracefully occupy a two-acre wooded site that boasts a picturesque adjacency to the tranquil Fraser River. The cabins are thoughtfully linked together through an intricate system of boardwalks, meticulously designed to offer a sense of seclusion to esteemed guests. This deliberate arrangement not only ensures privacy but also cultivates an ambiance of tranquility, allowing visitors to unwind and rejuvenate following exhilarating adventures in skiing or mountain biking.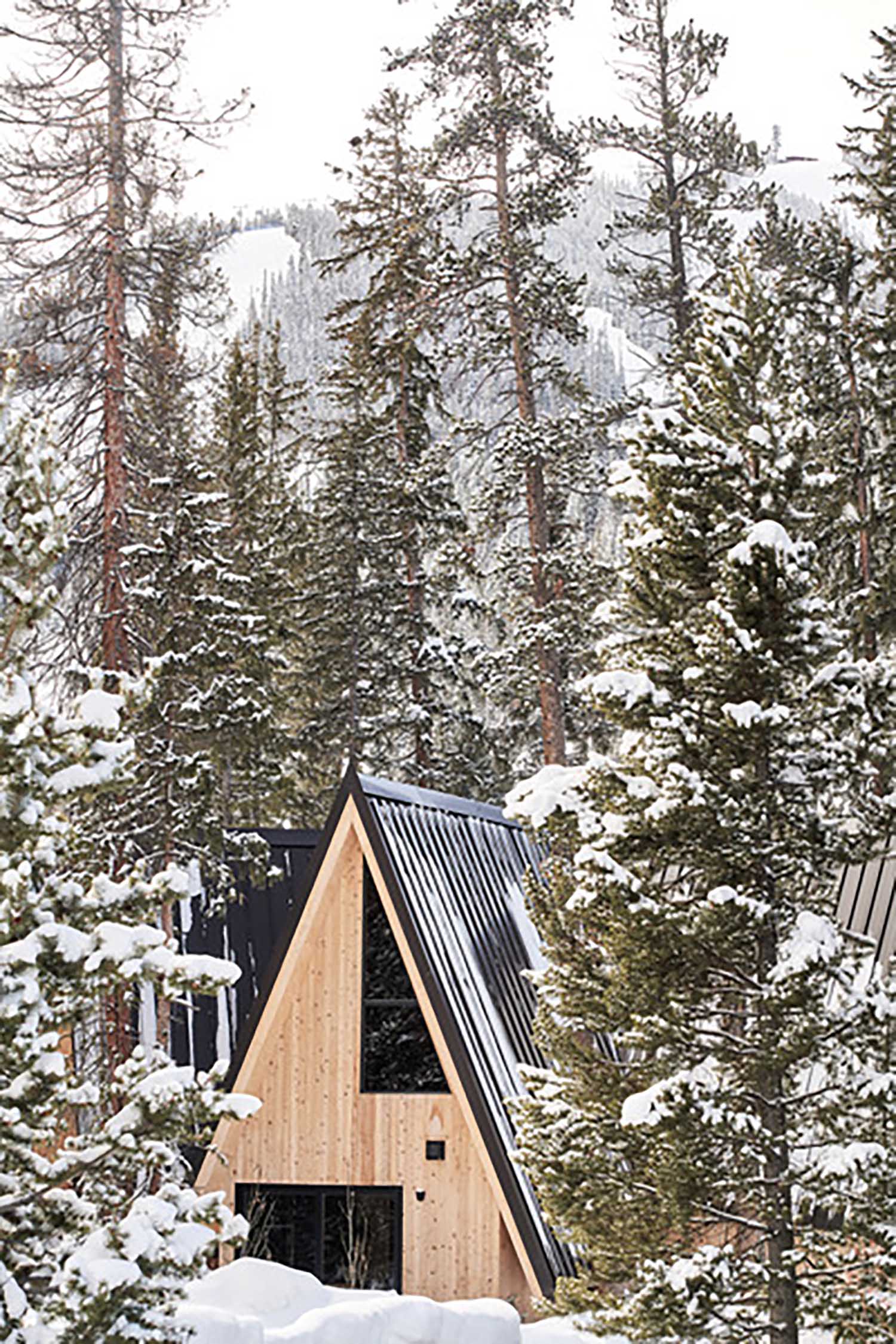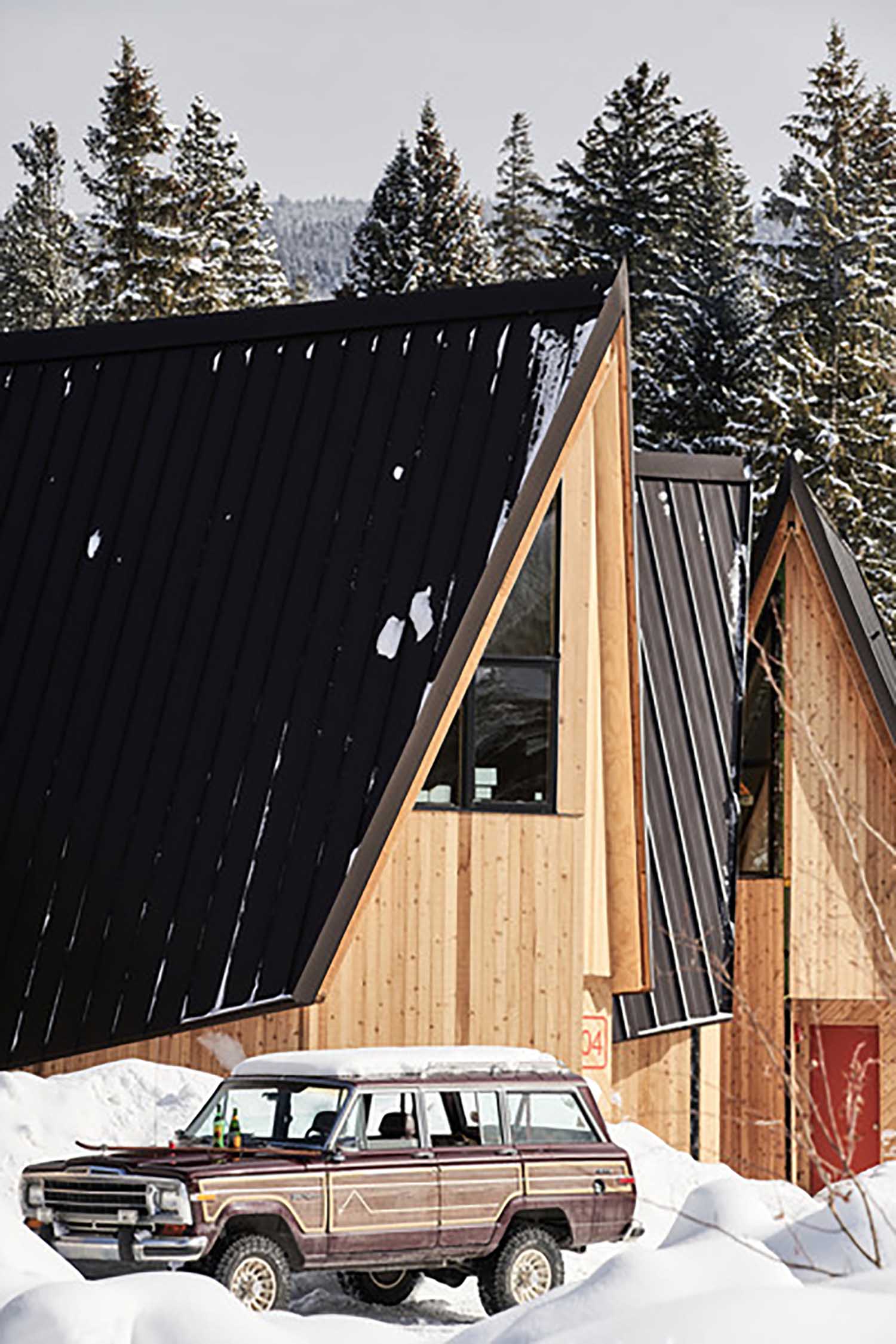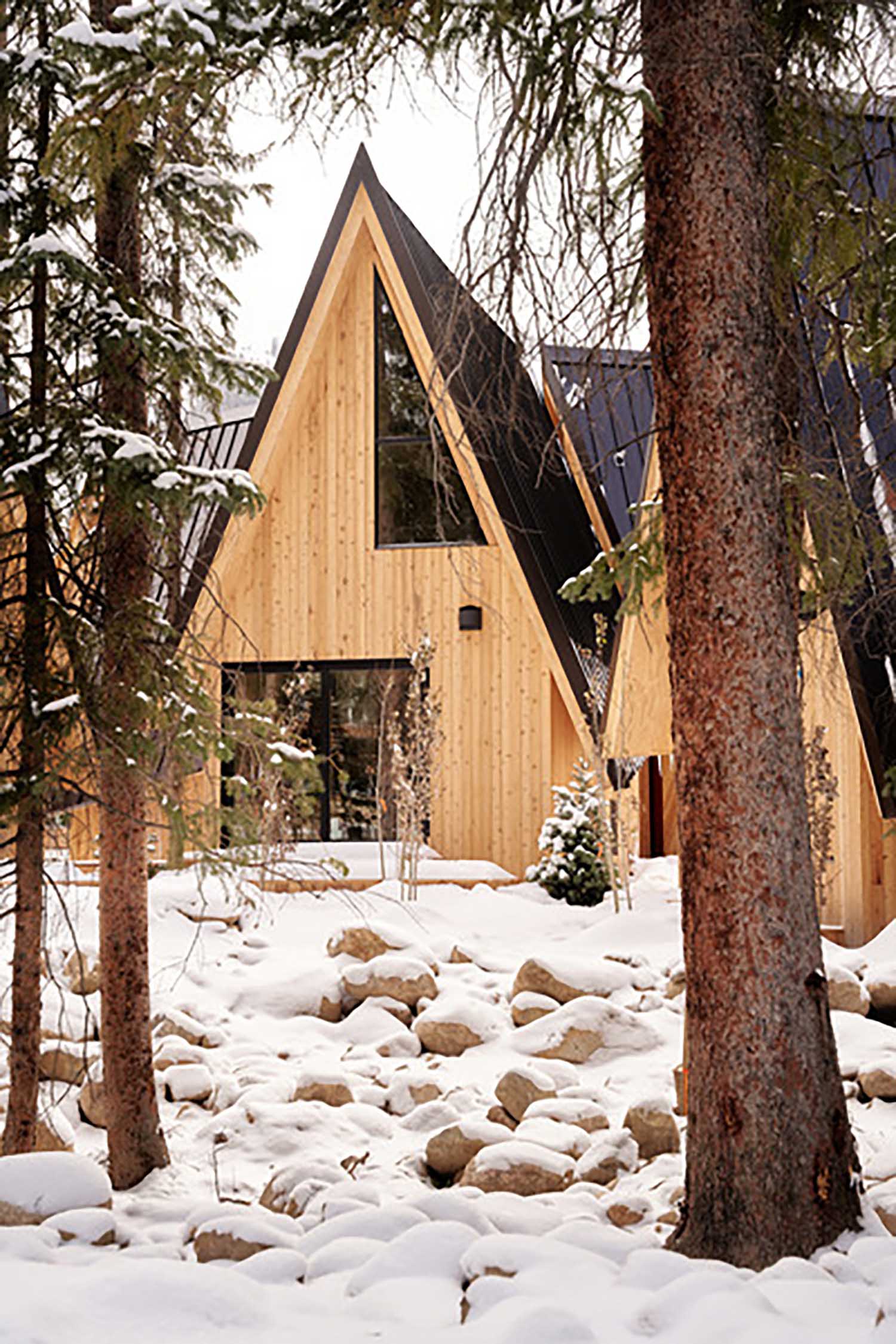 The cabins boast a generous area of 450 square feet, thoughtfully designed to accommodate a main floor living room, an inviting entryway, a well-appointed bathroom, a convenient kitchenette, and an elevated lofted bedroom. Every cabin boasts the exquisite addition of bespoke Malm fireplaces, meticulously selected to enhance the ambiance and provide a cozy retreat for our discerning guests. The vintage furnishings adorning each cabin further elevate the timeless charm and character, ensuring a truly immersive experience in the realm of architectural nostalgia. The walls exude an inviting ambiance as they are adorned with meticulously crafted cedar panels in warm tones, complemented by bespoke millwork that adds a touch of sophistication. Elevated gracefully on low piers, every cabin in this architectural marvel is thoughtfully designed to maximize breathtaking views while delicately interacting with the surrounding landscape. The incorporation of expansive glass windows serves to seamlessly integrate the surrounding mountainous landscape with the interior space, while also facilitating the infiltration of abundant natural light.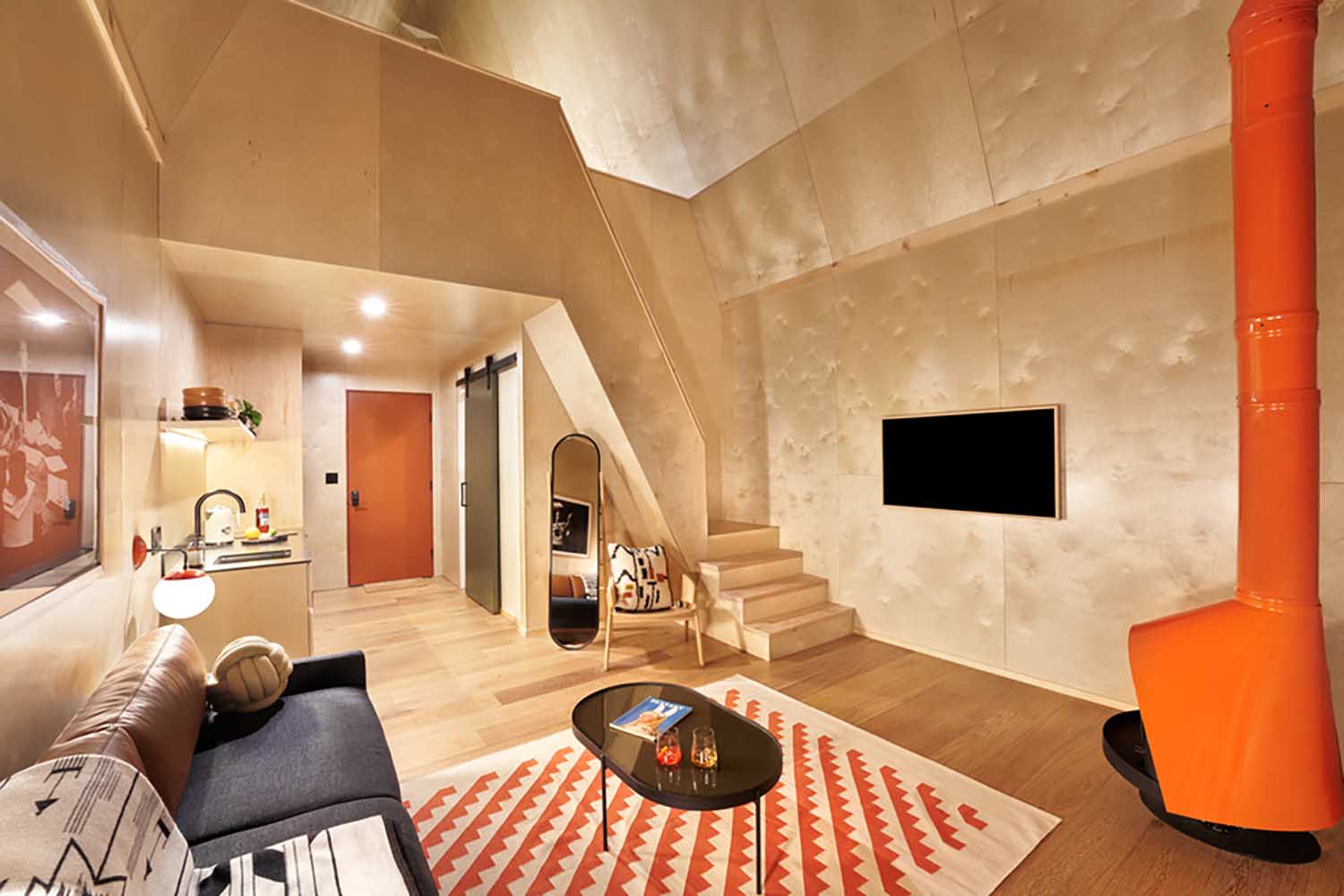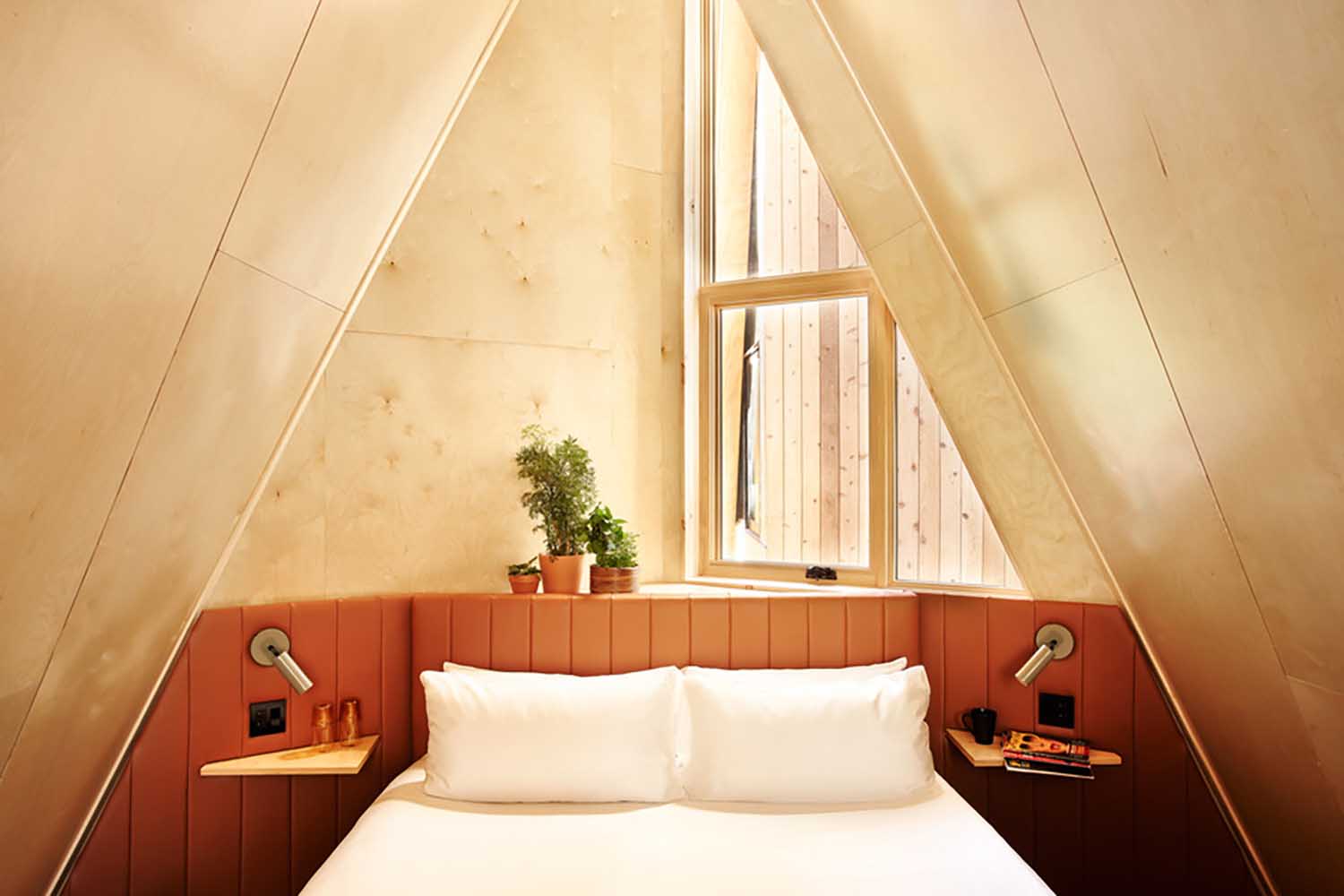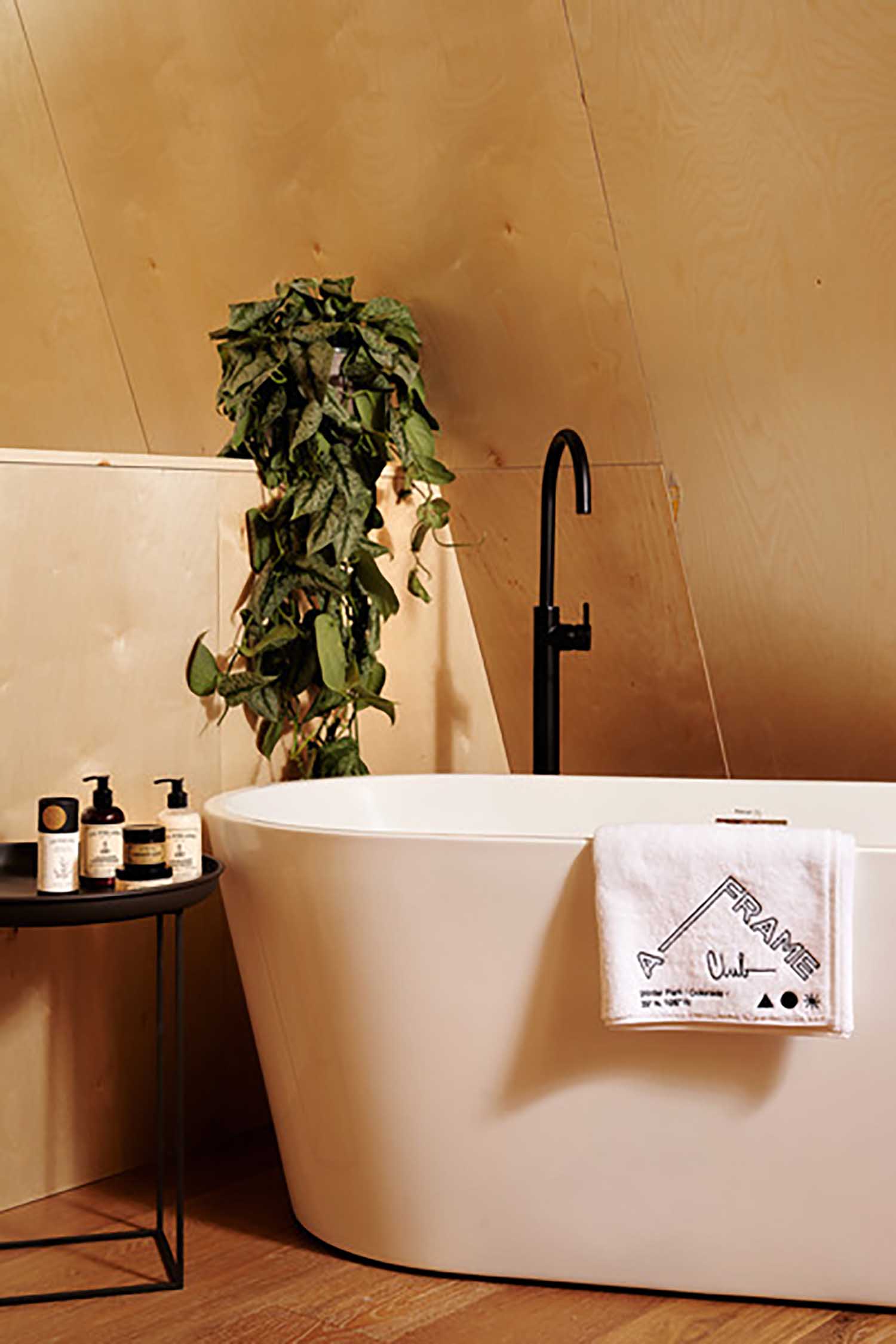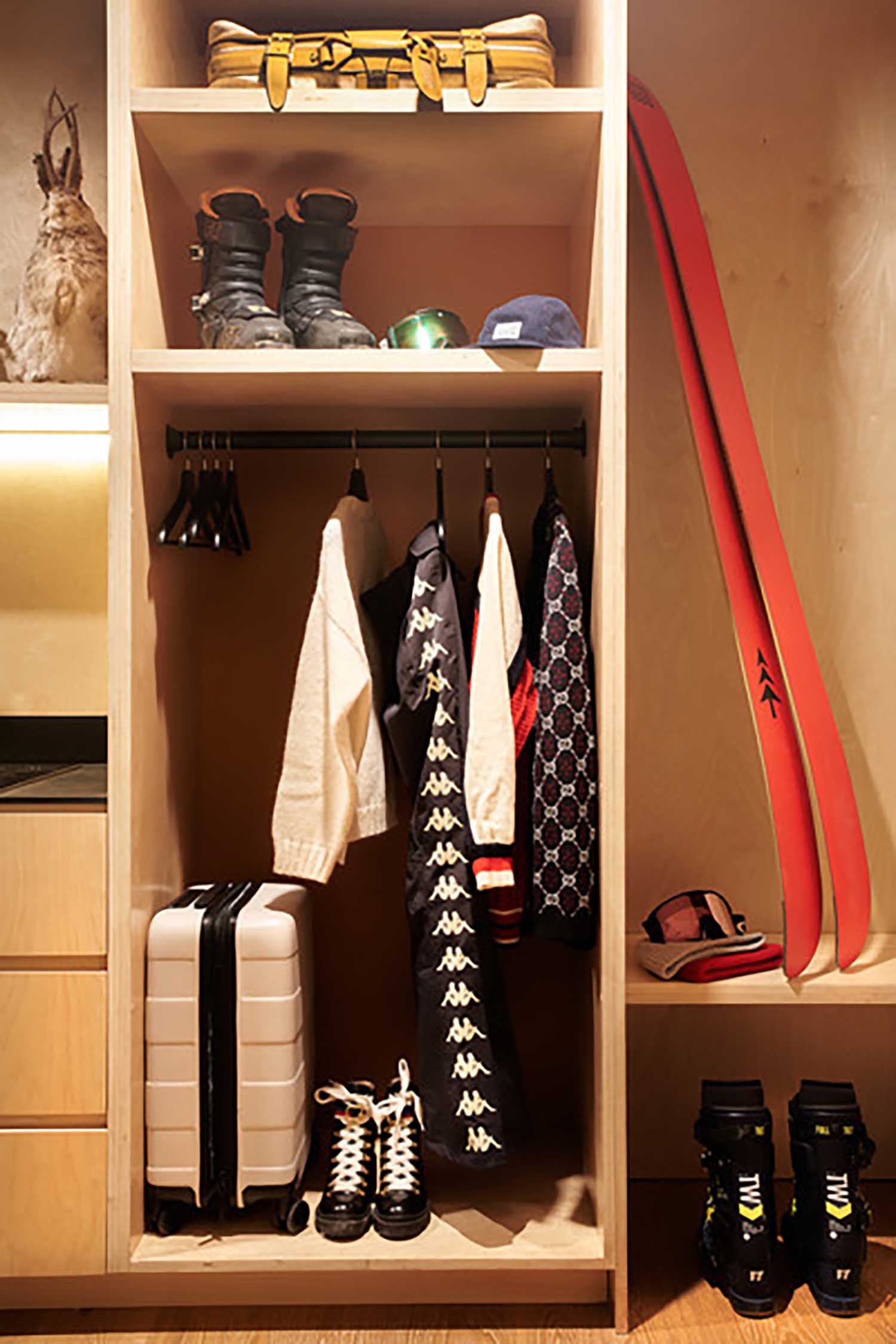 The cabins have been thoughtfully designed with a focus on adaptability. The lofted bed, ingeniously accessible by a ship's ladder, adds a touch of nautical charm to the space. Meanwhile, the living room couches, thoughtfully designed to be foldable, provide versatile seating options that optimize the functionality of the room. The guests are afforded a sense of autonomy over their designated area, facilitated by the provision of individual keypads for seamless self-check-in. Furthermore, the integration of user-friendly, automated controls for heating, cooling, and lighting ensures a hassle-free experience in managing the environmental conditions within their space.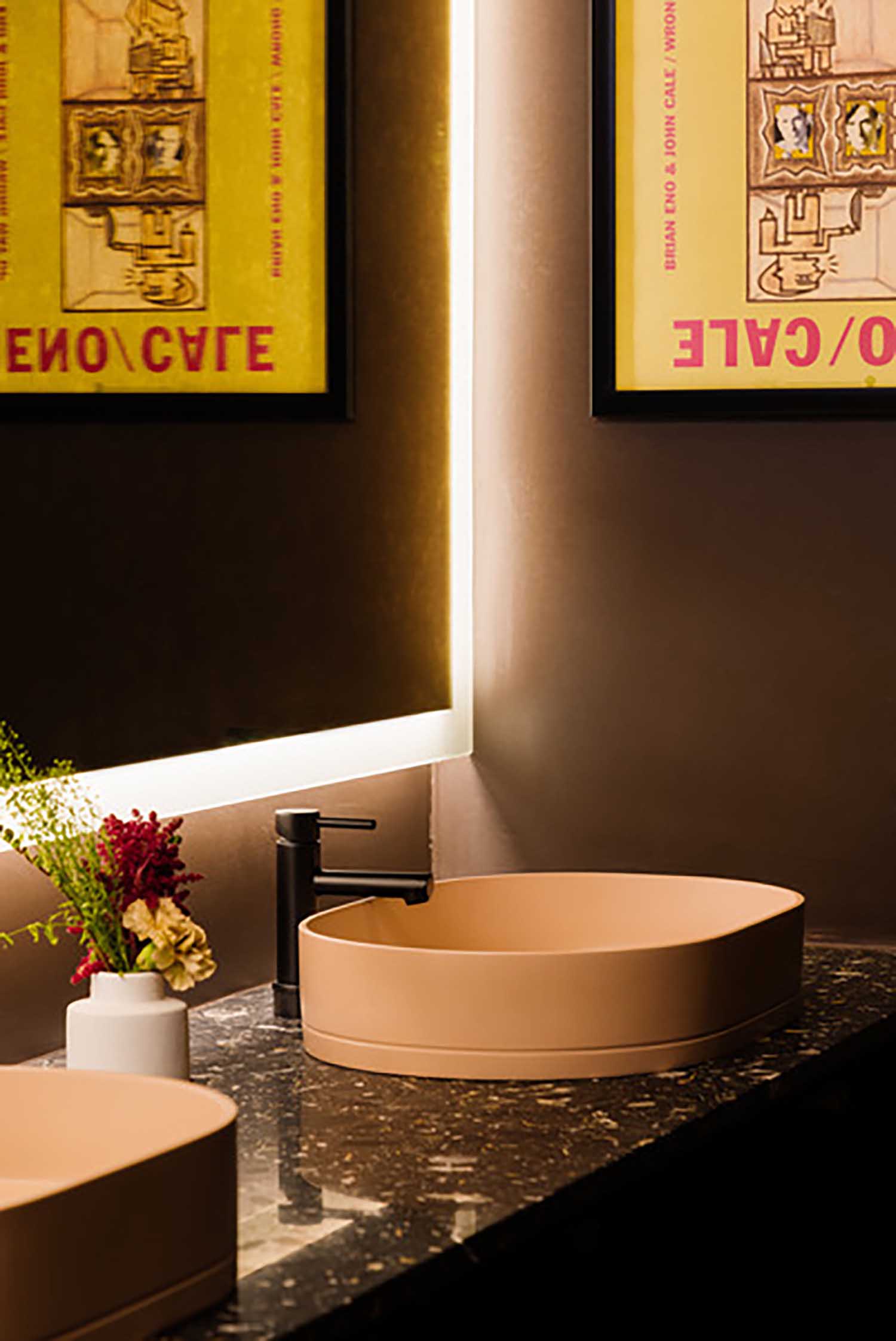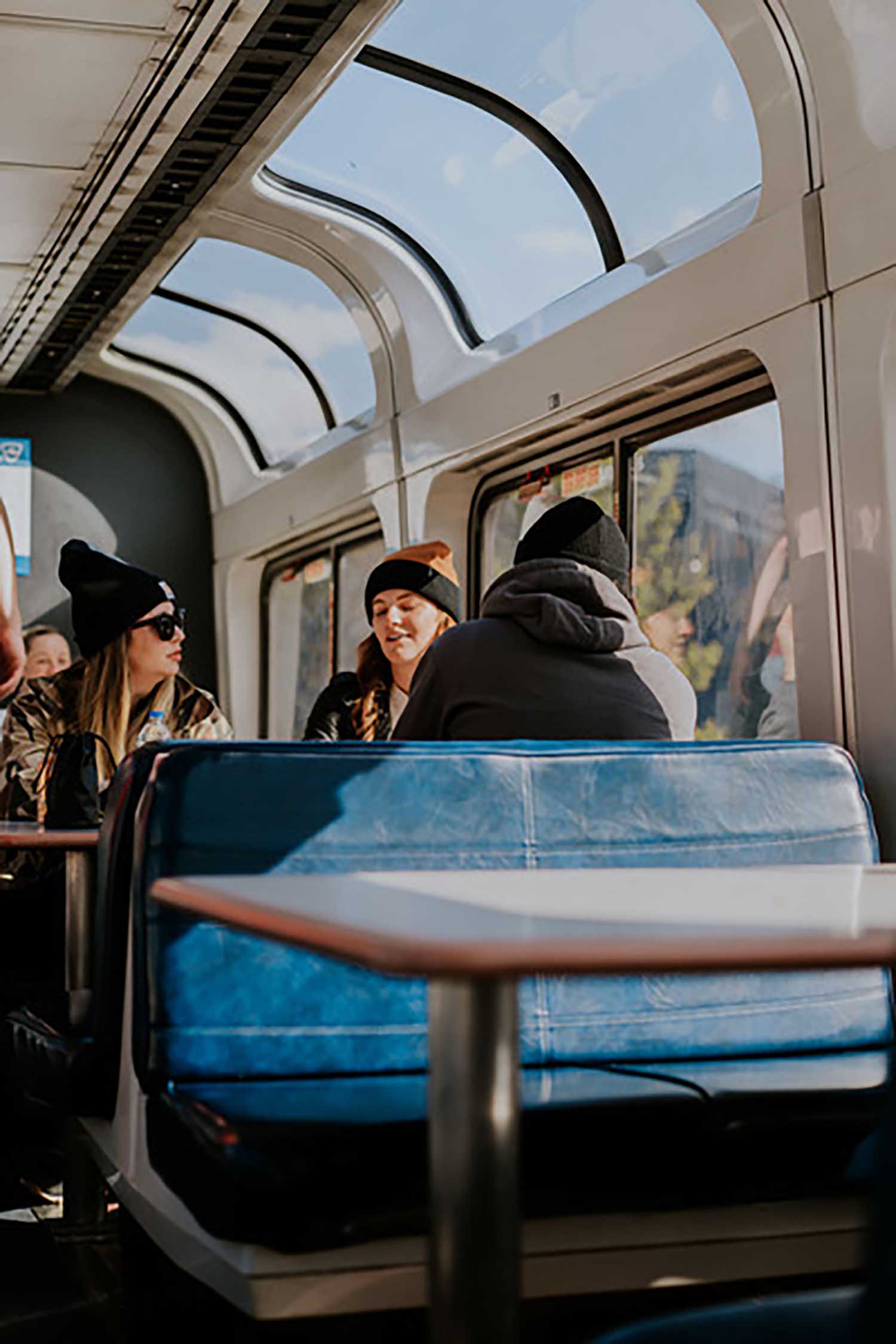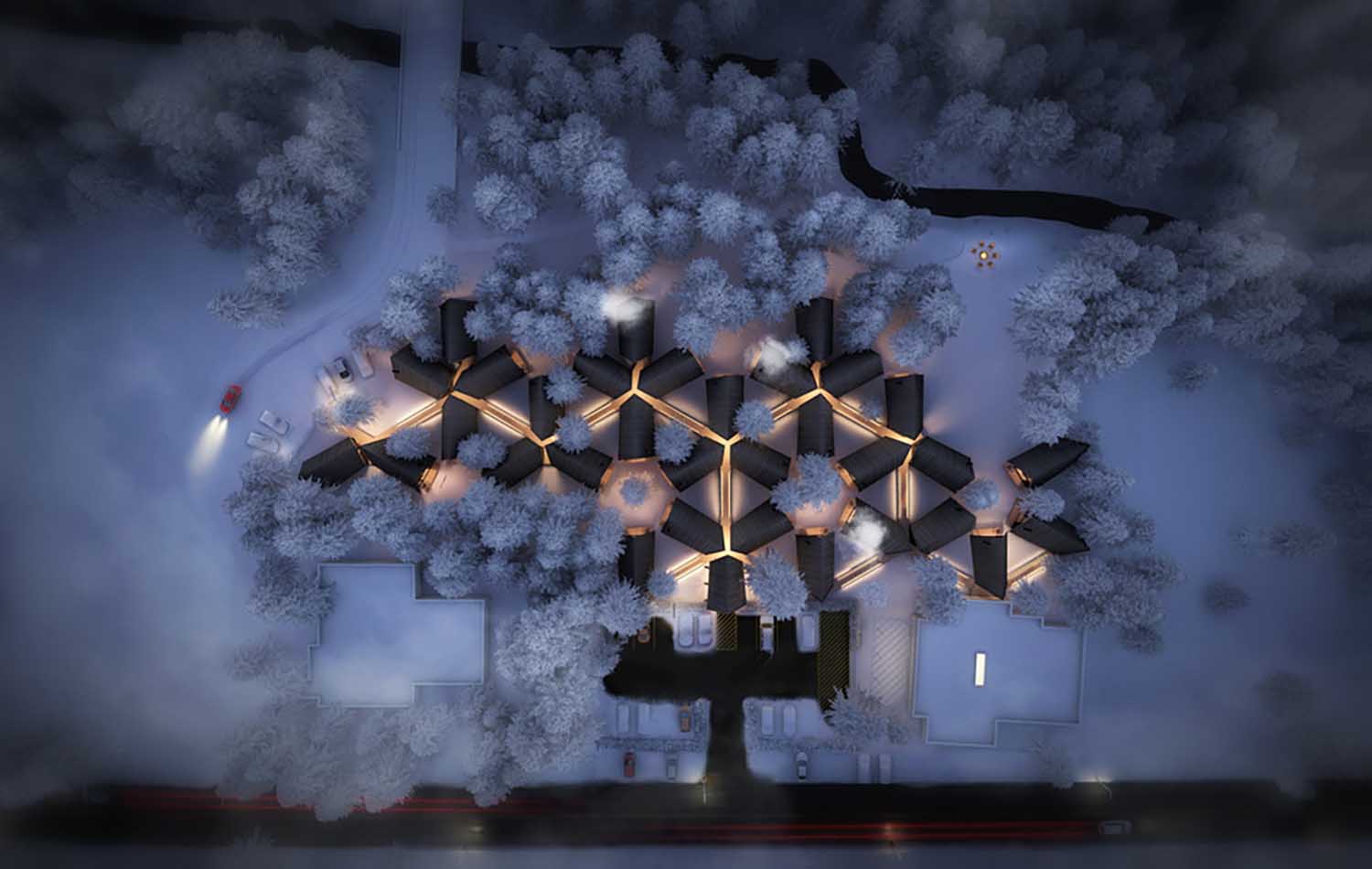 The fostering of community spirit is facilitated by The Lodge, a centrally located gathering venue spanning an impressive 9,190 square feet. This space serves as a welcoming hub for both visitors and residents, encouraging a sense of togetherness and camaraderie within the community. The establishment offers a delightful selection of food and beverages, allowing guests to savor their choices either on-the-go or in the serene ambiance of the patio, adorned with a tastefully designed pergola and complemented by inviting fire pits. A diverse range of spatial divisions is established to accommodate a harmonious blend of activities such as beverage consumption, dining, social interaction, and professional endeavors. The Lodge exudes a carefully curated ambiance, blending a playful sense of novelty with a sophisticated mid-century aesthetic. This space effortlessly captures the essence of both timeless elegance and contemporary charm.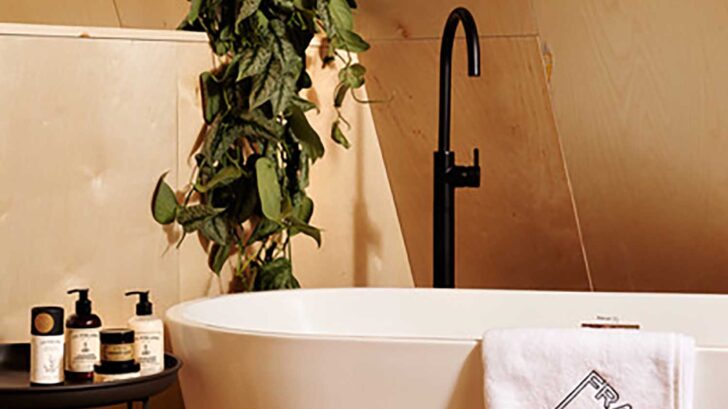 Project Team
Architecture: Skylab Architecture
Interior Design: Skylab Architecture
Civil Engineer: Bowman
Structural, Mechanical, Electrical Engineer: Resource Engineering Group (REG)
Geotechnical Engineer: KC Hamilton Engineering, Inc
Branding: Wunder Werkz
Client: Zeppelin Development
Skylab Design Team
Jeff Kovel, Design Director
Brent Grubb, Principal in Charge
Robin Wilcox, Project Director
Conor Wood, Project Architect
Jeni Nguyen, Project Designer
Amy DeVall, Interior Designer
Nick Trapani, Visualizer/Project Designer
Eduardo Peraza Garzon, Visualizer
Photography
Stephan Werk
Kylie Fitts