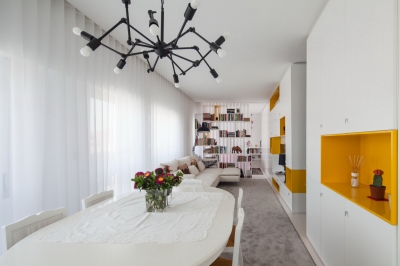 Project: XS Apartment – 11 RAL
Designed by Spaceworkers
Project Team: Henrique Marques, Rui Dinis
Architects: Rui Miguel, Sérgio Rocha, Rui Rodrigues
Financial Department: Carla Duarte – Financeira
Size: 60 m2
Location: Rua Antonio Mesquita, nº 49 2º Dtº, Lousada, Portugal
Website: spaceworkers.pt
Photographer: João Morgado
The elegant XS Apartment design in Lousada is work of Portugal based practice Spaceworkers.
From the Architects:
The project 11RAL consists in the renovation of an apartment which will provide housing for a young couple. The building dates from the late of '70s, showing clearly an era characterized by intense fragmentation and the small areas (60m2), thus the premise of the study was to define a functional layout, where the internal space was kept as a free plant without partition walls, to enhance the expansive nature of space, with a further control the size and design of furniture, so that it does not invade areas minimum movement. Inside the apartment, we tried to create a calm and clear, in contrast to the fragmented landscape of the city.