For some people, a garden is like a car. It's their pride and joy – and this will never change.
To coin another comparison, the garden is like a lot of other interests and it goes in trends. In other words, what may have been hot five years ago isn't necessarily the same now. Of course, this won't be noticeable for the Average Joe, but for those who really take a serious interest in their garden these trends are as clear as day.
Following on from above, today's article will now take a look at some of the big garden trends that 2019 has to offer, and show how you can implement these.
The concept of "zoning"
For years, we have been used to zoning in our homes and nowadays, it tends to occur in open plan living arrangements.
Well, the same thing is happening in gardens. In a bid to make more of garden space, homeowners are trying to segregate their yard into different uses for different people in the household.
For example, when it comes to the kids, they might have an "outdoor playroom". As the name suggests, this is an area of the garden just for them to play and effectively call their own. It will usually be turfed, so you will have to consider how to maintain the lawn, but this is one way to zone out your garden.
In terms of other examples, storage areas, "grow your own" areas and outdoor entertaining ones are all popular – and all tend to be used together.
On the subject of "grow your own"…
We've just touched on the topic of growing your own produce, but this is a trend which deserves a section of its own.
Once upon a time, it was completely popular – and for good reason. After all, this was truly a way of life.
After a brief dip, growing your own produce is back on a lot of people's agendas. Some have suggested that it is because of the rise in veganism – but we're not going to speculate. You don't have to grow a farm, a lot of families are just taking a small section of their garden and growing the likes of vegetables and herbs.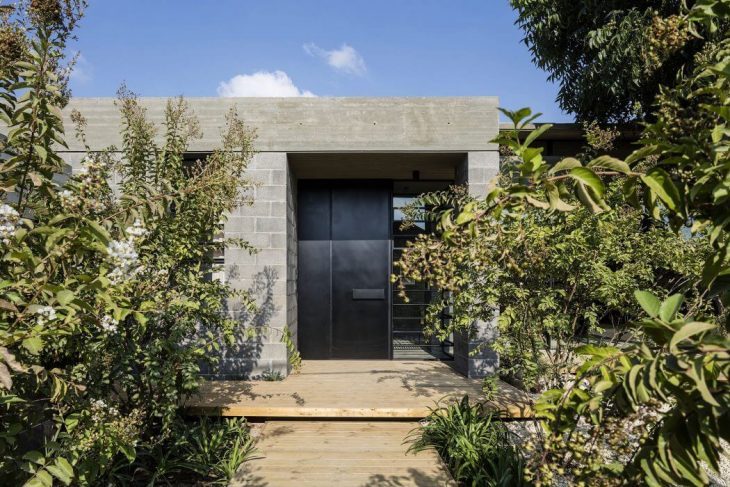 Bringing the inside, outside
This is one of the more interesting trends, with a lot of people now well and truly bringing the inside, outside. It's not just classic garden furniture either, outdoor kitchens are becoming more common while the most surprising of all is that items like rugs are even making it out there!
A focus on climate change
As we all know, climate change is something of a hot topic right now. This is something that is making its way into gardens as well, with homeowners trying to combat the ever-changing weather conditions.
This might be through plants that are drought-resistant, or even smart watering systems. Regardless, there is now a big emphasis on staying green in your yard – and this doesn't necessarily relate to the lushness of your lawn.
Images from Bare House by Jacobs-Yaniv Architects – See the full story here