André Fu Studio recently completed Dongzhimen 8, an upper luxury residence project in Beijing. André Fu carefully designed the stunning interiors while the exteriors are courtesy of GAD. Take a look at the complete story after the jump.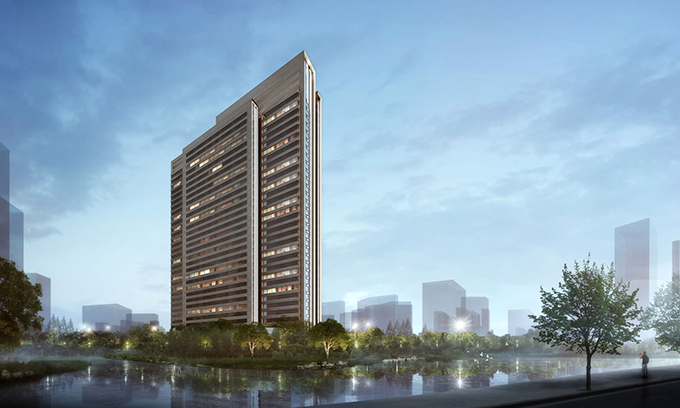 From the architects: André Fu embarks upon his first foray into the ultra-luxe market of Mainland China and his first station to alight upon is Dongzhimen 8 in Beijing. André Fu's astonishing velocity of springing from the unknown up into the architect stratosphere, garnered him a good reputation of 'an architect of genius' in Asia Pacific, and a plethora of masters have been commissioned to design landmarks for Beijing City, his 'very André' residence thereupon, is a manifesto to replace the 'placeholder'.
LED-ridden high-rises, neon signs, or a riot of sparkling colours, all the semblance of modernity are supposed to be entailed in the popular criteria used for assessing how developed a mega-city is. However, these iridescent delights could possibly thin down the genuine attractiveness of a metropolis which boasts a duality of 'Modern vs. Historic', and this city is Beijing.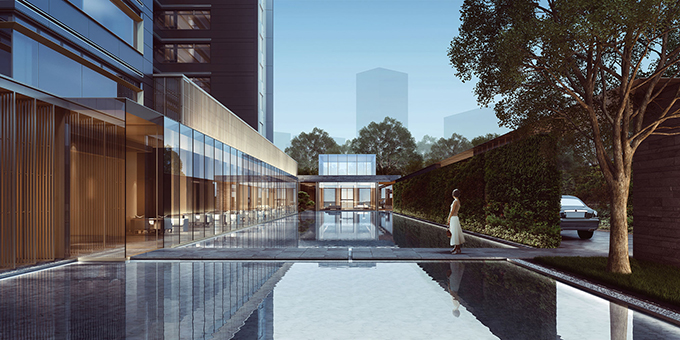 Its historic heritages arguably weigh much more in attractiveness than modernity does. They could be either regal or folkloric – The Forbidden City, Hutong valleys, the residues of ramparts and fortifications dating back three millennia – if you would feel like seeking more approachableness from this city, then these locales will not be missed.
So does André Fu. As a book, André Fu: Crossing Cultures with Design, indicates that he has an inclination towards interlacing his designs with a quality of locality. Investing the regional and cultural peculiarities with the design, for him, is a process of refinement, and redefinition as well. City is alive, so is design.
Dongzhimen 8 is wrapped in a history envelope. Dongzhimen was the East Gate of the Beijing city fortifications which was a transportation node since Yuan Dynasty (1271–1368) and now is a prosperous commercial hub in Beijing. Because of its 800-year history and notably 8 being auspicious in Chinese numerology, 8 becomes an integral part of Dongzhimen 8. In particular, Liangma River (1368 – now), sending off an aroma of ancient history, encompasses it, serving as an aquatic vista for the residence.
Dongzhimen 8 can undo the rigid dichotomy between urbanity and hermitage. It cannot be uprooted itself from the urbanity though, so one side is the hectic street, and it can be a Peach Blossom Shangri-la in a peninsula, the verdant and tree-y Moors in a suave manner, then the other side, you could imagine, it is an ecosystem friendly zone.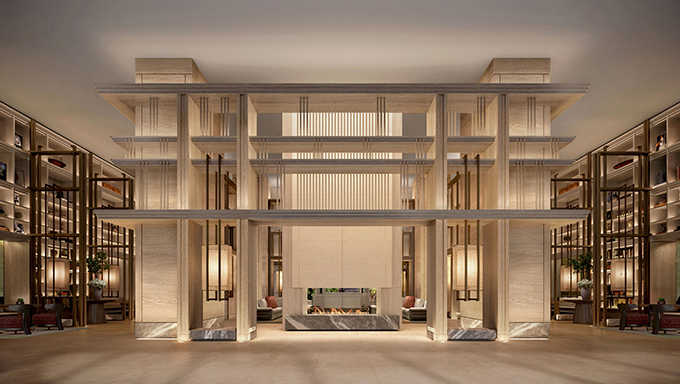 Suffice it to say that consumerism was outdated and uncalled-for enough, thus to be decoupled from the modern definition of luxury. André believes that extravagant luxury needs to be pared down.
Furthermore, at the thought of the stunning history of Beijing, he wants luxury to set in motion a resonance with history. In partnership with the developers, they endeavour to create a space that makes an 'elbow room' for the renewal of luxury and enliven the history.
André includes mortise-and-tenon joints in the entire design. It is an oriental story to unfold. In stark comparison to brick-and-stone structures, wood texture is an enabler to lighten up the atmosphere redolent of the Chinese tradition.
Colours are the key. By utilising balanced shades and brightness, André made various palettes release a sense of elegance and reservedness. Design is, practically speaking, not something of montage, it is more like interwoven stuffs wherein culture expressions, through a certain symbol of colours, more often than not, is enacting a crucial role to fortify the texture.
André does not implement an avant-garde design in Dongzhimen 8, he focuses much more on making a coordination between elements. A poet should a designer be, he harnesses his energy to complete an iambic- pentameter poetic form on materiality, texture, light and good proportions, and therefore, beauty appears.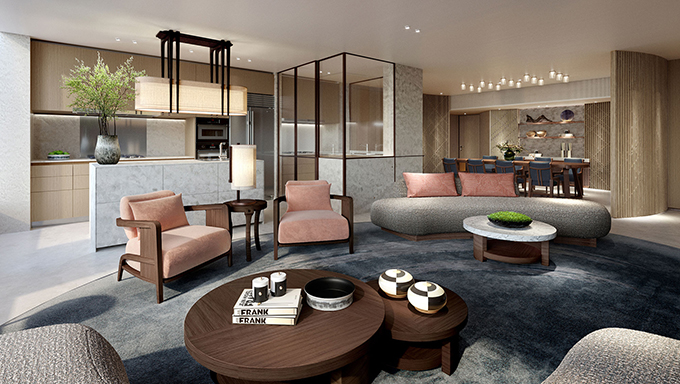 Residence is as genuinely individualistic as a person. Its personality basks in the reflected glory of the occupants and culture signs. André takes a good grasp of the essential parts of every details as if the concoction of magic lotions were to be conjuring up a wonder.
To quote a saying from Eero Saarinen, 'The purpose of architecture is to shelter and enhance man's life on earth and to fulfill his belief in the nobility of his existence.' , and what is André's commitment is constructing an ennobling addition to Dongzhimen to have it radiate out a perceptible duplexity of history and fashion. It cannot be denied that potential buyers and occupants will definitely be graced.

Project Credits
Name: Dongzhimen 8
Exterior design: gad
Interior design: André Fu – andrefustudio.com
Design team: DIA & AFSO
Landscape design: Zheng Shanfeng
Location: Dongzhimen, Beijing, China
Copyright: Life Group
Design year: 2020
Copyright: Life Group & AFSO