The world renowned ZAHA HADID ARCHITECTS collaborating with TPO Pride Architects (Russia) have been enlisted as one of the consortiums to work on the new Rublyovo-Arkhangelskoye smart city west of Moscow. This massive project will be a home to more than 65,000 people and at the same time accommodate new schools, health utilities, retail projects, new transit routes as well as cultural and civic projects.
Rublyovo-Arkhangelskoye smart city is also to be a home for more than 800,000 square meters of office space aiming to become Moscow's new financial district. In total more than 4 million square meters of new projects will rise in the Moscow's news Smart City development taking over 460 hectares of the west Moscow. At the same time the city of Moscow is to develop a 19km metro line beginning construction in 2020 and connecting Rublyovo-Arkhangelskoye with the Shelepikha station of the city's Metro system.
Environmental improvement is at the center of this project, with the consortiums working on the project making sure the new smart city has green areas along with parks and forest bordering the Moscow river as well as a 30 hectares lake located in the center. The project aims to accommodate the needs of Moscow's ever growing population.
Scroll down for more of the project as well as a more detailed description coming from ZAHA HADID ARCHITECTS:
FROM ZAHA HADID ARCHITECTS:
The jury of the invited competition also selected two further consortiums to develop the project: Nikken Sekkei (Japan) with UNK Project (Russia); and Archea Associati (Italy) with ABD Architects (Russia). Rublyovo-Arkhangelskoye will be a global benchmark for smart, sustainable cities. Supported by the EDF Group's platform for 3D simulations of energy and urban scenarios, the project will optimise the consumption and production of sustainable local energy sources while integrating electric mobility, new technologies, services and infrastructure to increase connectivity and efficiencies.
Zaha Hadid Architects' proposal for Rublyovo-Arkhangelskoye is a phased development designed to enhance residents' interactions with each other, with nature and with new technologies. Founded on research and studies that conclude people's well-being and happiness increases from greater interaction with their local community, the design creates a diverse ecology of spaces for living, working, education or leisure that encourage engagement and communication.
Smart technologies are embedded within the urban fabric of Rublyovo-Arkhangelskoye. Its design also enables residents and visitors to unwind with their families, friends and the natural world that permeates through the heart of the city; creating an urban environment of ecological technology that seamlessly integrates natural and human-made systems.
Christos Passas, project director at Zaha Hadid Architects, explained: "Working with specialist teams in Russia and Europe, we developed a people-centric design for a smart interconnected city that brings people together not only through innovative technology but also through organising the public realm; building a community that integrates the natural aspects of the site with principles of openness and inclusivity in high quality architecture suited for the 21st century."
JSC Rublyovo-Arkhangelskoye will continue to work with the selected consortiums to develop the design and construct the new neighbourhood.
The competition jury included: Marat Khusnullin (Deputy Mayor of Moscow in the Government of Moscow for Urban Development and Construction), Stanislav Kuznetsov (Deputy Chairman of the Executive Board of Sberbank), Andrey Likhachev (CEO of JSC Rublyovo-Arkhangelskoye), Sergey Kuznetsov (Chief Architect of Moscow and Chairman of the Board of Architecture in Moscow), Kristin Feireiss (Founder of the independent Aedes Architecture Forum, member of the jury of the Pritzker Architecture Prize), Ingo Kanehl (Managing Director of ASTOC Architects and Planners), and Andreas Kipar (CEO of the Italian bureau of LAND Milano SRL).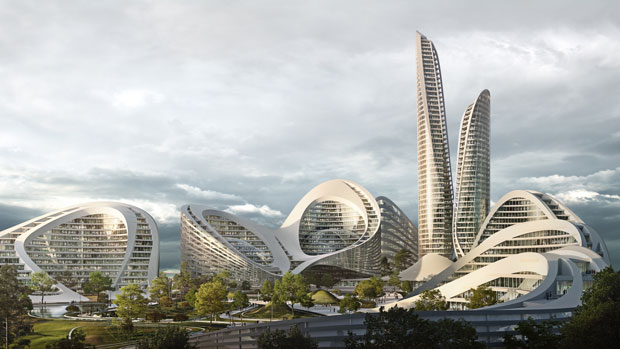 Project Team
Client: JSC Rublyovo-Arkhangelskoye
Architect: Zaha Hadid Architects (ZHA)
ZHA Design Team
ZHA Project Directors: Patrik Schumacher and Christos Passas
ZHA Project Associates: Hussam Chakouf, Eider Fernandez
ZHA Design Team: Kwanphil Cho, Sattor Jabbor, Melhem Sfeir, Alicia Hidalgo, Ekaterina Smirnova, Maria Eleni Bali, Aleksandar Bursac, Duo Chen, Anna Uborevich-Borovskaya
ZHA BIM Specialists: Eckart Schwerdtfeger, Valeria Perco, Maria Avrami, Zsuzsanna Barát
ZHA Administrator: Nastasija Hahonina
ZHA Graphic Designer: Silviya Barzakova
ZHA Researcher: Vera Kichanova
ZHA Interpreter: Liudmila Harrison-Jones
Consultants
Local Architects: TPO Pride
Transport Systems Engineering: Systematica
Civil/ Infrastructure Engineering: Metropolis
Landscape Design: Arteza
Urban Lighting: Arup Lighting
Environmental Simulations: Rheologic
Creative Functional Programming: Citymakers
Identity and Branding Strategy: Instid
Urban Planning Consultant: Lawrence Barth
Financial Modelling: Pricewaterhouse Cooper
Cost Consultant: Rider Levett Bucknall