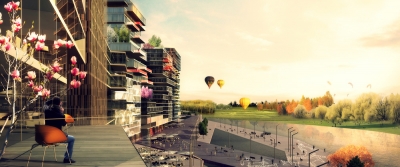 Project: Urban Development Nya Årstafältet Stockholm
Designed by Erik Giudice Architects
Architects and Planners: ARCHI 5 (Laurent Boudrillet, Thomas Dryjski, Erik Giudice, Bernard Guillien and Jacques Sebbag) and Archi5prod
Landscape Architect: Michel Desvigne
Sustainability Consultants: Elioth_ Iosis Group
Client: City of Stockholm through the City Planning and Development Administration
New Neighborhoods: 30 ha
Landscape Park: 50 ha
New Constructions: 600 000 sqm
Location: Stockholm, Sweden
Website: www.erikgiudice.com
An awarded project from Erik Giudice Architects focusing on urban development in Stockholm, exploring the possibilities of green architecture with use of organic materials. Discover more after the jump:
From the Architects:
Nya Årstafältet is part of Stockholm's ambition to create a organic city structure in it's southern parts and to establish new urban centralities. The project will become one of Stockholm's largest new developments in the coming years.
The core of the project is the new landscape park of more than 50 hectares which will combine activity fields, playgrounds, allotments and botanical gardens. The park is linked to one of Stockholm's green corridors and will contribute to local biodiversity.
On the north and the western side of the park two large decks concentrate playgrounds and leisure activities, creating a spectacular transition between the park and the buildings.
The project connects the existing neighborhoods and infrastructures with the aim to create urban continuity and suppress both social and physical barriers. The robust and flexible city structure with its folded geometry gives a specific identity to the layout and creates a great variation in the cityscape and in public spaces.
The new city blocks combine a wide diversity of typologies, scales and heights in order to respond to the needs of a contemporary evolving society. Towards the park, higher buildings create a contrasted and airy skyline, letting light and views pass through to the buildings standing behind.
The project carries a high ecological and social profile, that meets up with the city's global ambition which has resulted in the nomination of Stockholm to Green Capital 2010.