The Elisabeth Egio Orthodontics and Dental Care clinic, located in the heart of Elche, Alicante, has undergone a stunning transformation, thanks to the new interior design project by Vitale. Dr. Elisabeth Egio, with over two decades of experience in orthodontics and pediatric dentistry, has ventured into a new era of patient care by focusing on the "patient experience" through innovative interior design.
The 210 square meters clinic, situated at Porta Xiquica del Salvador 18, now offers a unique and highly differentiated concept, setting it apart from traditional dental clinics. The primary focus of the redesign is to immerse patients in an environment that enhances functionality, communication, calmness, and protection.
The design concept for the clinic encompasses every aspect of the brand, from communication strategy to interior aesthetics. It creates a cohesive brand universe characterized by harmony, meticulous attention to detail, serenity, and innovation, all in line with the clinic's philosophy of patient-centric care.
One of the clinic's most striking features is its seamless connection with nature. The exterior flows effortlessly into the interior, creating a biophilic continuum that envelops and soothes patients. The use of organic shapes, natural tones, colorful porticos, stone patterns, and vegetation all contribute to a sense of calm and balance, making time seem to stand still for patients.
The entrance window greets visitors with lush vegetation that leads into the reception area, featuring ceramic tiles with a natural stone texture. A curvilinear capsule extends along the clinic's right edge, housing various facilities such as the budget room, doctor's office, radiology room, laboratory, and sterilization room, all designed for optimal functionality.
The waiting area is a warm and inviting space that visually connects with the outside world. It features natural-looking cladding, sinuous-shaped sofas, and organic-looking coffee tables, creating a serene atmosphere for patients.
For young patients, the clinic offers a dedicated children's area, designed to foster creativity and imagination while maintaining a connection with the waiting room's soothing ambiance.
The clinic's circulation hallway is dynamic, using various textures and finishes to create rhythm and warmth. A color tunnel separates the patient bathroom access from the main hallway, enhancing privacy and housing storage cabinets accessible to clinic staff. At the hallway's apparent end, it serves as a focal point for brand interaction.
Throughout the clinic, indirect lighting, colorful porticos, and changes in flooring are used to envelop patients in a sense of comfort and well-being. Circles and rounded shapes, symbolizing balance and harmony, are prominent in the logo design and the clinic's interior design.
The doctor's office, strategically located for visual connection to the clinic's main offices, emphasizes functional workspaces and patient care that prioritize listening and communication.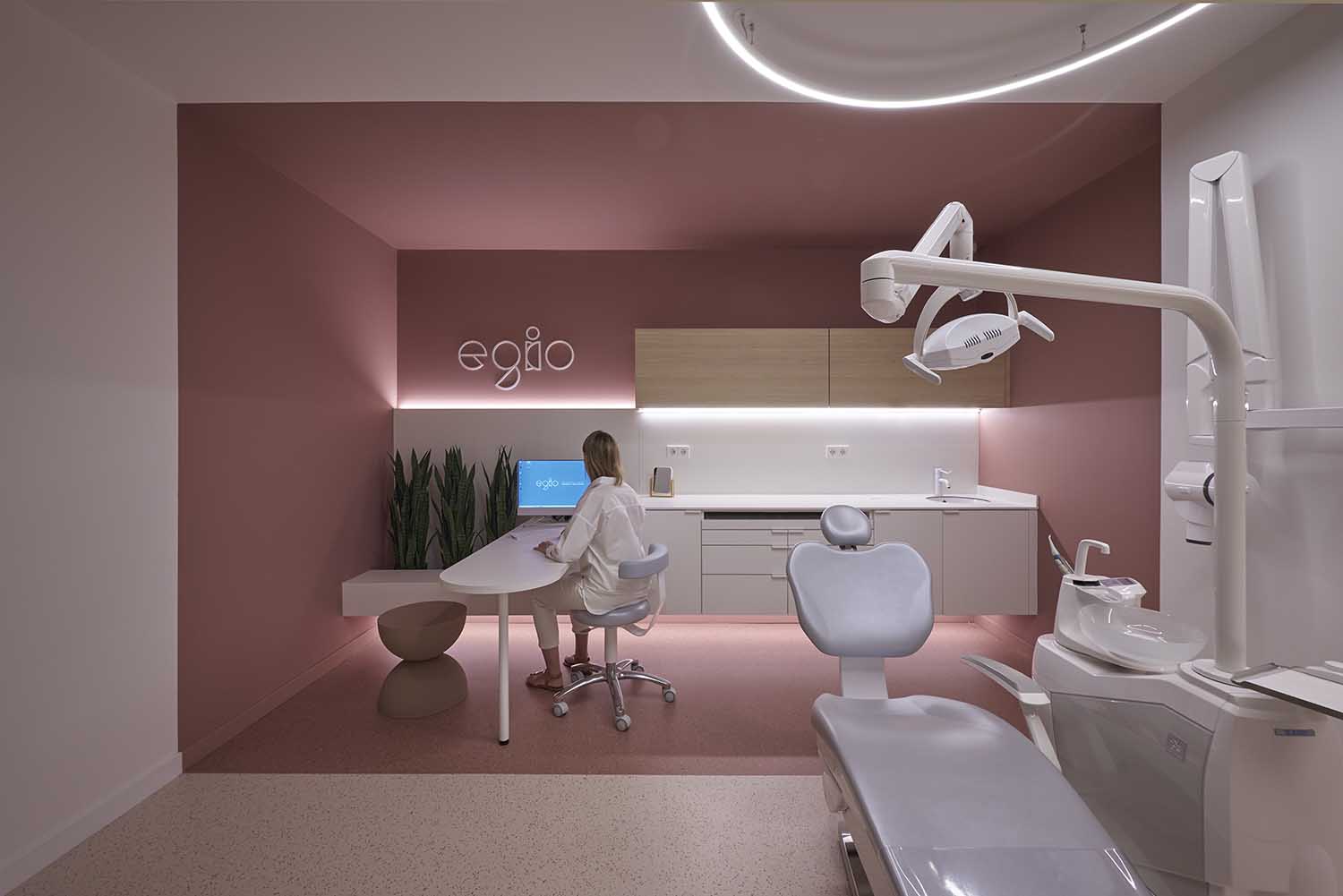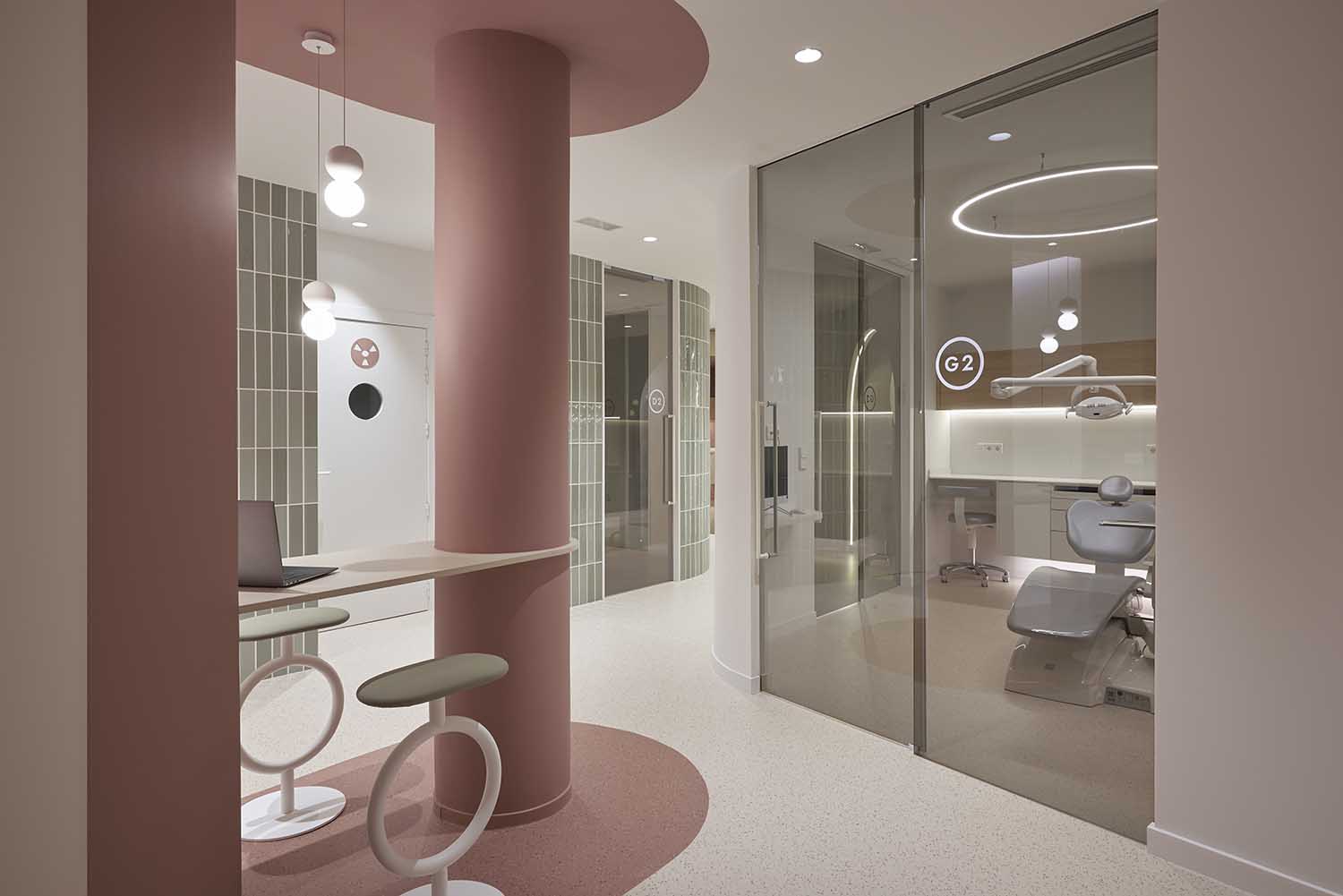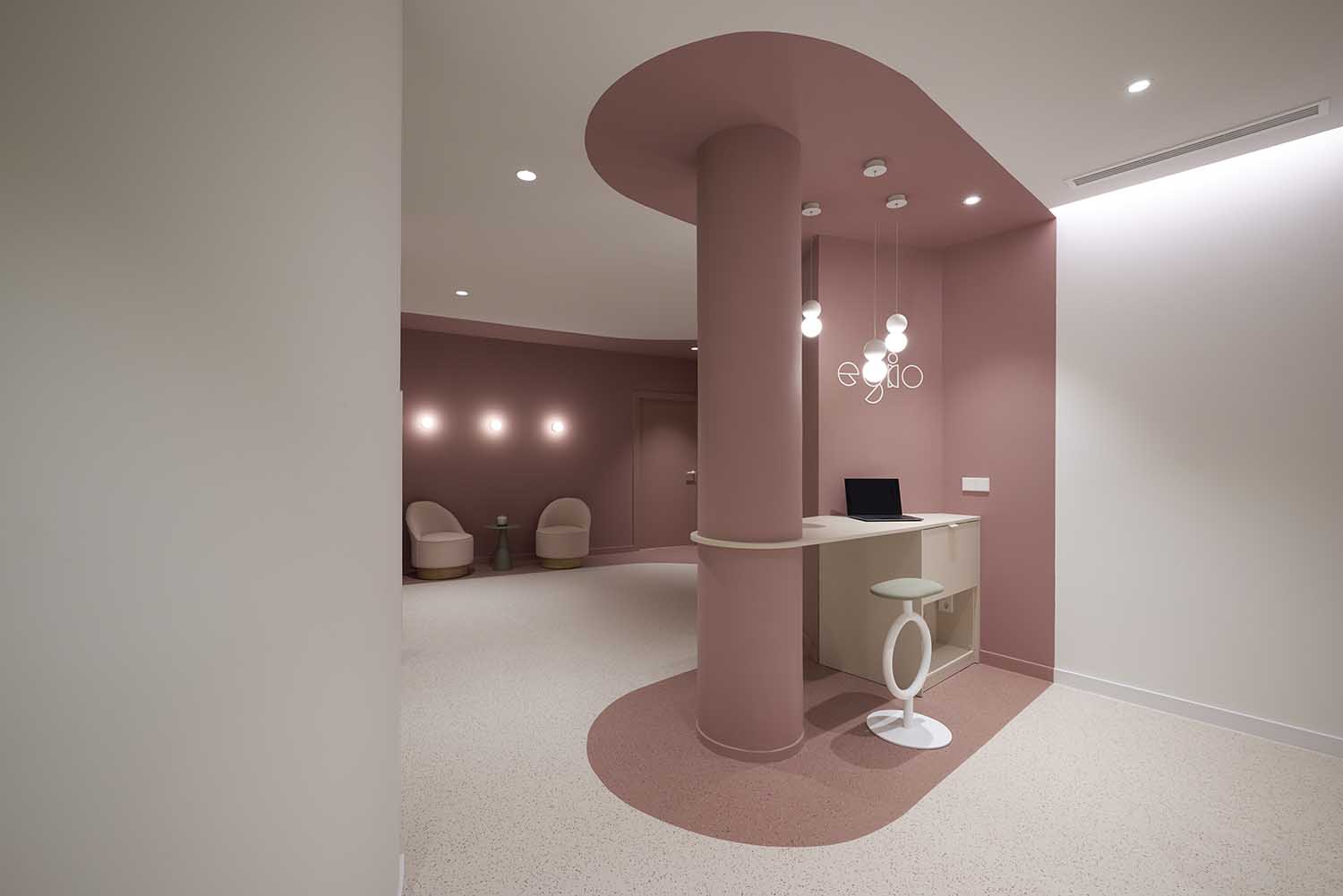 At the end of the hallway, a large distribution space houses a dynamic point of care, providing access to the radiology room, laboratory, treatment rooms, a second waiting area, and a private staff area. The patient care point is custom-designed, embracing a circular pillar and creating a unified space with a friendly color that extends from the floor to the ceiling.
The materials palette includes handmade and natural-looking ceramics in various formats, finishes, and textures, ensuring both aesthetics and hygiene. Custom-made furniture combines neutral finishes with the timeless warmth of oak in the offices and treatment rooms.
Project information
Project: Elisabeth Egio, Orthodontics and Dental Care
Year: 2023
Location: Elche, Alicante, Spain
Surface: 210 m²
Interior Design and Branding Project: Vitale
Furniture for Medical Cabinets and Carpentry: Nivel Diez
Floors: Dusty Brick and Dusty Beige from Tarkett
Coatings: Stardust Pebbles 15×15 from WOW, Kane Sage 30×7.5 from CIFRE Cerámicas
Furniture: Season sofa from Viccarbe, Bai chair from Ondarreta, Vesper coffee tables from Sancal, Pion table legs from Sancal, Totem stools from Sancal
Photographs: Santiago Martín and Carlos Folch