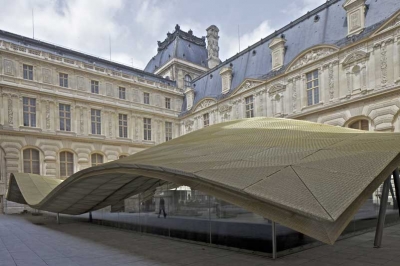 Project: Chapel of the Intercession
Designed by Mario Bellini Architect(s)+ Rudy Ricciotti Architecture
Client: Musée du Louvre
Total Area: 6 800 sqm
Location: Paris, France
Website: www.bellini.it & www.rudyricciotti.com
Chapel of the Intercession is work of Mario Bellini + Rudy Ricciotti shaped for Department of Islamic Arts at Louvre.
From the Architects:
"The Cour Visconti will not be covered but will, in fact, remain visible'': this is the architectural decision declared by the architects Mario Bellini and Rudy Ricciotti in order to achieve a "gentle and non-violent integration" of a decidedly contemporary architectural design within a historical place.
The collections will be displayed over an area of roughly 3 500 sqm, subdivided into only two levels. The first, at courtyard level, will house works from the 7th to the 10th centuries while the second, in the basement, or rather the "new" ground floor, will exhibit works from the 11th to the 19th centuries along with the prestigious collection of carpets.
The new museum areas will be covered by a "Golden Cloud" which, emanating a diffused glow, will float airily over the museum exhibition space. Thanks to this "luminescent covering" it will be possible from inside the new museum area to see the facades of the courtyard outside. From inside the exhibition rooms, the visitor will be able to admire the play of folds and undulations in the covering which will add a poetic dimension to the overall effect.
Natural light will be diffused by the covering "Veil", the skin of which will be treated so as to graduate the intensity and avoid glare. In high summer, the level of light in the exhibition spaces will not exceed the lux level required for the proper conservation of the artifacts on display and the comfort of visitors.
On the lower level, it will be possible to catch a glimpse of the "Veil" from a number of points thanks to openings in the floor above along the perimeter of the courtyard, thus confirming the "Veil" in its role as unifying element between the collections.