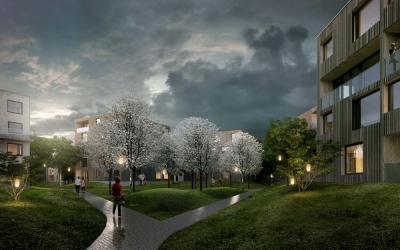 Project: Green City Housing Complex
Designed by Chybik + Kristof Associated Architects
In Collaboration with BKK-3
Size: 700 flats
Location: Graz, Austria
Website: www.chybik-kristof.com
Green City Housing Complex project is work of Chybik + Kristof Associated Architects shaped for a location in Austrian city of Graz.
From the Architects:
The project Green City Graz creates 700 highly sustainable housing units located at the edge of the urban region of Graz. The main idea is not about buildings themselves, but the spaces between the houses. The project produces a clear hierarchy between spaces from the big scale of the central park, through the smaller scale of more intimate spaces, to the smallest scale of a patio between 3 houses creating the typical module of the housing estate. Each space has its own atmosphere and offers different social activities.