Architecture studio KRIS YAO | ARTECH has recenlty completed a memorial museum in Tainan, dedicated to Han Pao Teh. Han Pao Teh is regarded as one of Taiwan's key contributors to modern architectural theory. Han himself founded the Tainan University of the Arts, a school, and as a tribute to his efforts and services to the arts community, he created a memorial museum there to hold and exhibit his collections. The memorial museum smoothly combines the rooms for teaching and exhibiting as an embodiment of Han's viewpoint on museums and educational principles.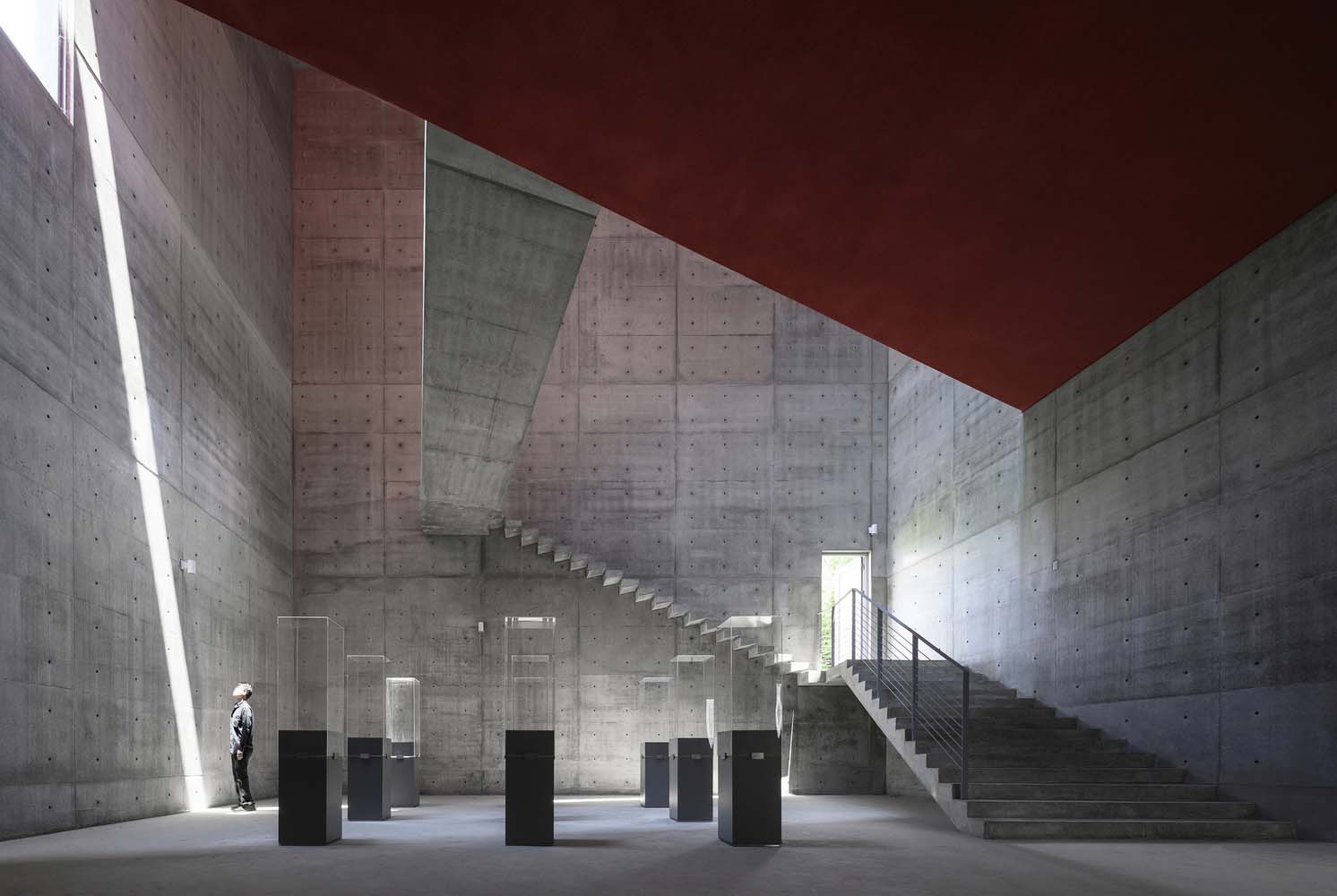 Following the architectural principle of "a cube within a cube," the geometric configuration's simplicity lends great strength and power to its metaphorical meanings. The collision of the two cubes' multiple faces alludes to Han's many facets of knowledge, and the sturdy nature of the concrete in the building alludes to his unyielding spirit. Regarding spatial arrangements, guests access the structure through a set of low stairs that run along the wall of the cube, above the reflecting pool. A commanding cubic bulk, seemingly unaffected by gravity, intrusions the main student display room, a stunning 13.5-meter tall structure. A two-story, auditorium-like area that diagonally protrudes a little from the bigger cube is housed in the floating cube and is known as the "Han Pao Teh Permanent Exhibition Room." The wall was split by the turned cube, allowing light to ferociously pass through. The stark contrast between light and shade gives the lofty display room a melodramatic feel.
The huge window with a view of the vegetation directs visitors to the dramatic stairway that ascends counterclockwise between the inside and the exterior. Visitors can turn around and enter the "Han Pao Teh Permanent Exhibition Room" after standing on the dangling stairs outside the building and surveying the sight from which they just emerged. The ascent comes to an end on a winding, gorge-like road that leads guests to the top floor of the structure.
This monument honors the late Mr. Han Pao-Teh, a pioneering architect who had a significant influence on Taiwan's culture and educational system in both the arts and architecture.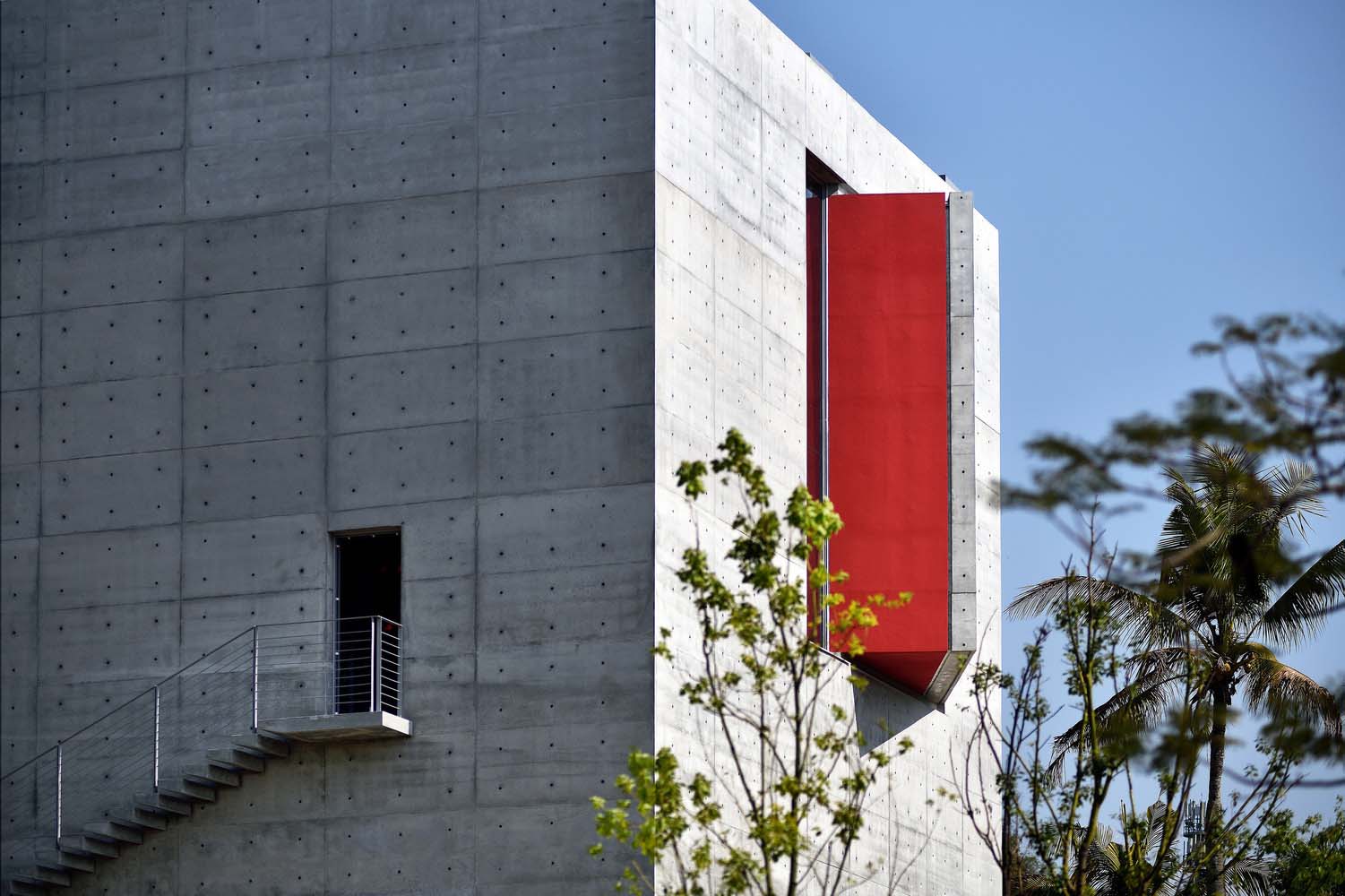 Han Pao Teh, who lived from 1934 to 2014, served as Kris Yao's mentor and instructor in architecture. The Han Pao-Teh Memorial Museum on the Tainan University of the Arts campus was designed by Yao after being commissioned by Han's family in 2015. Han played a crucial part as the university's first superintendent and was heavily involved in its conception and founding.
Project information
Architects: KRIS YAO | ARTECH – www.krisyaoartech.com
Area: 690 m²
Year: 2022
Photographs: Record the Truth, Jeffrey Cheng, Chris Stowers
Structural Consultants: Chuang Wei Structural Engineering Inc.
MEP Consultants: Majestic Engineering Consultants Inc.
HVAC Consultans: I. S. LIN & Associates Consulting Engineers
Contractors: Shyh Auh Construction Co., Ltd.
Architect: Kris Yao
Inspection Architect: Glen Lu
Design Team: Albert Liu, Naiwen Cheng, Kai‐Chih Chang, Megle Lin, Eden Sung, Yuan‐Heng Shih
Construction Inspection Team: Jui‐Hung Lin
Project Advisor Supervisor: Willy Yu, Jun‐Ren Chou
City: Tainan