HYP-ARCH have recently completed works on the Leader Mountain Art Museum in Zhongshan, China. Take a look at the complete story after the jump.
From the architects: As the Book of Music says, "Rites reflect the order of the universe." In ancient times, prominent families regarded the rite and order as the cornerstone for sustaining a family. It is spatial rite and order created by a place in contemporary architectural language. The design of Leader Mountain Art Museum brings in traditional and innovative elements, striving to redefine spatial rite and order of a home. It is meant for elites of this city, allowing them to experience the art of "reclusive" lifestyle in a tranquil and poetic setting.
Leader Mountain Art Museum sits in the area of Wugui Mountain, Zhongshan city. Close to downtown areas, it connects Sanxiang and urban areas and enjoys easy access to major cities of the Pearl River Delta. Next to Dajianshan Forest Park, the base is endowed with a broad field of view and unique natural sights, making it a notable eco-friendly and livable area of Zhongshan city.
Design team mixes Lingnan culture with unique mountain rock features to create a natural living environment for urban elites with minimal environmental interference. They try to deliver a culturally rich living space.
"Nothing is seen in the quiet room but a screen, when I feel it hard to fall asleep. "Gazing at the rocks in the screen, I come to find something amazing from them."
Building space is the container of life, and it should give its way to users in a humble way. Therefore, building is part of the art of living. Architectural team follows the design concept of "the container of life" by injecting stylish and classically elegant neo-Chinese styles into
Leader Mountain Art Museum, so every tiny detail reveals an integration of life aesthetics and space art.
Simple and graceful design features U-shaped glass to make the entire building look like a crystal glass box, which delivers a quiet yet mysterious ambience as light varies from time to time.
Deep Courtyard in Virtual-Actual Setting
The right trapezoid structure is adopted for Leader Mountain Art Museum. Functional areas and lines are optimized to attain an optimal layout of functional spaces for exhibition, reception and office, etc. In this way, it brings spacious layout and rich experience and maximizes space utilization.
The Corridor of Art Museum Offers Space for a Break and Talk Minimalist architectural approach is used with a large section of black and white elements to highlight continuous and flowing space. Specular reflection method is employed to make mirror surface, rocks, sculptures and trees effectively integrated. Light and shadow work together to present changes in material textures and shimmering ripples, which constitutes a 'rigid-flexible' dialogue. Open Inside Out, Utterly Quiet
Open Inside Out, Utterly Quiet
Open layout is adopted for the ground floor, and there is a shallow pond and grey space connecting the courtyard at the entrance. The artificial rock in the pond is a big highlight, as it complements the entrance and effectively minimizes negative impact on surrounding environment, which ensures spatial privacy and wholeness.
Design team strives to pursue simple and refined architectural forms and materials to create neat public space and Zen-oriented 'genius loci'. The façade is built from U-shaped glass, aluminum alloy grids and granite slabs, which creates a relaxing and open ambience to weaken a sense of long entrance.
Interior design comes with exterior architectural features and reinterprets reclusive living space in modern architectural language to meet people's needs for living culture and experience. Such space keeps hustle and bustle away and gives you a peaceful mind. Floating clouds and square buildings become formless shadows slowly moving in this space. Daytime View of Leader Mountain Art Museum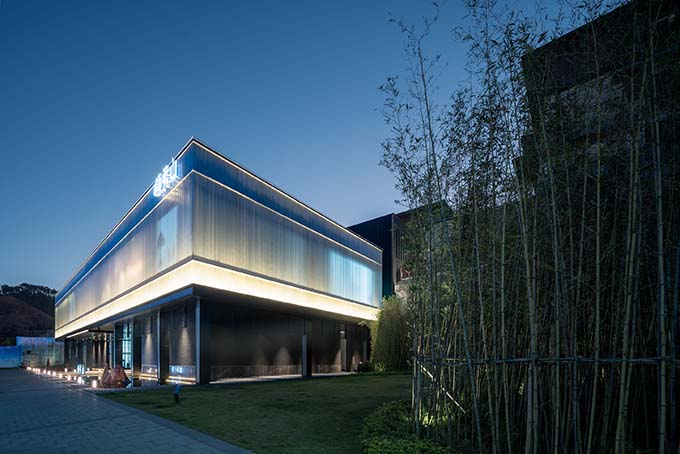 Location: Zhongshan, CN
Project name: Leader Mountain Art Museum
Owner: Poly Developments and Holdings, Sino-Ocean
Type: Culture/ Residential
Gross floor area: 6,400 sq m
Architectural design: Shanghai HYP-ARCH Architectural Design Consultant Co.,Ltd.
Design director: Haitao Hu
Design principal: Qi Yang
Design team: Huawei Han, Yan Li, Yimeng Ma,Yuehui Zhou, Chengli Xiong, Dongge Xun, Lingyu Zhang
Construction drawing design: Zhubo Design Co., Ltd. (Foshan)
Landscape design: GVL(Greenview Landscape International Design Group)
Interior design: C&C Design Co.,Ltd.
Photographer: Qingshan Wu