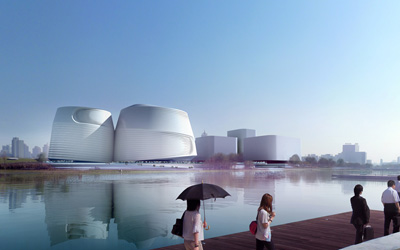 Project: National Art Museum of China
Designed by UNStudio
Team Project: Ben van Berkel, Caroline Bos, Gerard Loozekoot with Joerg Petri, Sander Versluis and Tatjana Gorbatschewskaja, Aurelie Hsiao, Amanda Chan, Imola Berczi, Philip Meise, Tina Kortmann, Hans Kooij, Mo Ching Ying Lai
Client: National Art Museum of China
Scale: Building 99.700 m²
Location: Beijing, China
Website: www.unstudio.com
Duality comes as the main theme behind the design of National Art Museum of China created by UNStudio, facade's are also illuminated by projection creating a unique media layer. For more images and architects description continue after the jump:
From the Architects:
The architectural concept in the design for the NAMOC is based on uniting dualities; past and future, day and night, inside and outside, calm and dynamic, large and small, individual and collective. The two volumes of the building reference ancient Chinese 'stone drums', large drum-shaped stones bearing inscriptions in ancient Chinese. The exteriors of the two volumes are illuminated by art projections, creating a vast media facade as a contemporary translation of the ancient stone drum inscriptions.
Whilst the architecture of the museum is represented by the ancient artifact of the stone drum, the art within represents its spirit, or its "essence". In the same way that the agile strokes of ink in a Chinese painting give spirit to a blank piece of paper, the art collection gives spirit to the museum.
The main focus of the design is to create optimal and varied spaces for the display of art; Spaces of different character, but all offering extensive lighting possibilities and ample wall space in order to provide artists and curators with the optimal conditions in which to display their work and communicate their ideas. The design further incorporates high levels of circulation space, with the internal organisation divided into different routes, each guiding the varying visitor groups around themed sequences of art and additional programmes.
The NAMOC is strongly embedded within its cultural and urban context. The public urban plinth plateaus of the cultural district act as 24/7 connectors and attractors between the levels of the street, the underground, and the museum volumes.
Collaborating Artist: Song Dong
Façade, Structure, MEP, Acoustic: Bollinger & Grohmann, Frankfurt am Main, Germany
Engineering: Bollinger & Grohmann, Frankfurt am Main, Germany
Visualisations and Animation: Mir, Bergen, Norway