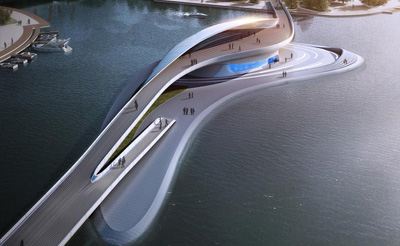 Project: Wuxi Xidong Park Bridge
Designed by L&A Design Group
Project Team: Sean Shi, Kevin Wang, Liang Meng, Ning Ye
Client: Wuxi High-speed Railway Commercial Zone Committee
Location: Wuxi, China
Website: www.aoya-hk.com
Impressively shaped Wuxi Xidong Park Bridge created by L&A Design Group is set to be the new landmark of this growing Chinese city. For more images and architects description continue after the jump: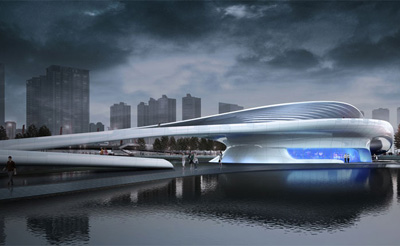 From the Architects:
L&A Design Group has developed an exciting contemporary bridge design as an architectural highlight of Wuxi Xidong Park, located in Jiangsu province, China. The bridge is planned to be the main connection between the north and south foreshores of the parks lake and allows visitors access to a small island destination that commands views over the water as well as café facilities and pocket gardens.
The important position, jutting out over the central water body, encouraged a dynamic design response. The design team has envisioned a signature iconic structure that is attractive, has a flowing modern form expressing the importance of Wuxi's relationship with water and is functional in its connections to the island, foreshores and allowing boats to pass underneath its elevation.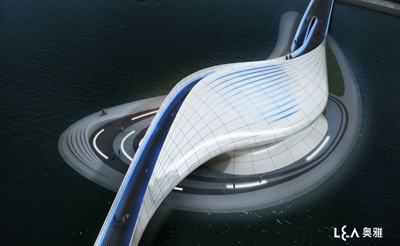 Designed as a whole volume, the bridge presents unique curves and a platform that widens as the bridge crosses the island. The platform creates a focus for the bridge maximizing views out across the lake under a shaded canopy, integrates ramp access to the island and forms an intimate space for the cafe underneath.
To reduce the long linear scale of the bridge an "S" shape plan was created to provide closer vistas for people accessing the park from both sides of the lake. It is a bridge with a 'twist'. As the bridge reaches its island destination the shape stimulates a dramatic interaction between architecture, landscape and water. Construction will utilize lightweight steel structures, light colored outer panel skins for a sleek look that can be elegantly lit up at night and polished timber detailing to tactile surfaces such as seating and railing.