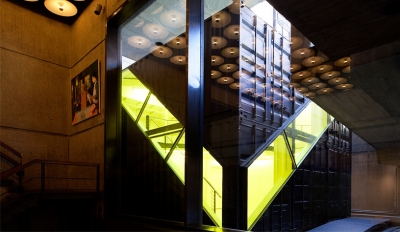 Project: Whitney Studio
Designed by LOT-EK Architecture & Design
Structural Consultant: Robert Silman Associates
Client: The Whitney Museum of American Art
Size: 720 sqf
Location: New York, NY, USA
Website: www.lot-ek.com
The impressive design of Whitney Studio in New York comes from the drawing board of the prolific LOT-EK Architecture & Design studio.
From the Architects:
LOT-EK was commissioned to design a special architectural installation for the Whitney Museum of American Art. The Whitney Studio installation will be located in the Sculpture Court of the museum's Marcel Breuer building on Madison Avenue. The studio will function as a gallery for special exhibits and will house activities for the museum's education programs, including art-making classes for adults, teens, and families and informal lectures.

The concept employs 6 shipping containers stacked on two levels to form a concise, minimalist cube. The Whitney Studio is specifically designed to fit the smaller area of the Whitney's open moat, on the south side of the entry bridge. A diagonal and continuous band of fenestration runs along two sides and along the roof to provide natural light and offers a glimpse of activities to museum visitors. Operable windows allow for transfer of airflow when in use (as a supplement to HVAC). Inside, the studio offers a double height space and a triangular mezzanine for the production and display of art work