Saatchi & Saatchi, Team One and Conill open their doors to their brand new 50,000-square- foot office space in the Cesar Pelli-designed McKinney & Olive Tower on McKinney Avenue in Uptown Dallas.
The unique space is designed to each agencies' aesthetic and weaves together the similarities in shared spaces. From round custom-built Tangram tables to living room-styled "neighborhoods," the family-oriented ambiance is not typical of an advertising agency workplace. Instead, the inviting spaces inspires collaboration and integration as the agencies work on longtime partner Toyota and other clients. Take a look at the complete story below.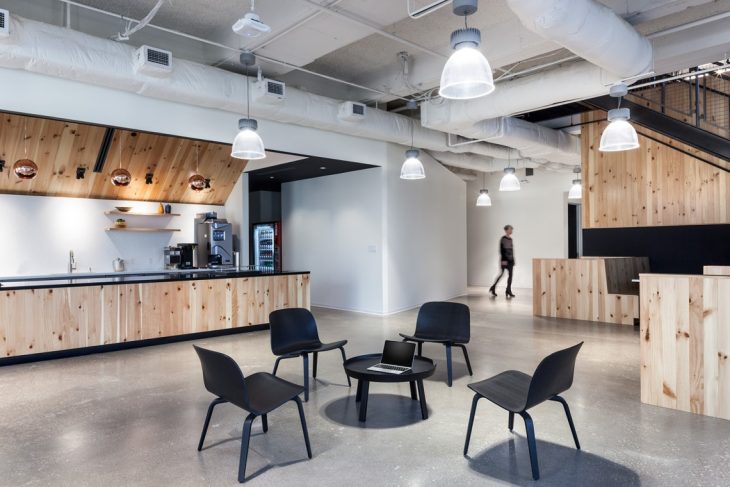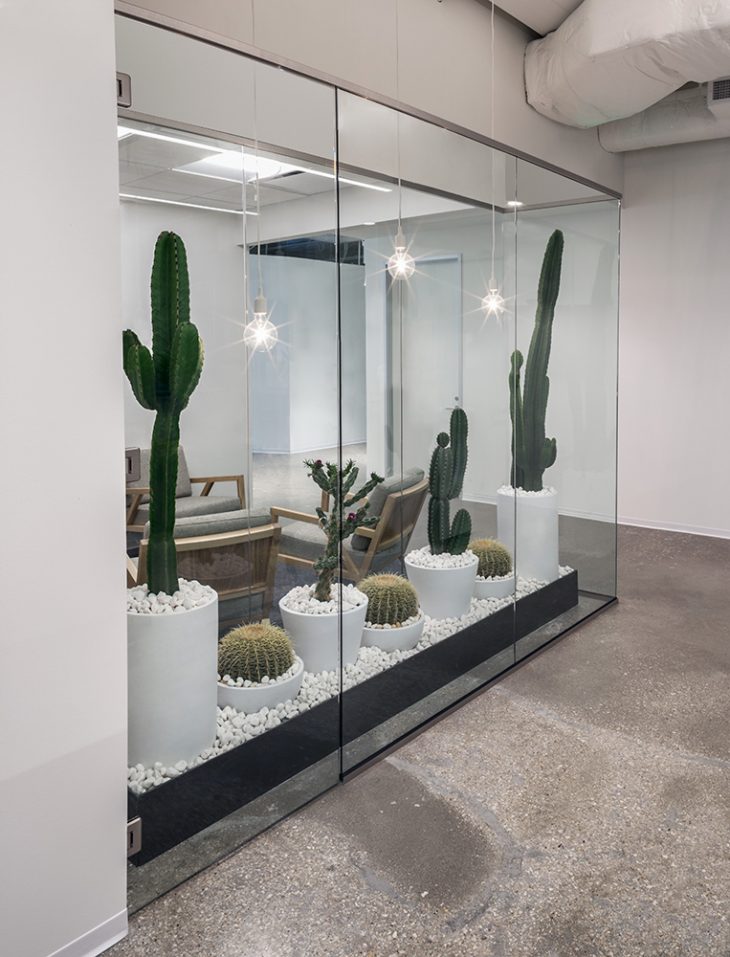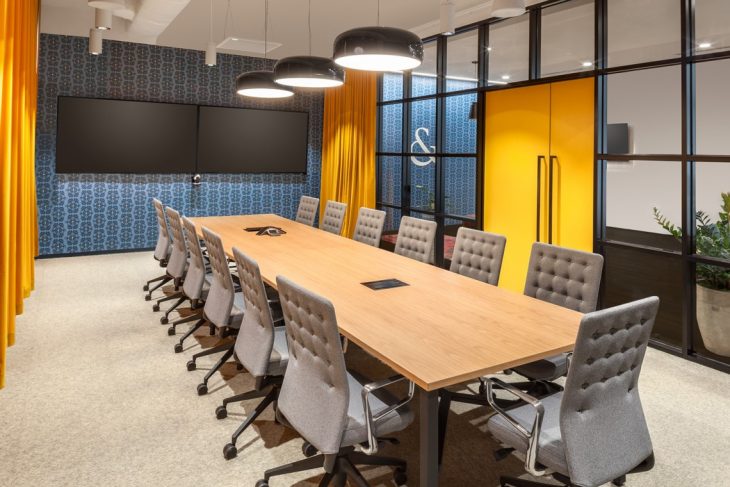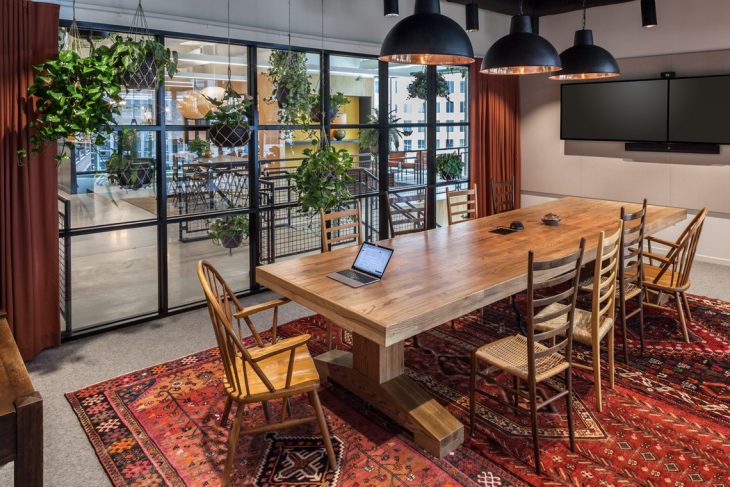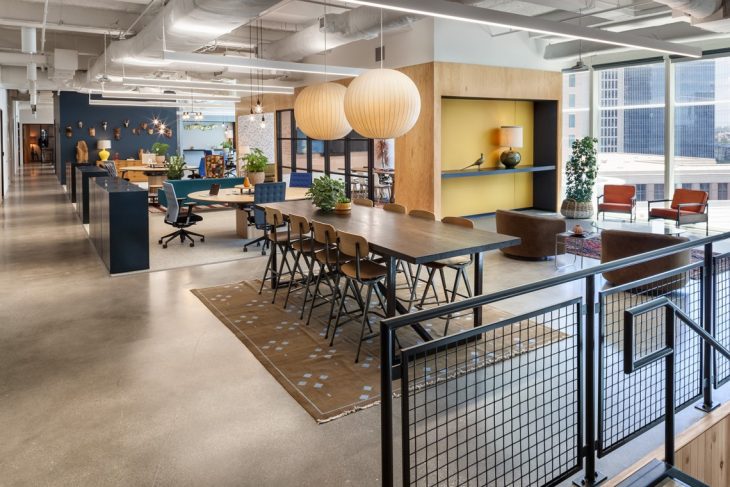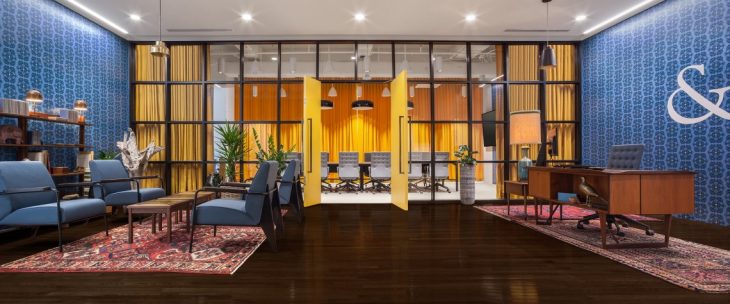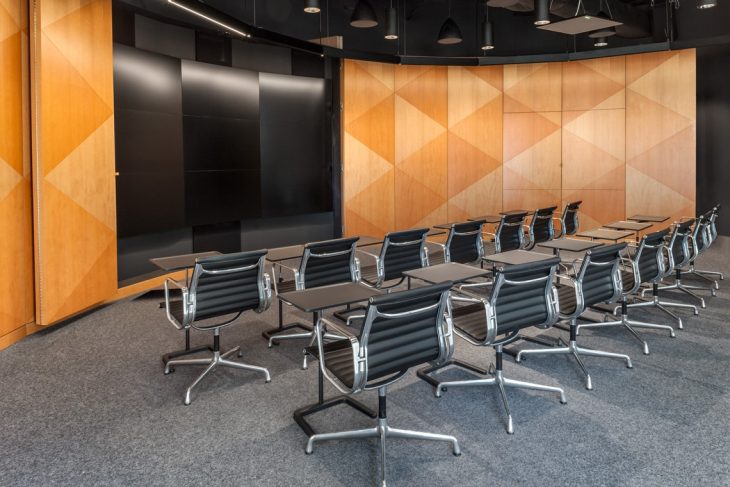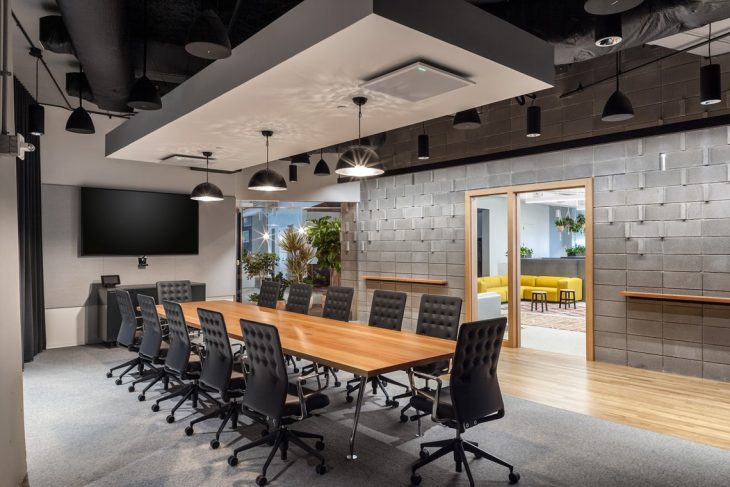 Today, Publicis Groupe agencies, Saatchi & Saatchi, Team One and Conill announce the official opening of their shared Dallas space. Plans for a Dallas office were initially set in motion in 2014, on the heels of Toyota's announcement to centralize their North American headquarters from offices in Torrance, CA to Plano, Texas. Approximately 56 team members from the Saatchi & Saatchi, Team One and Conill Los Angeles offices made the move to Dallas with 100 recruited locally and nationally for a total of 156 team members working out of Dallas.
The new location is a 50,000-square-foot space in the Cesar Pelli-designed McKinney & Olive Tower on McKinney Avenue in Uptown Dallas. Los Angeles-based workplace design specialists Loescher Meachem Architects created distinct designs for each of the agencies giving them unique identities but shared elements that weave through the spaces. For each team, a variety of work environments provide specialized spaces for focused individual work or collaboration but all encourage movement and wellness.
Saatchi and Saatchi's office includes shared round tables, custom-designed wallpapers and vintage furnishings that speak to the agency's history in Southern California.
Guests enter Team One through a white "Launchpad" space that serves as a gallery for installations and performances and contrast to the interior of the office, which is characterized by planted terrariums and rustic materials.
Within Conill, plywood clad meeting rooms contrast with steel desk areas for a functional yet industrial chic space.
The agencies chose the Uptown neighborhood for its pedestrian friendly culture, creative communities and innovative businesses creating a hub of activity featuring shopping, museums and restaurants.
"We're all looking forward to this new venture for the Saatchi & Saatchi, Team One and Conill family in the vibrant city of Dallas while supporting our longtime partner Toyota," said Kurt Ritter, Chairman of Publicis North America. "At the heart of these three agencies is a fundamental belief that our success rides on the spirit of collaboration and it's through the help of our dedicated staff, clients, and partners that we are able to continue to grow the network in the U.S."
All three agencies work arm in arm to ensure a continued approach to fostering an integrated culture as a full-service operation that offers clients the best across disciplines. The highly creative yet functional space provides an environment conducive to maximum collaboration among team members and partners. From round custom-built Tangram tables to living room-styled "neighborhoods," the warm and inviting space boasts a family-oriented ambiance not typical of an advertising agency workplace. The offices continue to be led by a cross-functional leadership and support team spanning Los Angeles and Dallas, a deliberate strategy to keep connectedness between the creative, entertainment, media and tech communities in Los Angeles.
Saatchi & Saatchi and Toyota have a rich, 40-year history in which the agency helped Toyota grow to become America's number one retail brand and the world's largest auto manufacturer for the past three years. Conill is the nation's oldest and largest Hispanic agency helping secure Toyota as the number one brand among Latinos for 12 years running. Team One, Publicis Groupe's premium and luxury brand agency, became a part of one of the most successful brand launches in history, with their very first campaign. The company's storied introduction of the Lexus brand was just the start of the now 30-year relationship.
About Saatchi & Saatchi Los Angeles & Dallas:
Saatchi & Saatchi is known for its outstanding creative ideas that generate powerful emotional connections between consumers and products. The Saatchi & Saatchi network spans 114 offices and counts 6,500 employees across 67 countries. Global clients include HSBC, P&G, Toyota, Visa and GSK. Saatchi & Saatchi is part of Publicis Communications and has offices within Publicis One, both of which are key divisions of Publicis Groupe, the world's third largest communications group. www.saatchi.com
About Team One:
Team One is Publicis Groupe's fully integrated premium and luxury brand agency. Their purpose is to help progressive luxury brands thrive in the modern media ecosystem. Founded in 1987, Team One has 500+ employees based in six North American offices, including their Los Angeles headquarters, Dallas, New York, Chicago, Atlanta and Washington, D.C. Current clients include Lexus, The Ritz-Carlton, Dacor (Samsung), Indian Motorcycle, HSBC Premier, Icelandic Glacial Water, PIMCO and St. Regis Hotels & Resorts. Visit Team One at TeamOne-USA.com, on Facebook at Facebook.com/TeamOneUSA, or follow the agency on Twitter at @TeamOneUSA.
About Conill:
Founded in 1968 as the nation's first Latino marketing agency, Conill is currently among the fastest growing multicultural agencies in the U.S. Conill is a Publicis Groupe agency recognized in Advertising Age's annual Agency A-List Report in seven of the past ten years, including Multicultural Agency of the Year honors twice. The agency's roster of clients includes Aflac, Denny's, Nationwide, Procter & Gamble, T-Mobile and Toyota Motor North America.