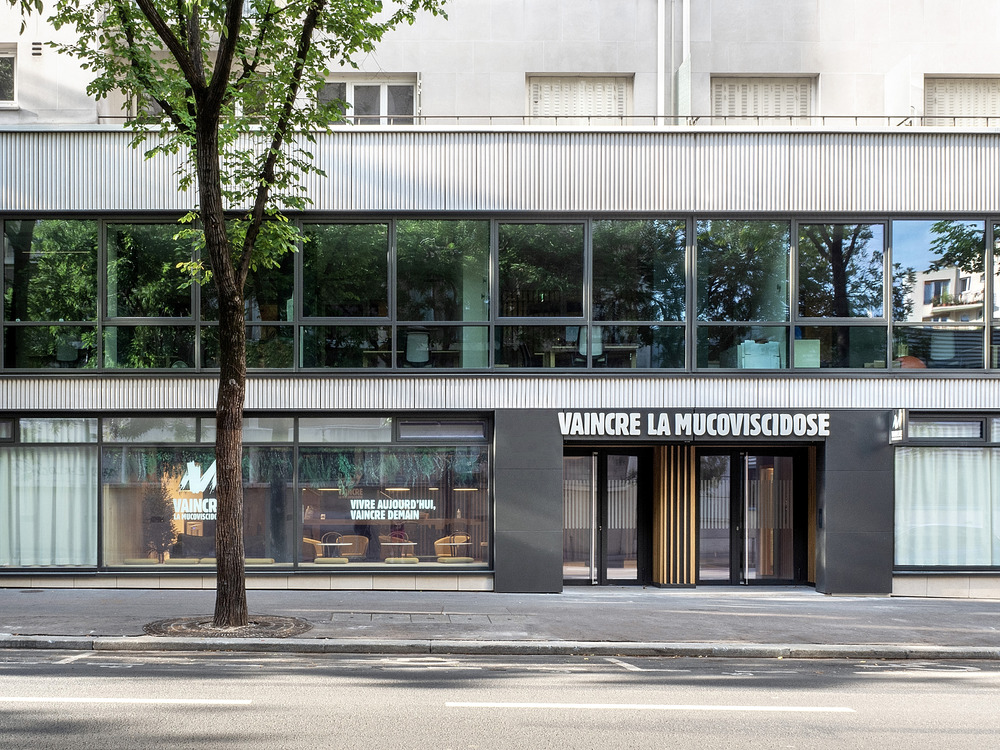 The William Gonord Architecte Agency (WGA), in collaboration with Métrotope and Studio Trame, is proud to unveil the remarkable transformation of the Vaincre la Mucoviscidose association's offices, located in the heart of the 13th arrondissement of Paris. This ambitious renovation project is part of the association's visionary ViVa 2026 initiative, aimed at strengthening community bonds and fostering a more welcoming environment for members and partners in the fight against cystic fibrosis.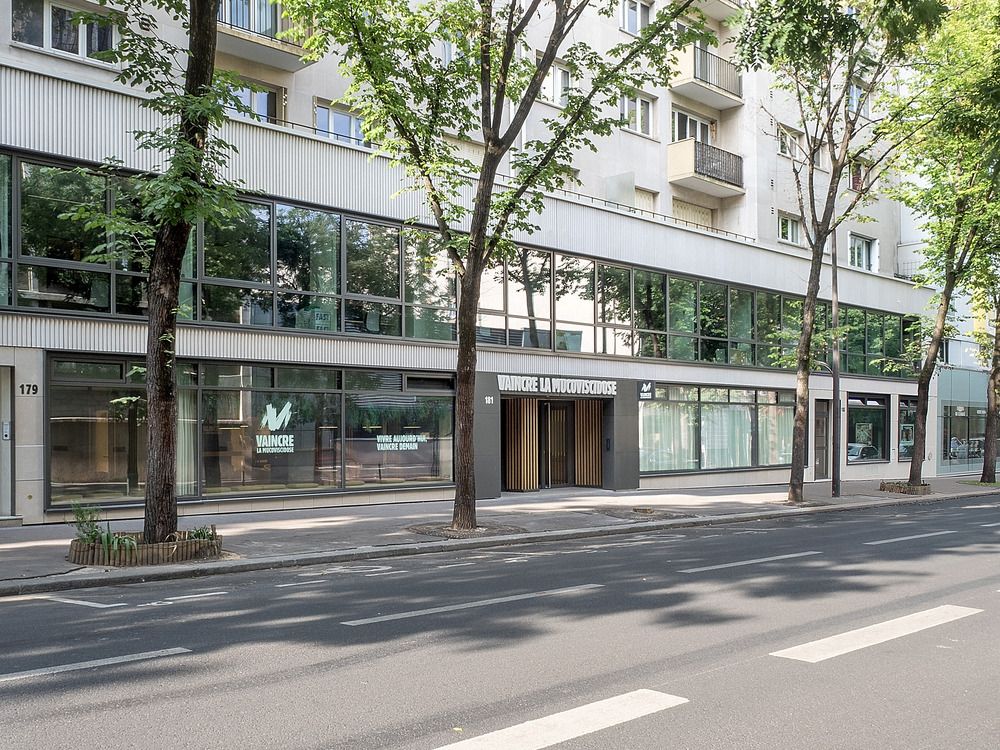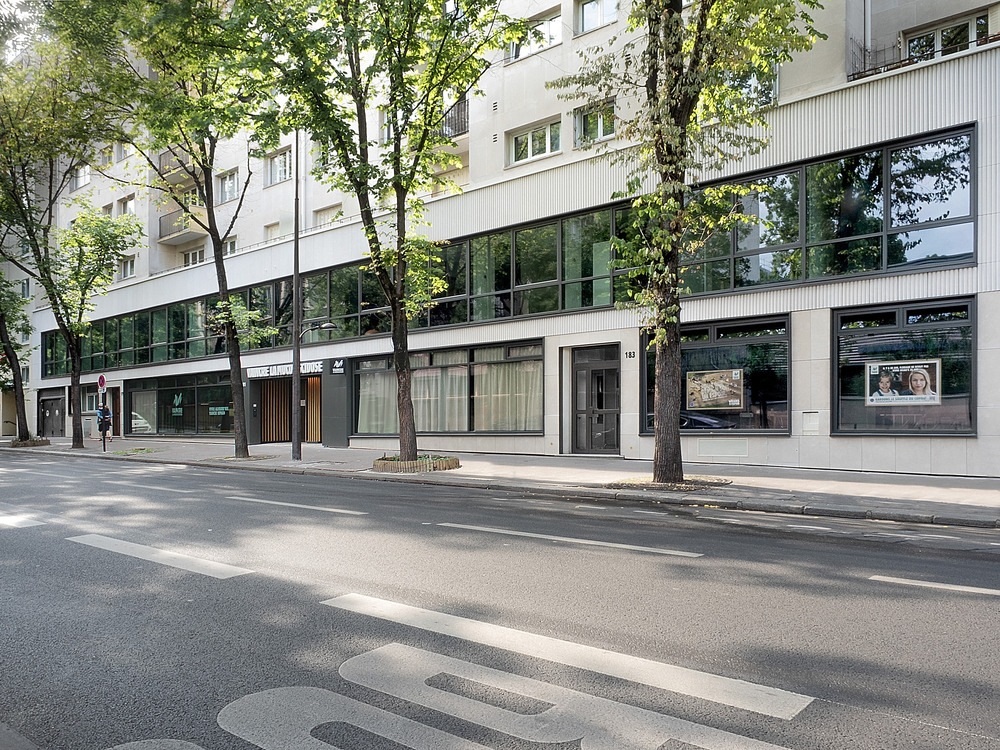 A New Image for the Association
The Vaincre la Mucoviscidose association's former headquarters, nestled in the basement levels of a 1960s residential building at 181 rue de Tolbiac, have undergone a stunning facelift. The once opaque and uninviting façade has been completely revitalized, achieving two crucial objectives: connecting with the city and harmonizing with the building's heritage.
The façade's transformation involves extensive use of glass, providing a more open and vibrant presence in the neighborhood while maintaining a connection to the upper floors' classic limestone facade. The integration of limestone cladding on solid sections pays homage to the building's history, while innovative design elements, such as fluted stones on the first floor, create captivating interplays of light and shadow.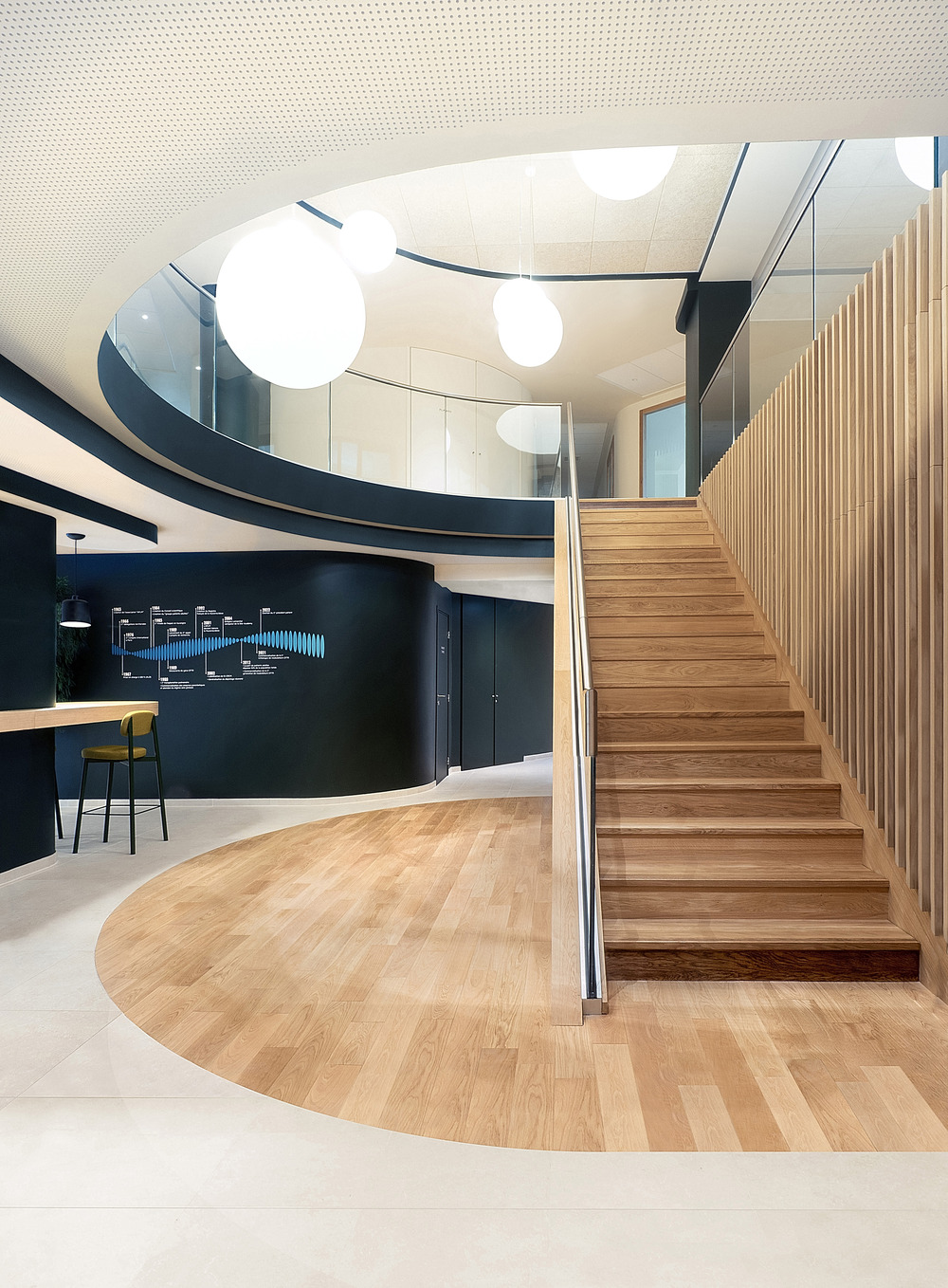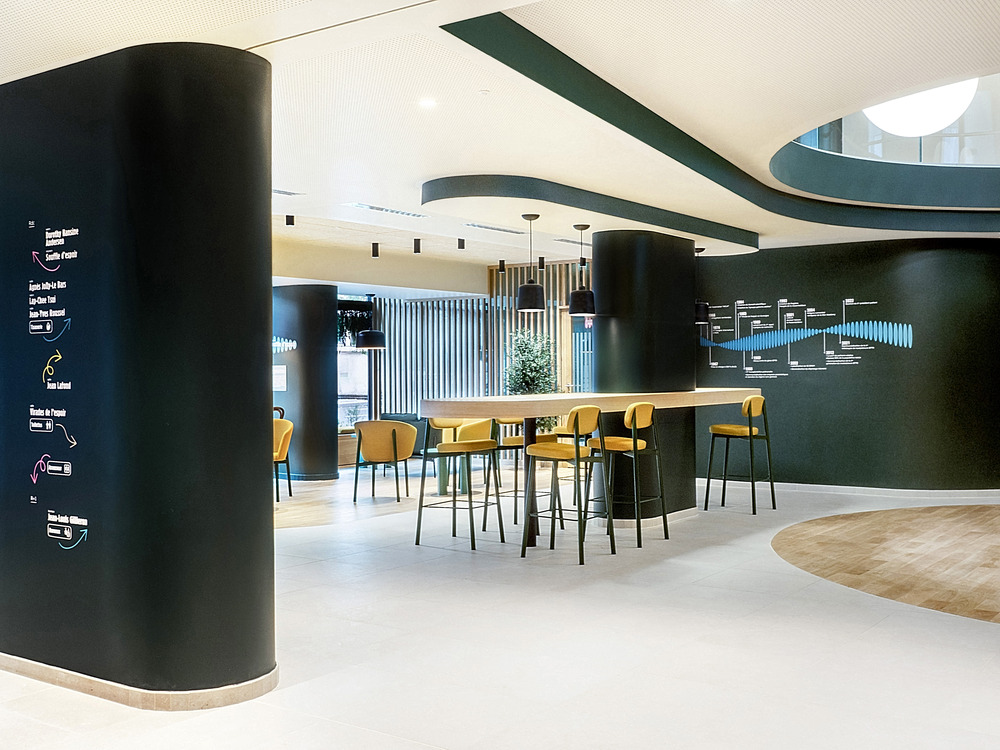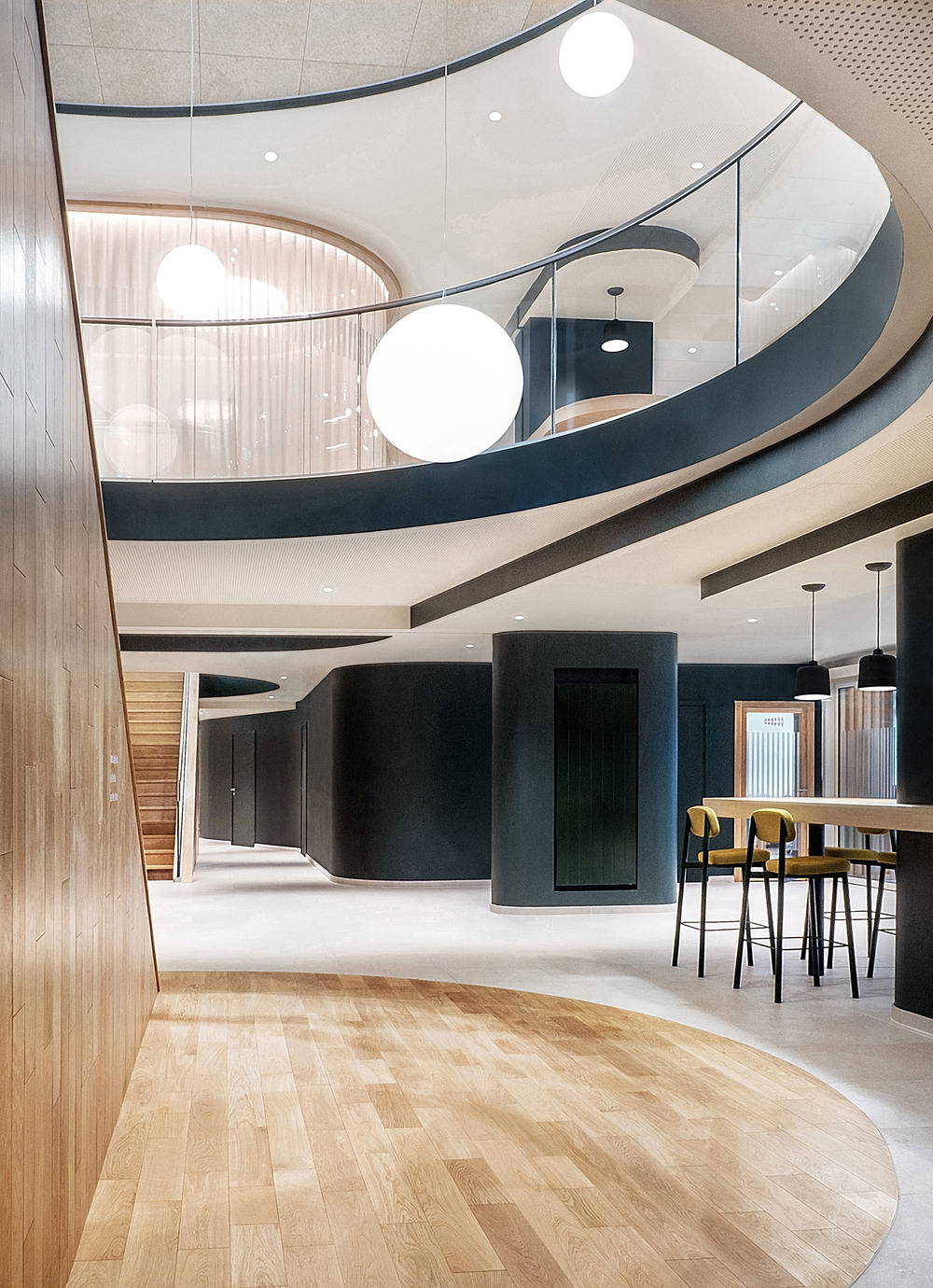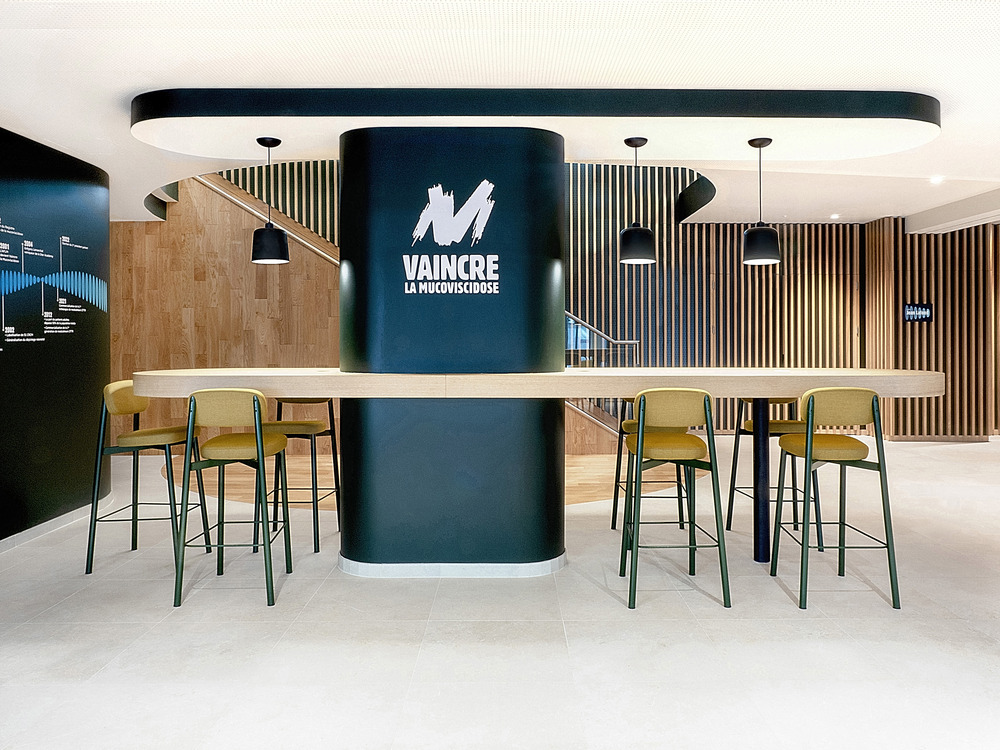 Enhanced Spatial and Social Relations
The previous office space suffered from three significant deficiencies: a lack of natural light, limited welcoming areas, and poor connectivity between floors. The redesigned interior layout breathes new life into the lobby, fostering visual connections between different levels. Shared offices have been introduced, ensuring that all workspaces are bathed in natural light, promoting collaboration and a sense of community. Various intermediate spaces, including coworking areas, gathering spaces, and dining areas, have been strategically incorporated to encourage interaction and innovation.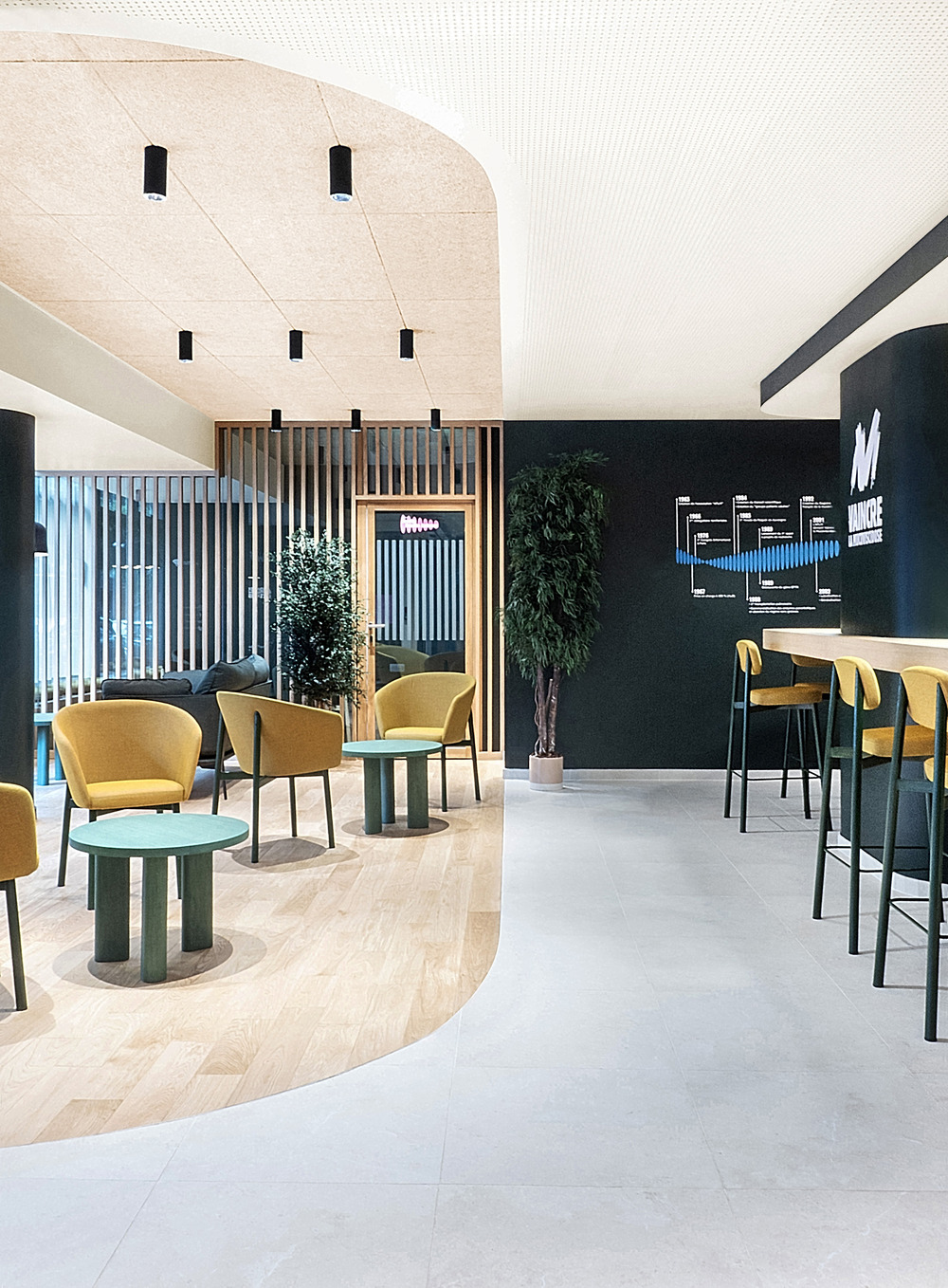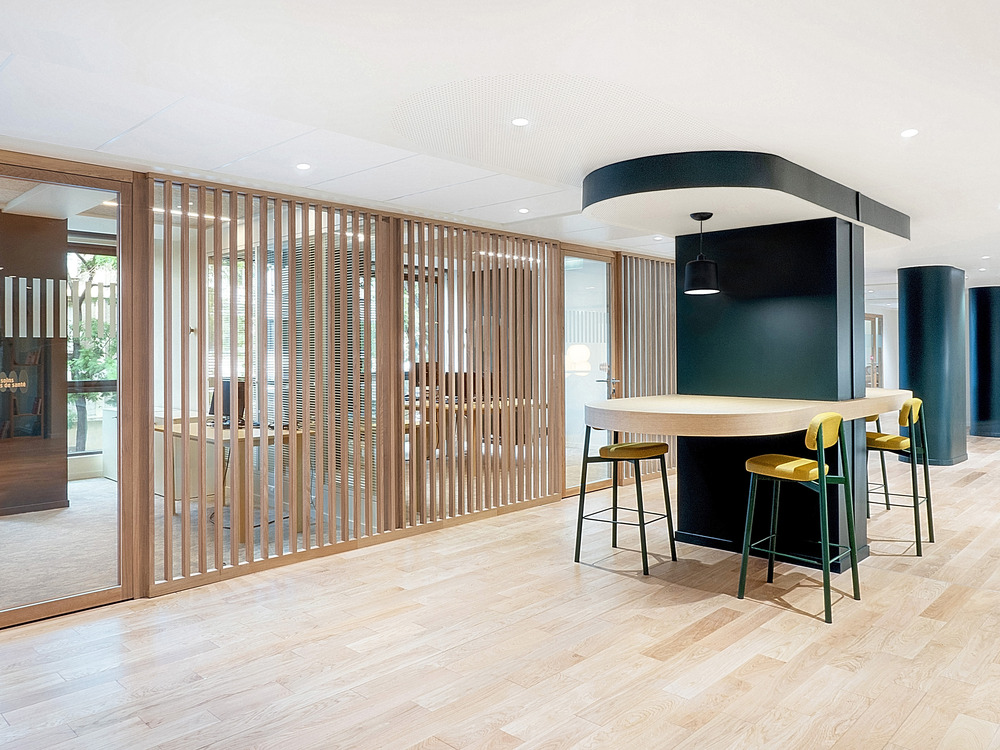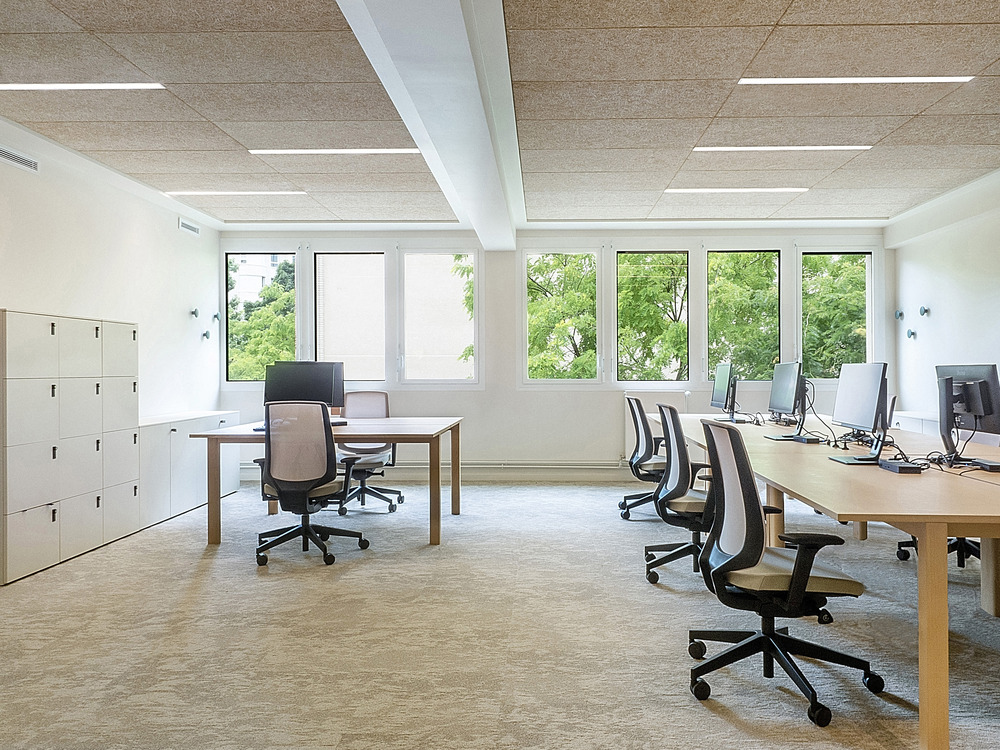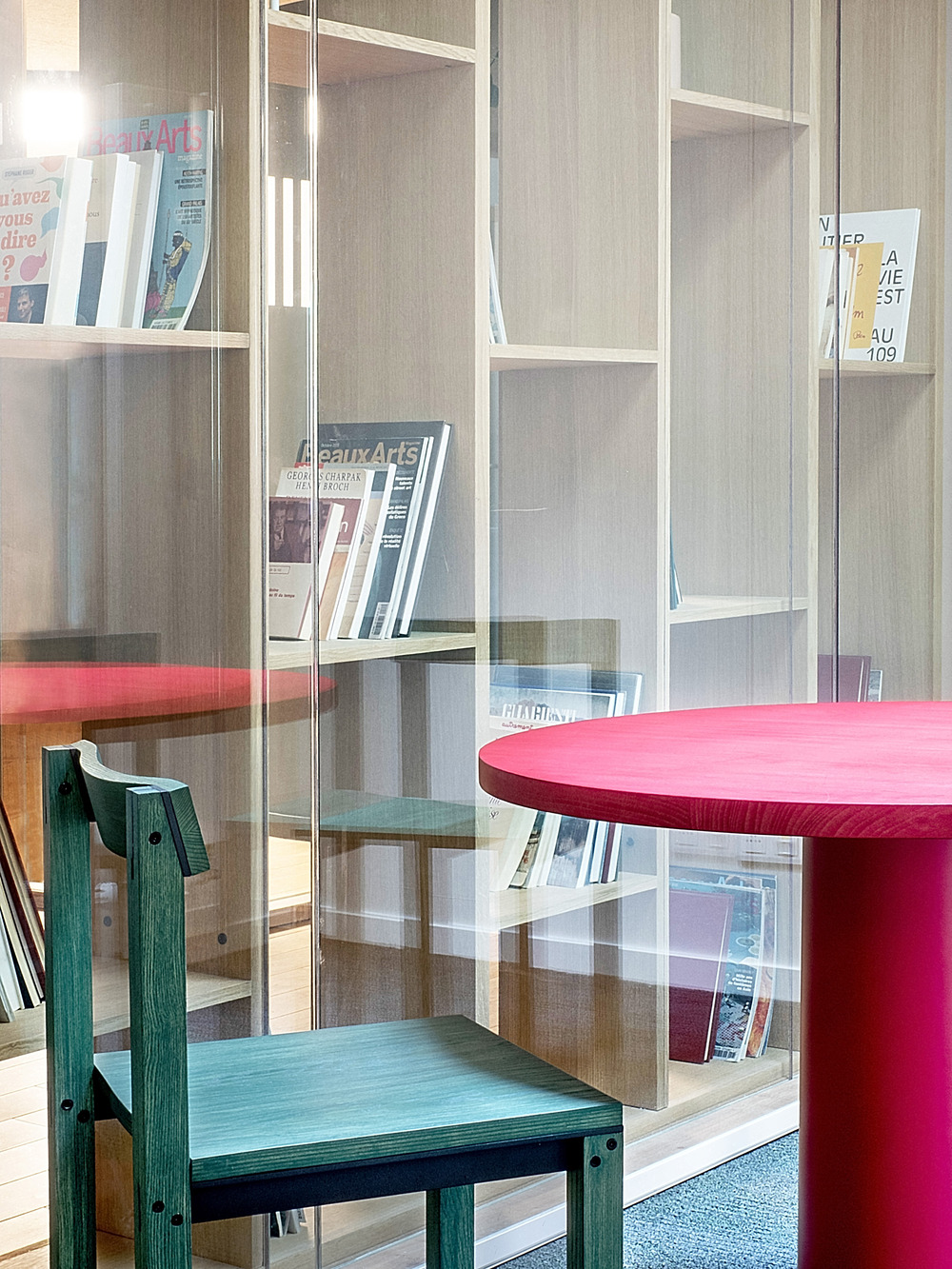 Diverse Spaces, from Public to Confidential
The new headquarters are organized by floor, with the ground floor hosting public spaces such as reception, meeting rooms, social areas, coworking spaces, and dining facilities. The first floor is dedicated to the association's staff, offering individual offices, shared workspaces, and open areas. To maintain confidentiality where necessary, double-skin glass partitions, claustra, bookshelves, screen printing, curtains, and blinds have been meticulously employed as both acoustic and visual barriers.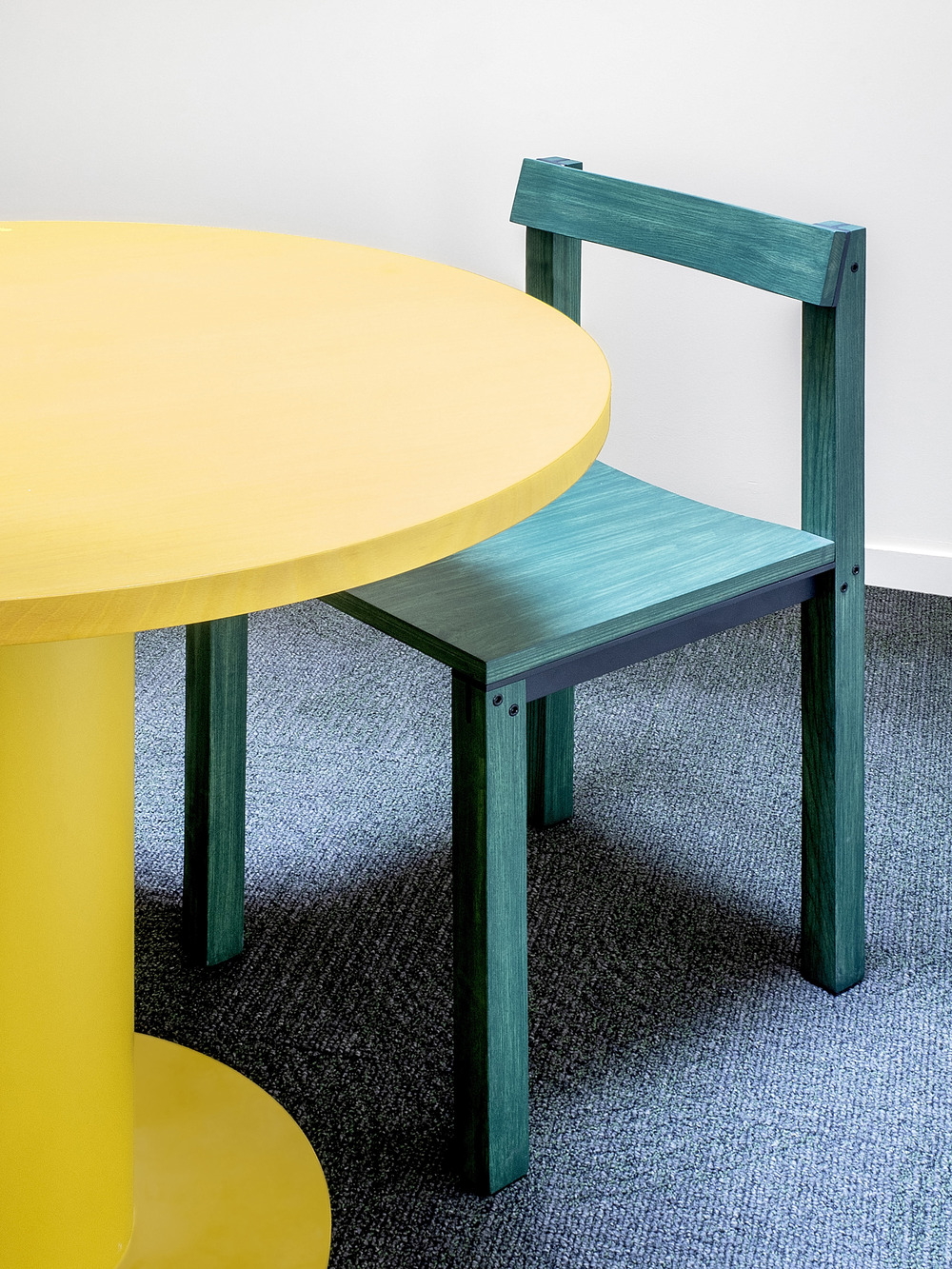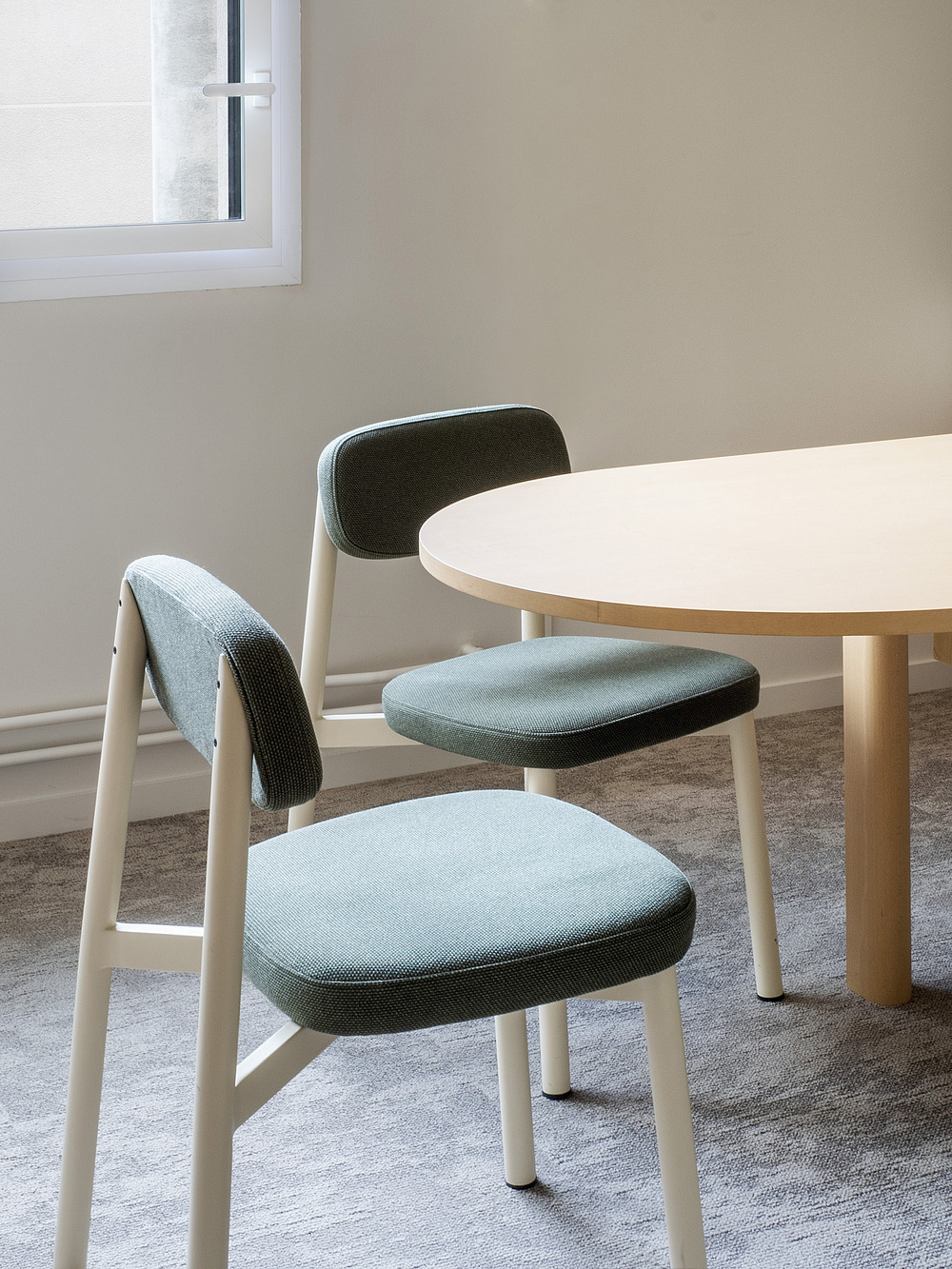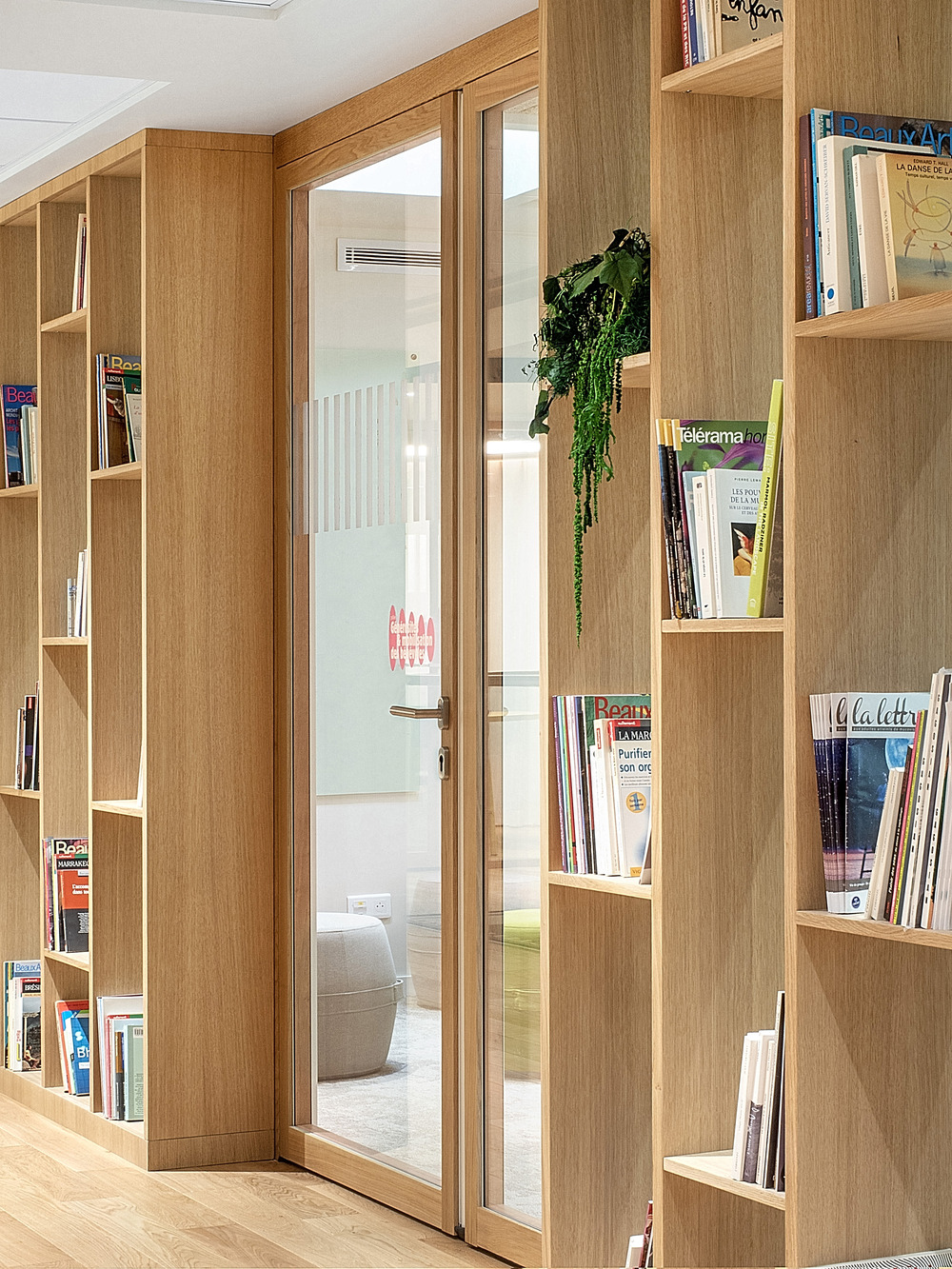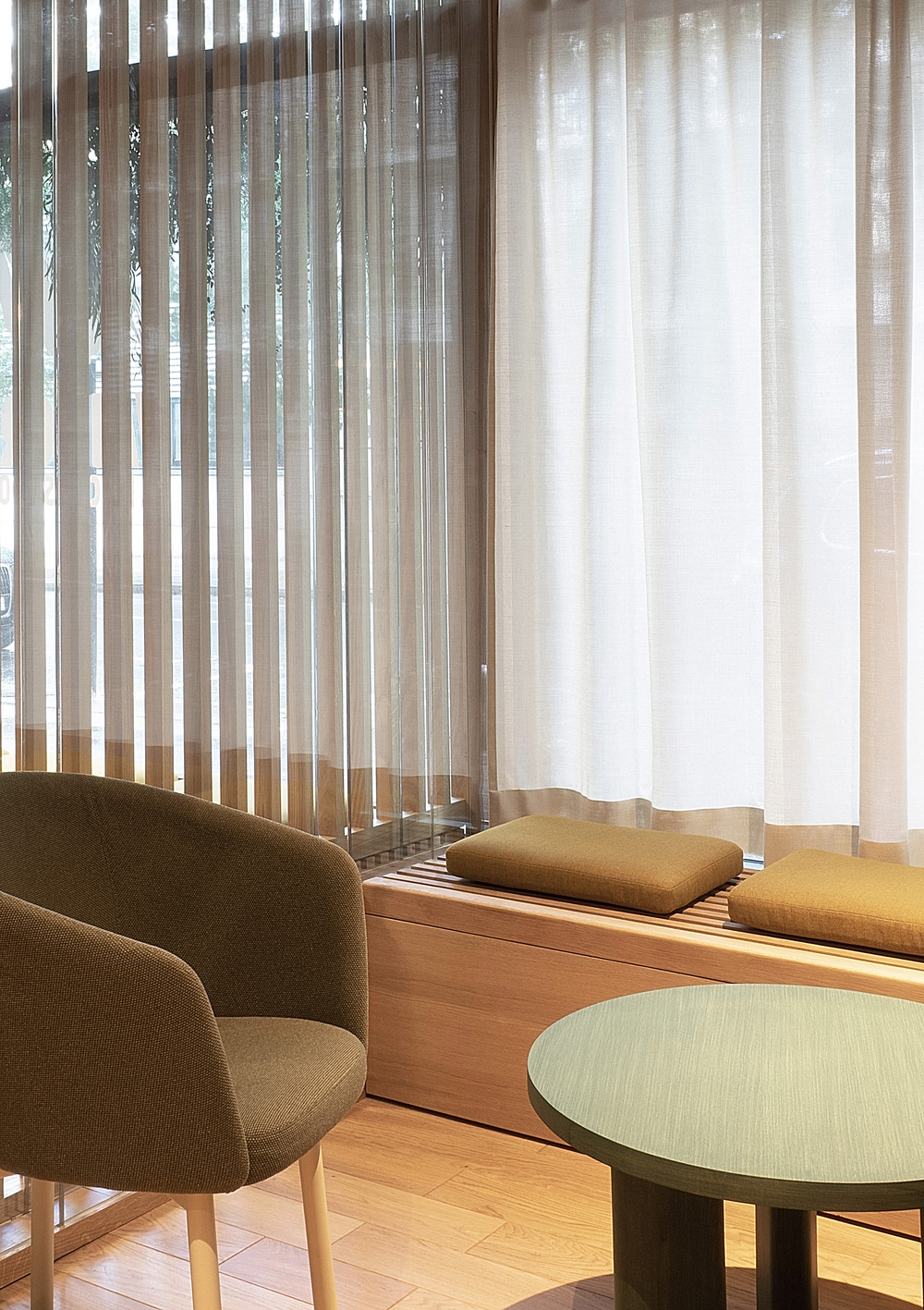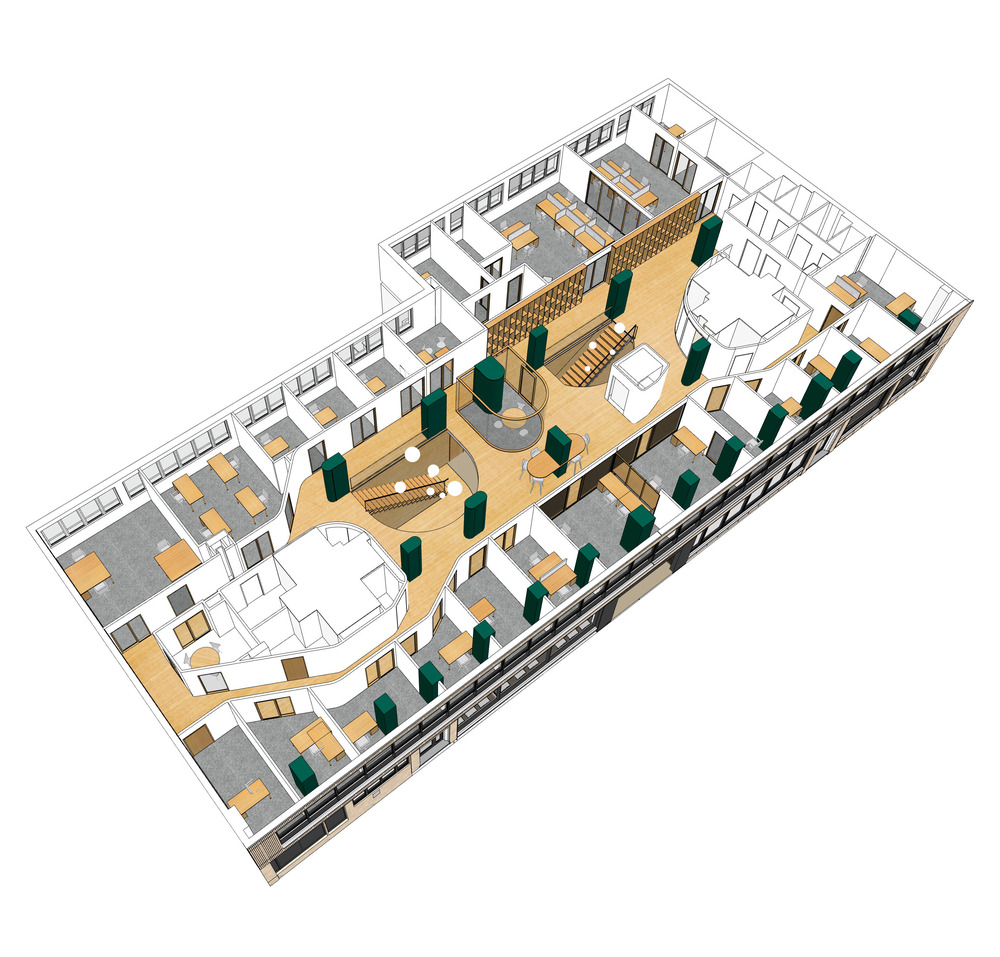 Furniture Layout in Harmony with the Association's Values
Vaincre la Mucoviscidose's new premises embody the spirit of humility, warmth, and care that the association represents to its patients. The spaces are designed to create a welcoming atmosphere where individuals can freely share their struggles and concerns related to cystic fibrosis. The color scheme, featuring Pantone's Kombu Green and Farrow and Ball's Dimity, radiates a sense of intimacy and hospitality. Furniture choices focus on solid oak for a warm and unpretentious aesthetic.
Sheer curtains add an element of lightness and transparency on the ground floor, while the first-floor offices maintain a warm and humble character. The overall design captures the essence of hope and resilience, creating an environment that embodies the association's mission.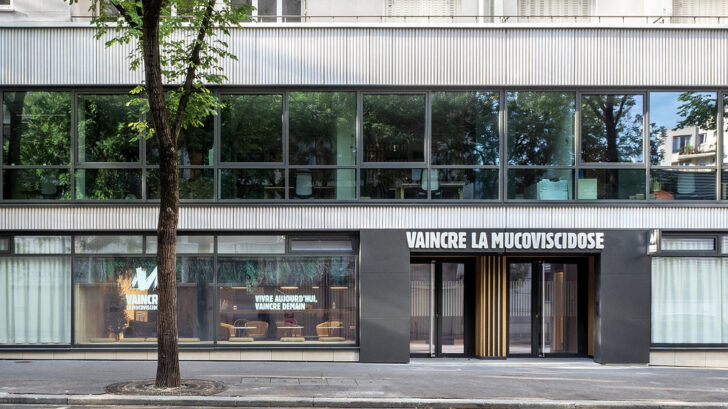 Project information
Official Project Name: Rehabilitation of Vaincre la Mucoviscidose's Offices
Location: 181 rue de Tolbiac, Paris 13th Arrondissement, France
Floor Area: 1,144m² renovated / 617m² existing preserved
Construction Period: July 2022 – June 2023
Client: Vaincre la Mucoviscidose (association)
Architects: William Gonord Architecte (WGA) and Julien Plessis (Métrotope architecture)
Interior Designer (Aesthetic Concept, Furniture, Signage): Michel Ward (Studio Trame)
Technical Consultants:
Structural Engineering: Scyna 4
Fluid Engineering: Betec
Cost Estimation / Project Management: Eira ingénierie
Construction Oversight: Socotec
Acoustics: Meta acoustique
Fire Safety: Casso & associés
PEMD Diagnosis: Cycle-up
Asbestos Removal: Qualicontrôle
Asbestos Execution Project Management: Idea
Contractors:
Site Clearance: SEP
Asbestos Removal: Mado Bati
Main Construction: Capron
Façades: Face IDF
HVAC/Electrical/Plumbing/Fire Safety: Hervé technique
Interior Fitting and Furniture: Kann design
Painting: Prévotat
Flooring: Capron (parquet), Prévotat (carpet)
Facade Stone: Marpex
Glass Partitions: Alsea
Interior Partitioning and Carpentry: Faster services
Metalwork: MES
Elevator: Mistral
Furniture: Nidi (wardrobes & lockers), Selency (vintage furniture), Seve (eco-designed trash cans), Silvera (general furniture distributor)
Signage: Atelier Gambetta
Greenery: Pousse