In a city already renowned for its captivating architecture, Reiulf Ramstad Arkitekter's latest project, the Katrinetorvet Tower, is set to become a focal point of Aarhus' urban landscape. This 18-story mixed-use building, which has been in the works for the past few years, promises to be a masterpiece of modern design seamlessly blended with a deep appreciation for the city's architectural heritage.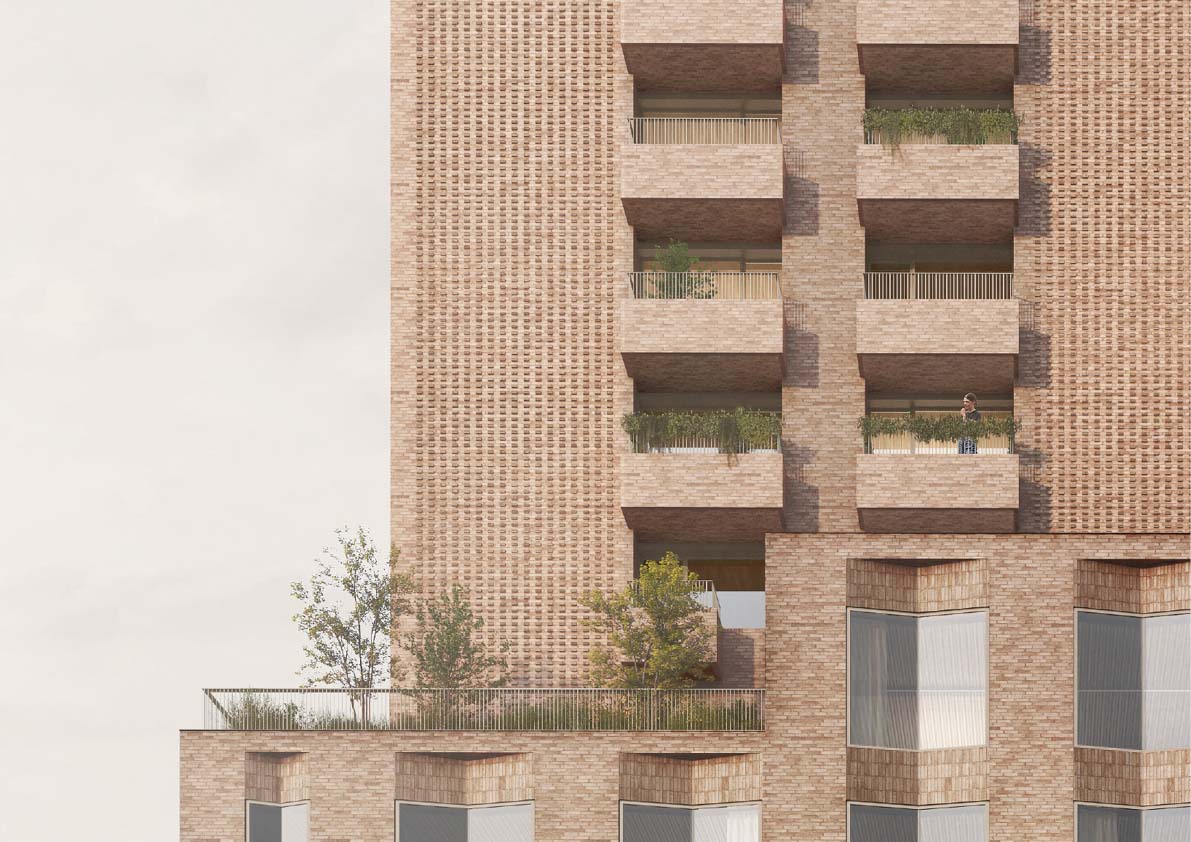 A Striking Addition to Aarhus' Skyline
Katrinetorvet Tower, overlooking Aarhus' Katrine Square, is poised to be a striking architectural complex within the heart of the city. The design features an elegant high-rise that gracefully ascends from the square, with a strong foundation consisting of a 6-story brick base. This base not only accommodates commercial establishments, including a charming café at the square level but also serves as an architectural homage to the nearby "Book Tower" at Aarhus University Campus.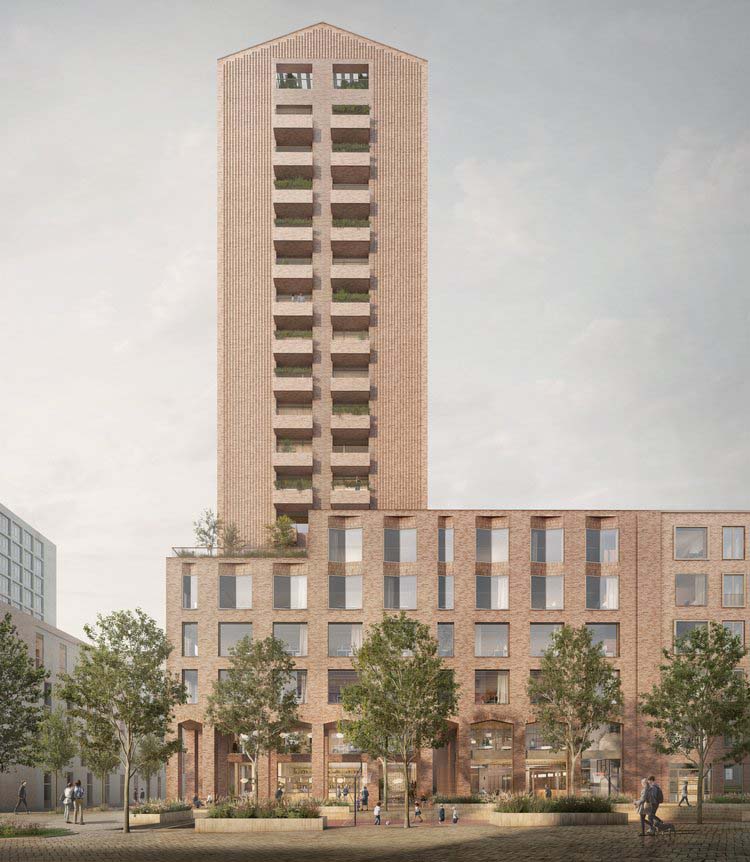 A Nod to Tradition
The building's 6-story base is adorned with a two-story arcade, characterized by robust brick columns, buttresses, and pointed arches. These architectural elements pay homage to Aarhus University Campus' architectural motifs, creating a harmonious connection with the surrounding neighborhood. The arcade, crowned with a tiled ceiling, offers a sheltered pedestrian promenade and outdoor dining opportunities, all while providing scenic views of the square.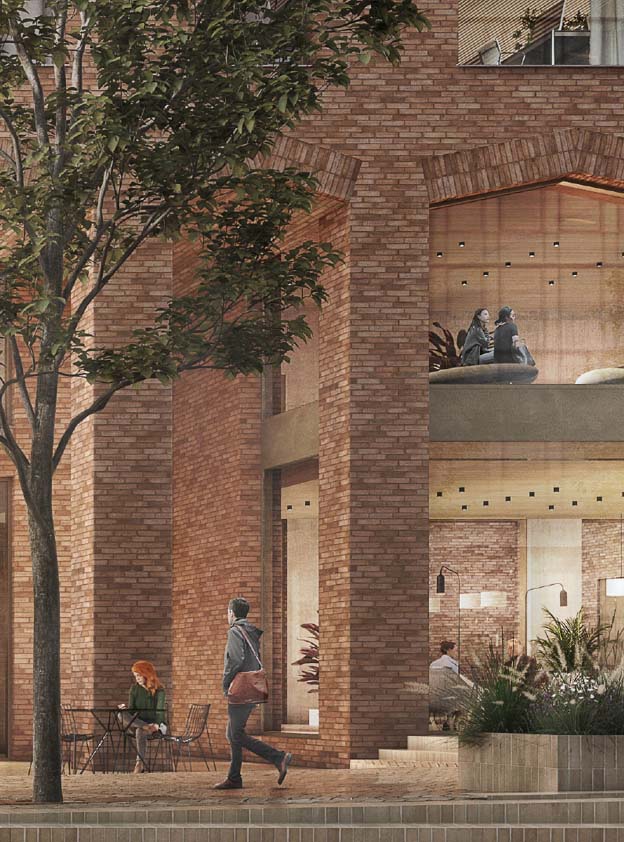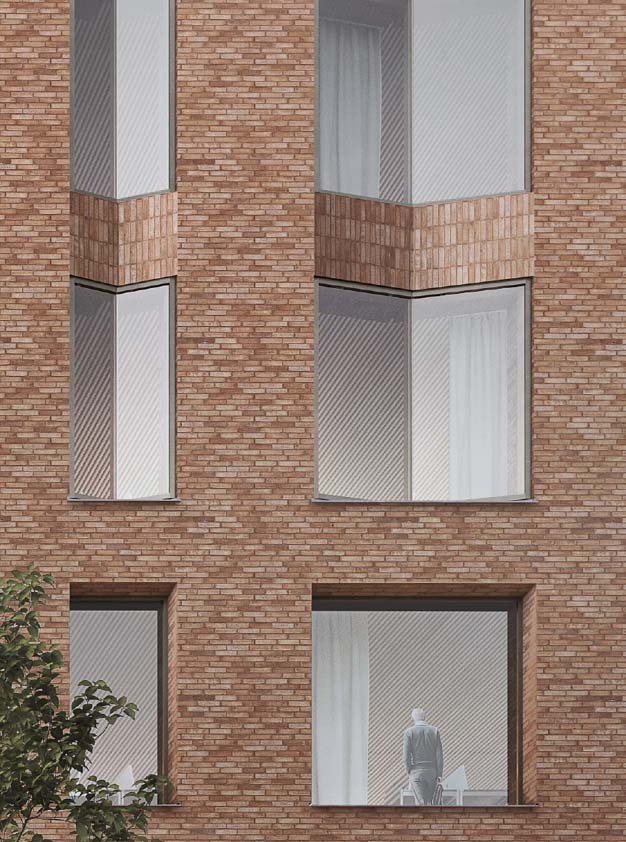 Brickwork Heritage
The carefully selected palette of soft-polished bricks in delicate red and golden hues, combined with uniform mortar-joint styling, lends a sense of cohesion and texture to the building. The architects have meticulously incorporated traditional brick-detailing elements into the modern design, celebrating Denmark's rich heritage of brickwork. Brick lintels, buttresses, ornamental features, and open apertures are thoughtfully integrated throughout the structure, adding to its overall charm.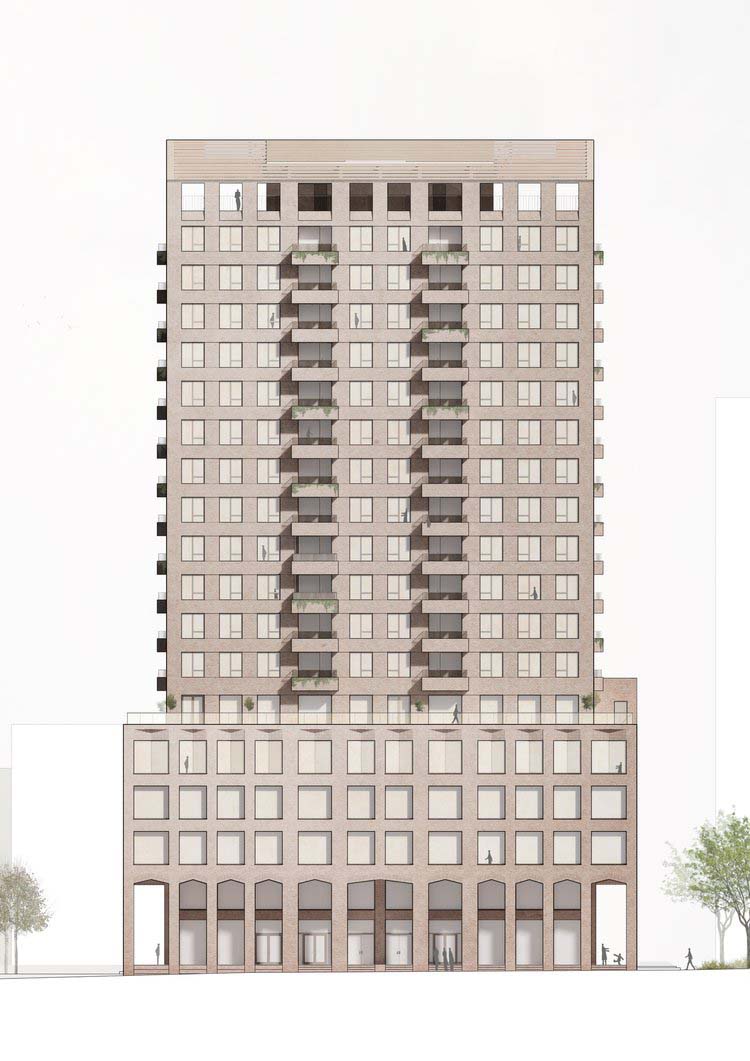 Residential Excellence
The high-rise portion of Katrinetorvet Tower boasts 12 floors of residential units, each offering panoramic vistas in all four cardinal directions. Semi-recessed balconies, constructed with the same brick material as the rest of the building, add to the building's allure. Atop the high-rise, a communal rooftop terrace with lush greenery, various seating arrangements, and open spaces provides residents with an inviting space to relax and unwind while enjoying stunning views of the city.
A Social Hub for Aarhus
Beyond its aesthetic contributions, Katrinetorvet Tower aims to become a central gathering point and social hub for the neighborhood. While primarily residential, it embraces the public life of the city through its inviting arcade, which houses cafes, restaurants, offices, and residences. This urban gesture enhances the connection between the tower and numerous university buildings and research institutions in the area, creating a harmonious academic rambla known as "Campusstrøget." This vibrant connection culminates in the high-rise's distinctive profile as a landmark.
As Reiulf Ramstad Arkitekter's Katrinetorvet Tower nears completion, Aarhus residents can look forward to a new architectural icon that seamlessly blends modernity with respect for tradition. This visionary project promises to not only enrich the city's skyline but also serve as a dynamic, inclusive space where urban life flourishes and the spirit of Aarhus thrives.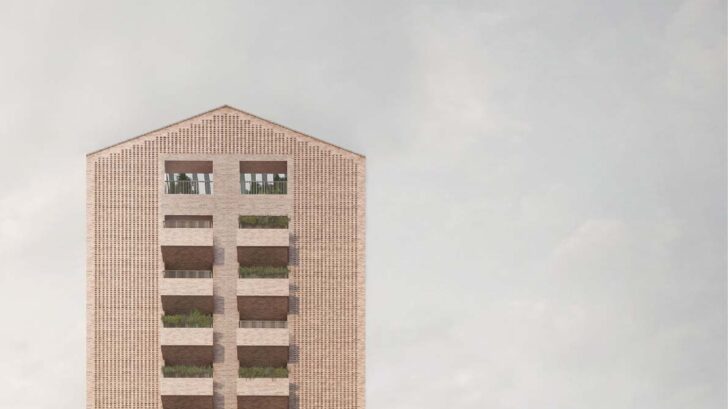 Project information
Typology: Highrise (Commercial and Residential)
Status: Direct commission (2022) On-going
Location: Aarhus, Denmark
Illustrations by Reiulf Ramstad Arkitekter and Filippo Bolognese