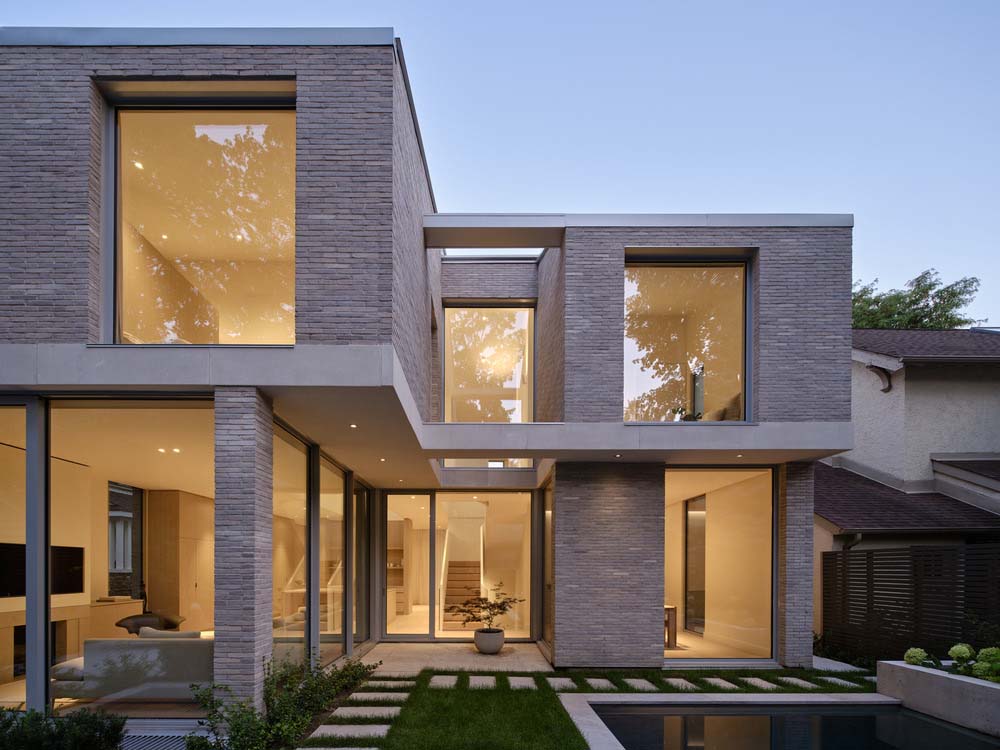 StudioAC has recently unveiled its latest project, the Lawrence Park Residence, situated in the picturesque tree-lined neighborhood of North Toronto. This remarkable project seamlessly combines the conflicting desires of openness and privacy, creating a home that is both functional and architecturally striking.
The Lawrence Park Residence, completed in 2023, represents a meticulous approach to design, addressing the need for a family-oriented living space while maintaining an elegant and minimalistic aesthetic. The architects at StudioAC were tasked with the challenge of balancing form and function, as well as finding innovative ways to maximize natural light while concealing the home's interiors.
The façade of the Lawrence Park Residence presents an intriguing contrast. The front elevation exudes a sense of stoicism with its grey brick and limestone composition stretching along the South face. This seemingly reserved exterior is punctuated by strategically placed openings, teasing at the possibility of what lies within. An intimate living space flanks the entryway, offering a cozy retreat that conceals the open floor plan towards the rear of the house. Tall, slender windows in this space playfully interact with the solid brick façade, allowing moments of transparency and creating a rhythmic visual contrast.
As one moves further into the home, a double-height space welcomes residents with a winding staircase, ensuring a seamless flow of light into the heart of the house – the kitchen. This design choice not only provides functional convenience but also celebrates openness within the home's layout. The living space extends into the backyard, forming an exterior harbor that bridges the gap between the living and dining areas. This arrangement fosters a unique relationship between these spaces, maintaining a sense of separation and individual identity for each. Moreover, the harbor introduces a lengthy stretch of west-facing windows, effectively inviting warm evening light into the interior, enhancing the overall ambiance.
The architectural journey continues with the winding staircase leading to a double-height gallery space that overlooks the central kitchen, truly at the core of the home. The primary bedroom extends beyond the ground floor, cantilevering into the rear yard and offering panoramic views of the west-facing reveal in the floor plan. In a distinctive shift, the second story of the residence features a contrasting brick exterior, standing in stark juxtaposition to the extensive glazing that exposes the living and dining areas below.
While the front façade maintains a stoic demeanor, the rear of the Lawrence Park Residence adopts a considerably more playful form and articulation, contributing to the overall architectural theme of contrast and juxtaposition.
The completion of the Lawrence Park Residence marks another success for StudioAC, a team led by architects Mo Soroor, Jennifer Kudlats, Andrew Hill, and Sarah Reid. Their vision was brought to life with the support of structural engineering firm Honeycomb and the expert construction management of Whitaker Construction. The stunning visual documentation of the project was captured by Doublespace Photography.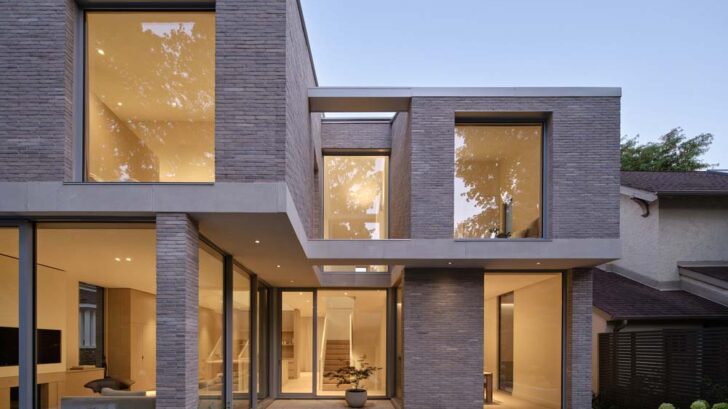 Project information
Completion: 2023
Architect: StudioAC – www.archcollab.com
StudioAC Team: Mo Soroor, Jennifer Kudlats, Andrew Hill, Sarah Reid
Structural engineering: Honeycomb
Construction management: Whitaker Construction
Photos: Doublespace Photography