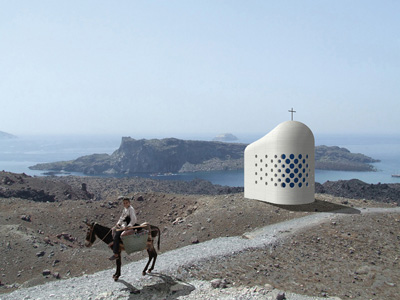 Project: White Chapel in Greece
Designed by a3lab
Location: Greece
Website: www.a3lab.org
a3lab shares with us their design of White Chapel in white and blue remain as the part of the tradition, everything else is touch of the contemporary. For more images and architects description continue after the jump:
From the Architects:
The private chapel evolves as a reconciliation between traditional Greek and Arabic typological and morphological elements, parameters set by the chapels location and the origins and wishes of the landlords.
Vault and cupola are being merged together into a vault-cupola morphed shell, which becomes structure and space at the same time. The perforated wall structure allows shadow – light effects to emerge.
The structural system can be described as a reinforced concrete shell. The framework of the double curved shell is being analyzed in cross and longitudinal sections, which will be used in order to create a mold for the concrete roof.