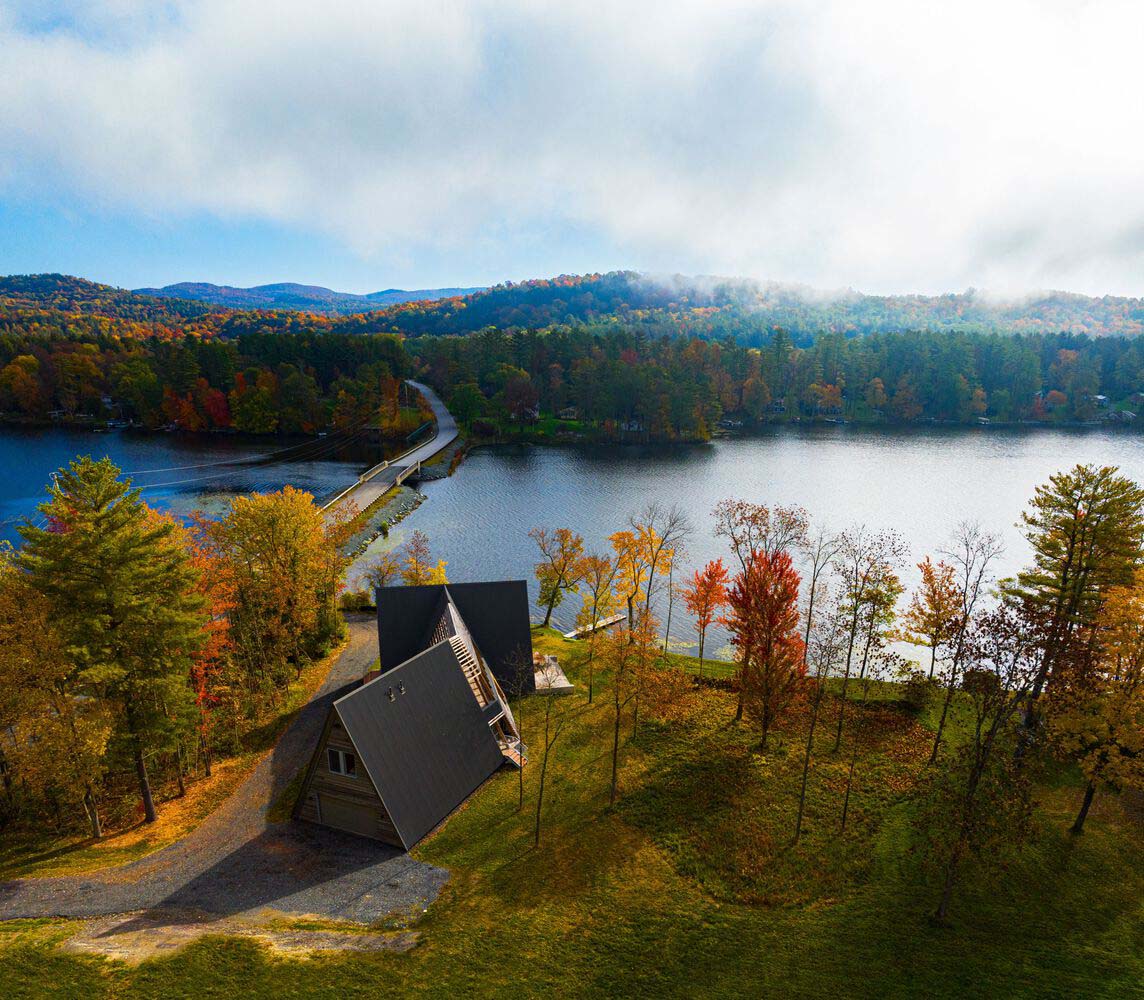 Nestled on the tranquil shores of Lake Bomoseen, Birdseye's A-Frame House has redefined lakefront living with its striking design, minimalist elegance, and coexistence with the surrounding environment. The project, led by the architects at Birdseye, was challenged by a unique set of constraints, including numerous wetland and lake setbacks, which ultimately dictated the placement and configuration of the building. Nevertheless, the team managed to create a private residence that maximizes lake views, access to the lakefront, and seamlessly blends with its natural surroundings.
The A-Frame House is organized into two separate living spaces. The primary living space encompasses an entry mudroom, utility room, kitchen, dining area, a spacious two-bedroom suite, a primary bedroom suite, and even an upper roof deck. Additionally, a two-car garage is integrated into this living space. The secondary living space offers a separate entry, living area, kitchen, dining space, and another two-bedroom suite, complete with roof deck access.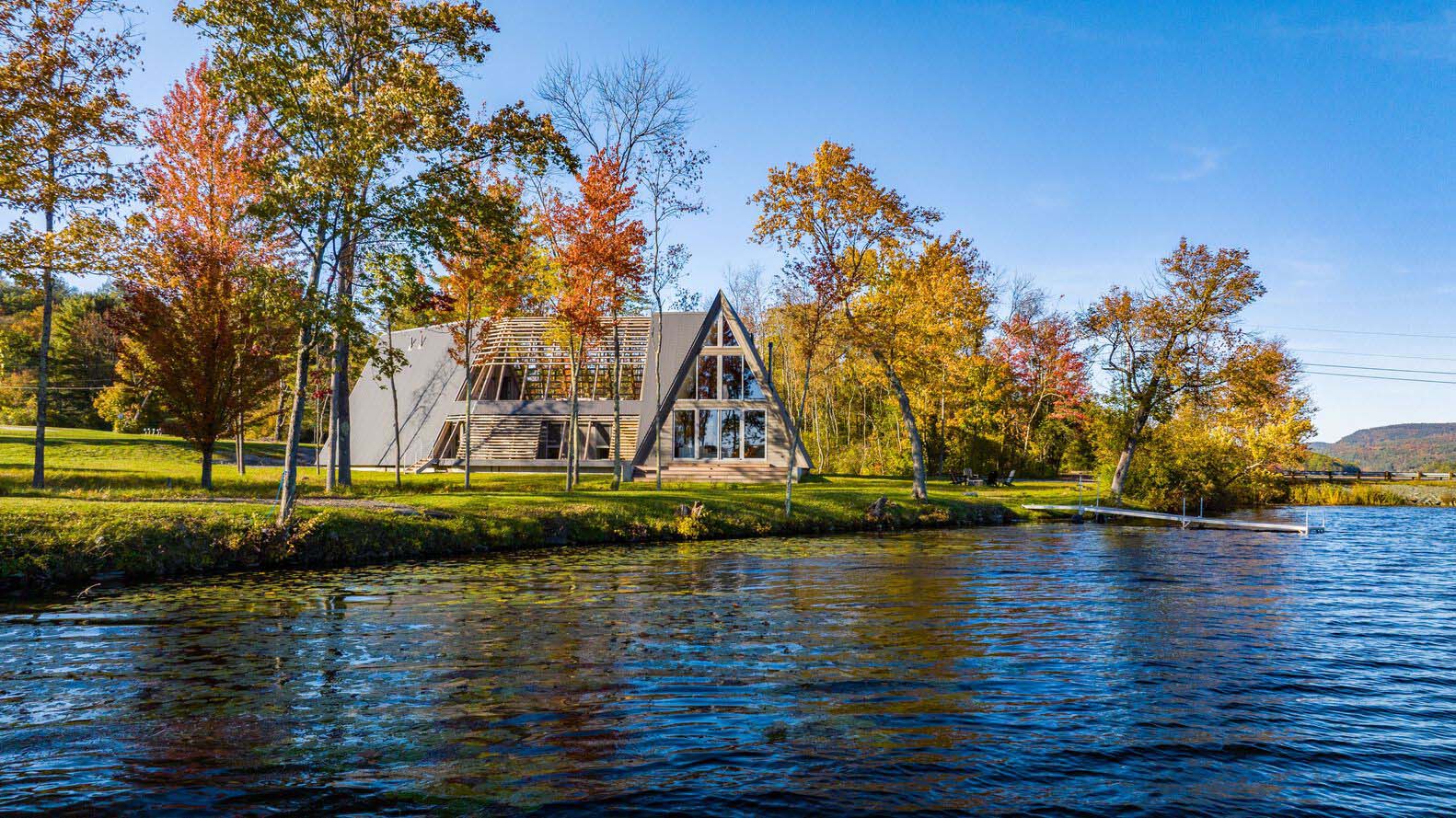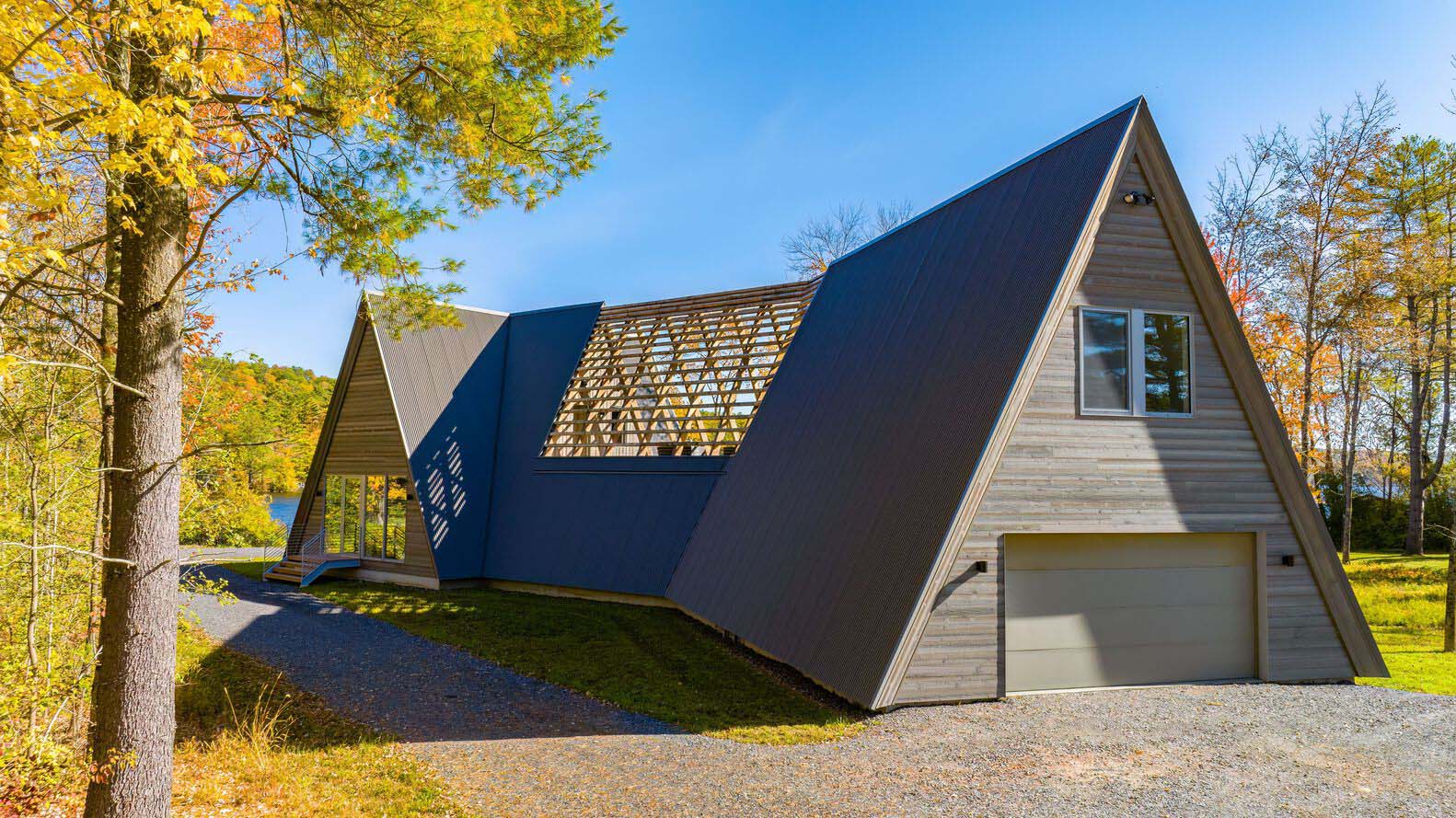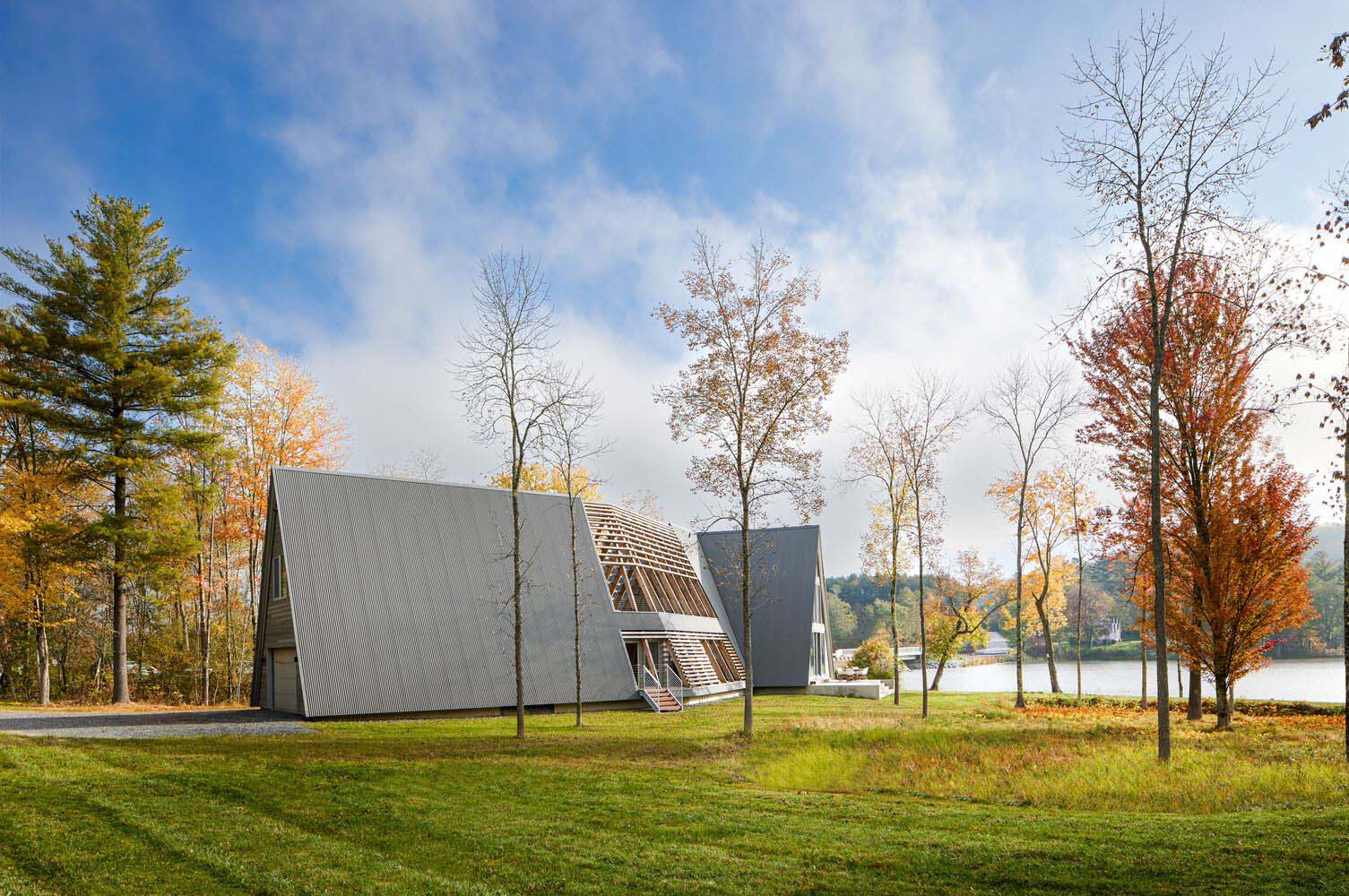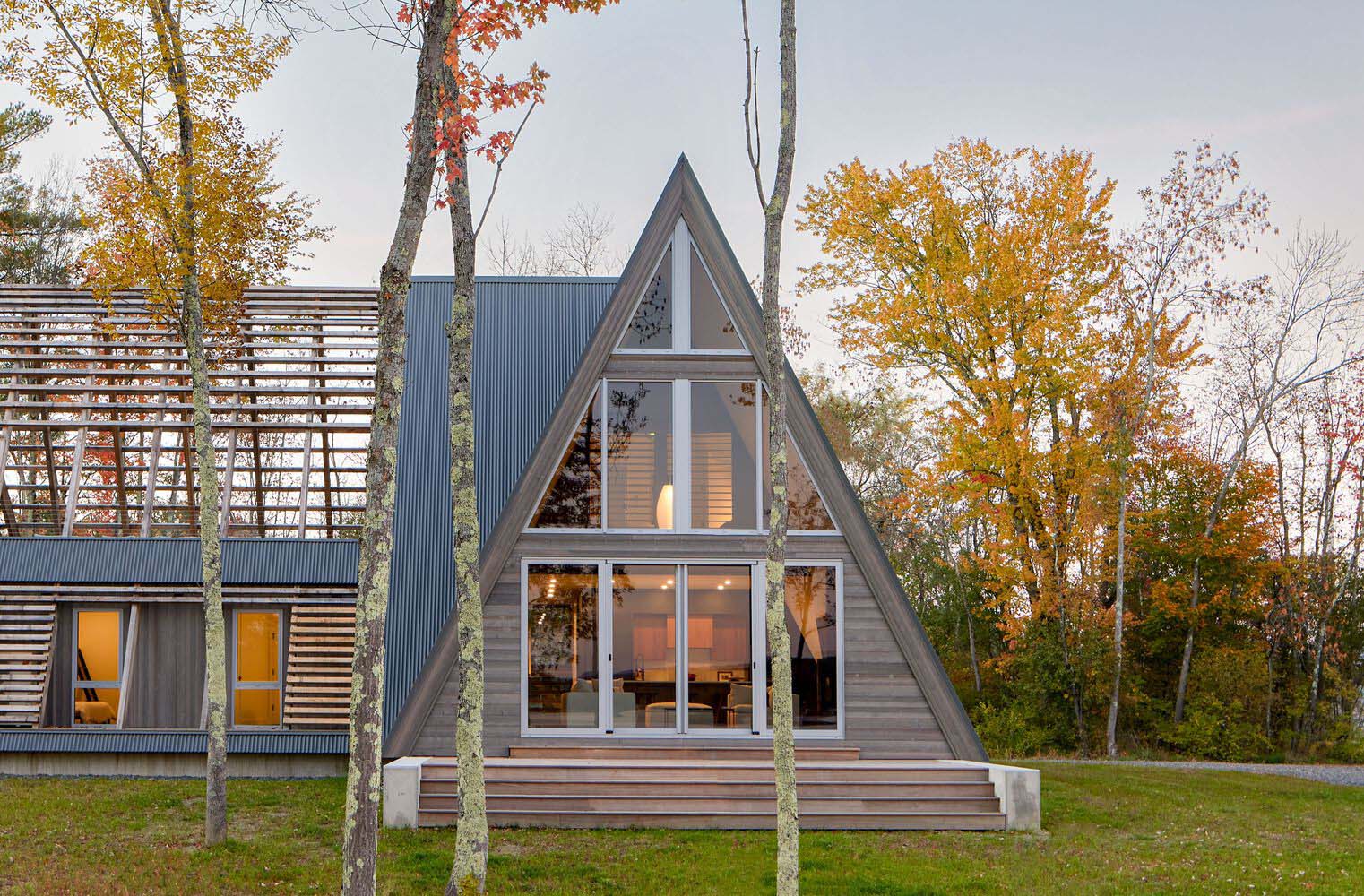 One of the most striking features of the A-Frame House is its homage to the mid-century A-frame architecture, a minimalist and iconic design. The architects at Birdseye reimagined this design, creating three intertwined A-frame structures. Two of the A-frames intersect at a 40-degree angle, while the third is perpendicular to one end of the elongated form. The roof system is ingeniously stripped away along one segment, revealing an A-shaped open-timber scrim over a shared outdoor deck space on the second floor, which extends down to create an open deck and private side entry on the first floor. This abstract interpretation of the A-frame form showcases the craftsmanship and architectural language.
The A-Frame House was meticulously designed to capture natural light and offer breathtaking lake views to the south while minimizing northern exposure and paying tribute to the adjacent vehicular bridge. The structure is set atop a concrete slab on grade, reducing the need for extensive site excavation and minimizing waste. A significant portion of the building is constructed from prefabricated roof panels that were assembled off-site and then craned into place, expediting construction while reducing waste. The exterior features highly insulated roof panels, cedar-clad infill walls, and thermally broken European tilt-turn windows, forming an efficient and performative envelope.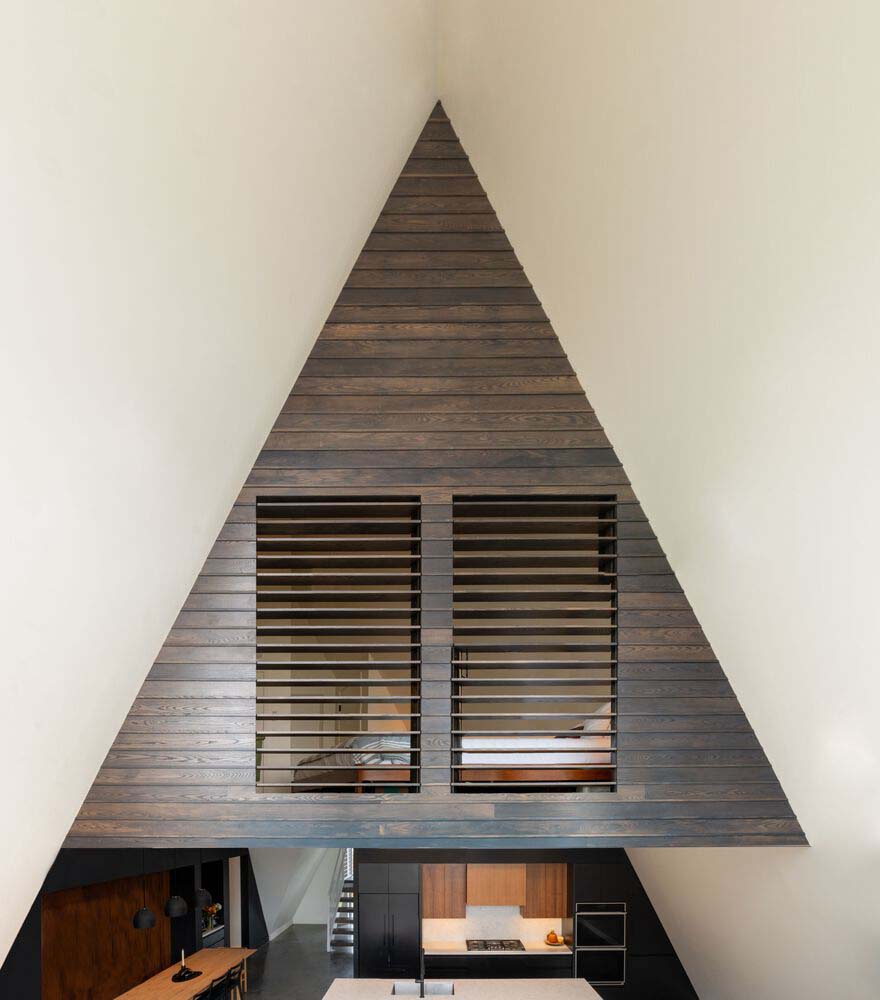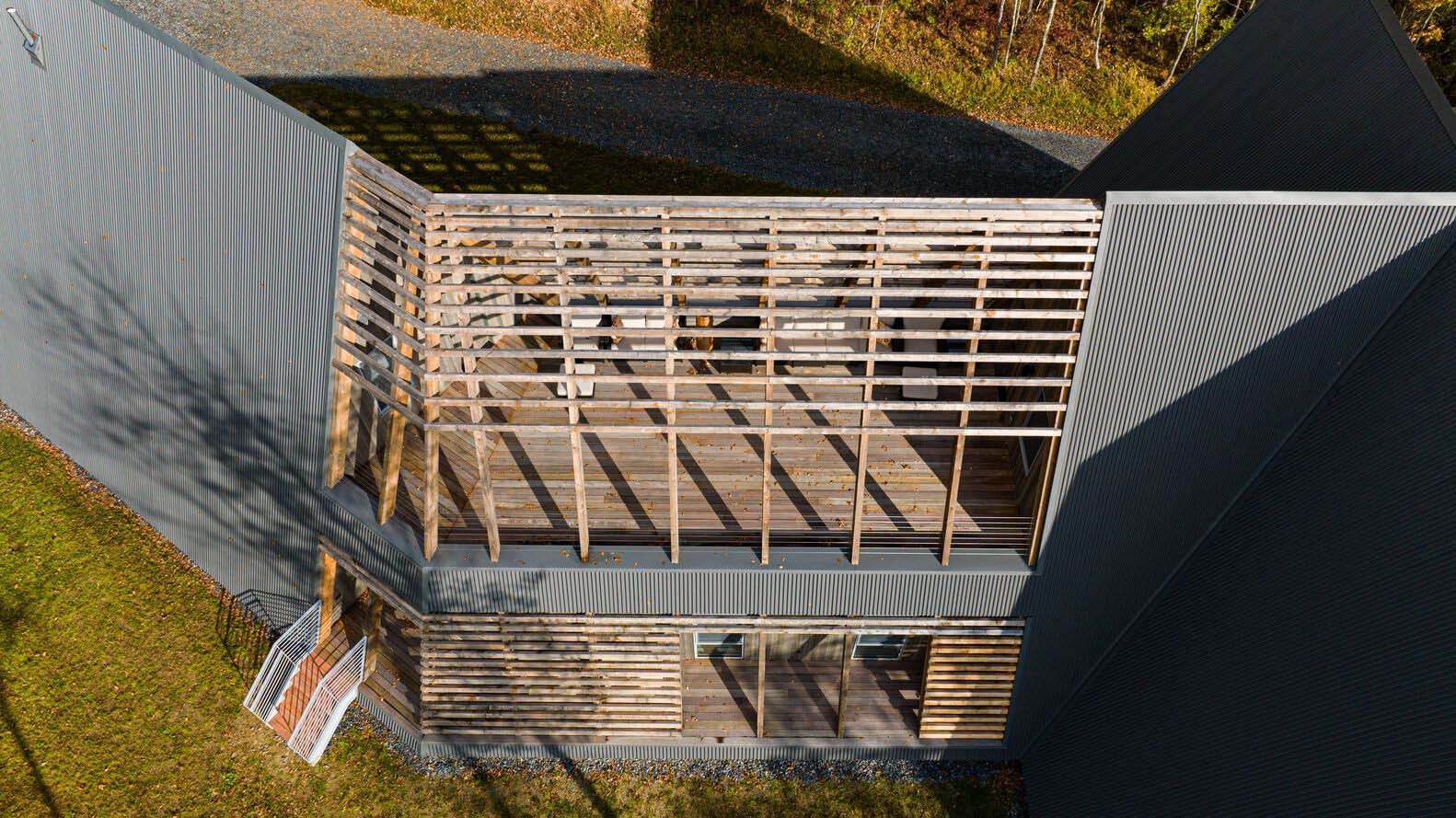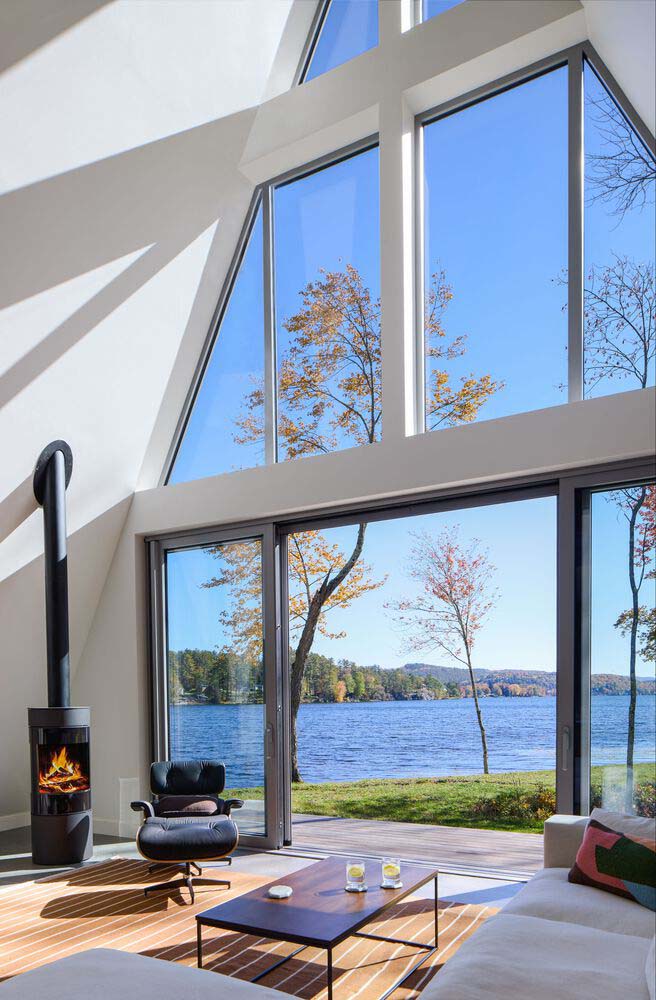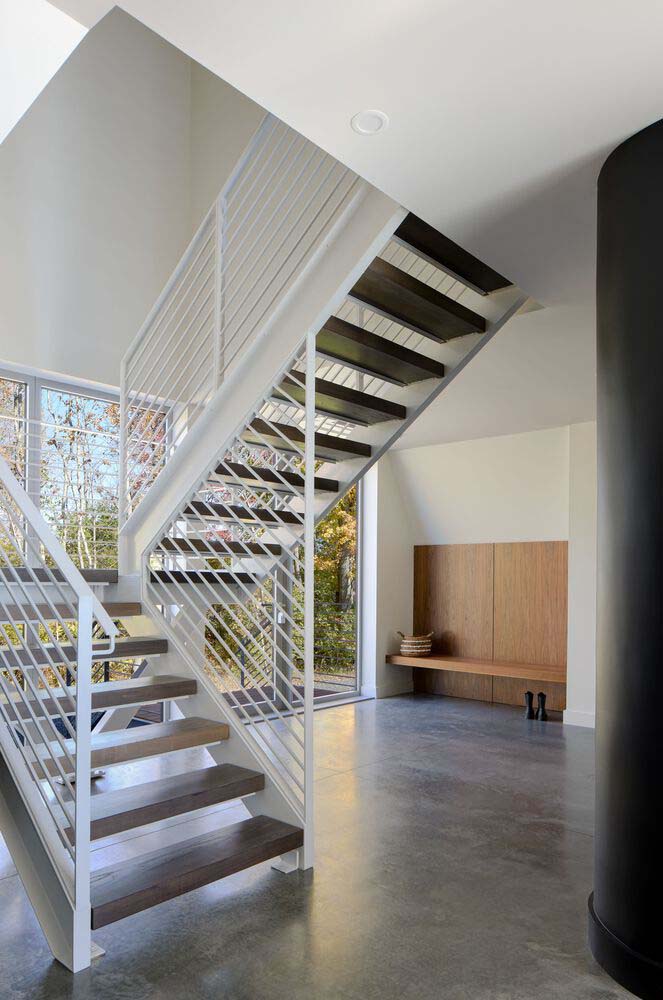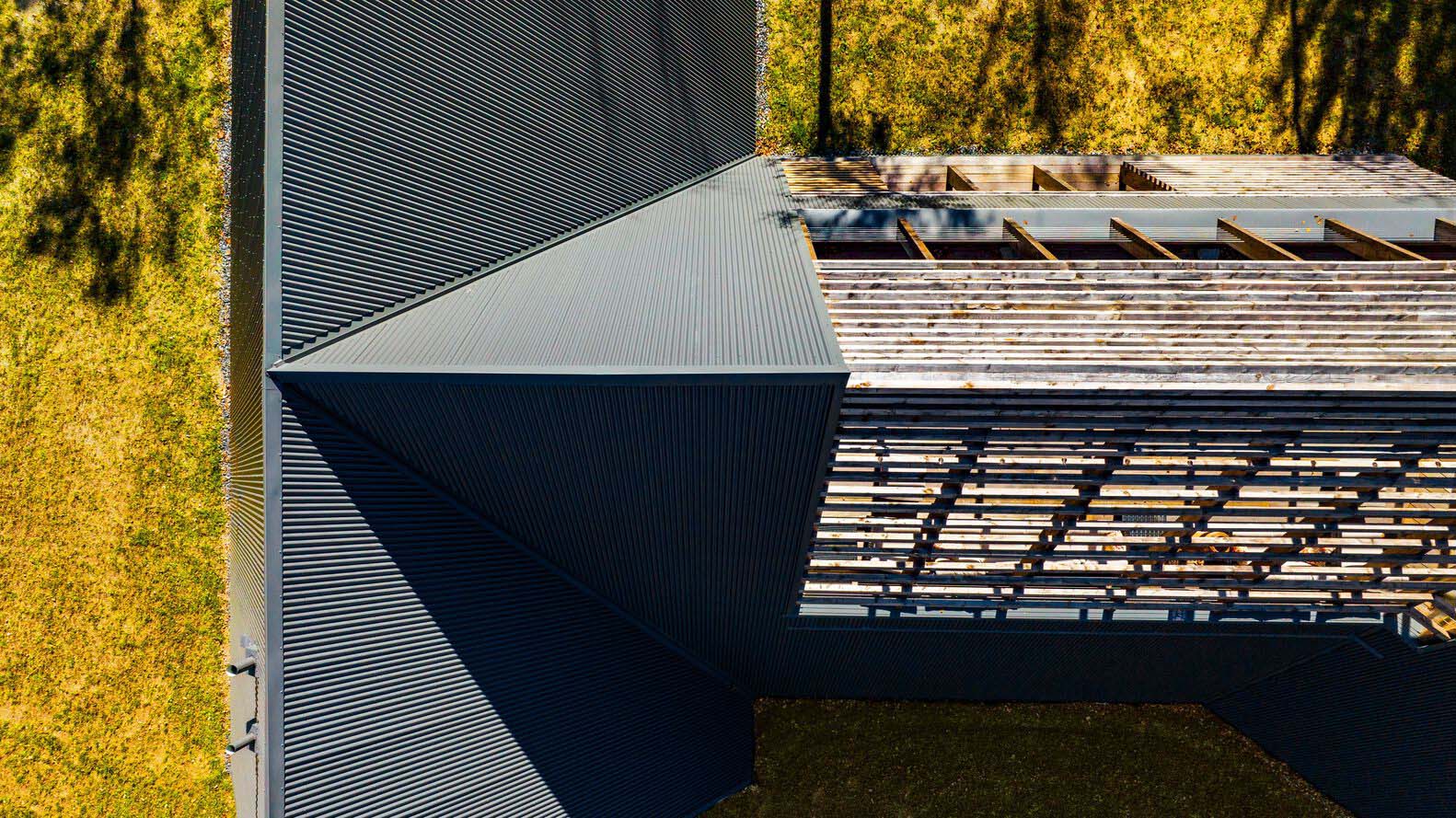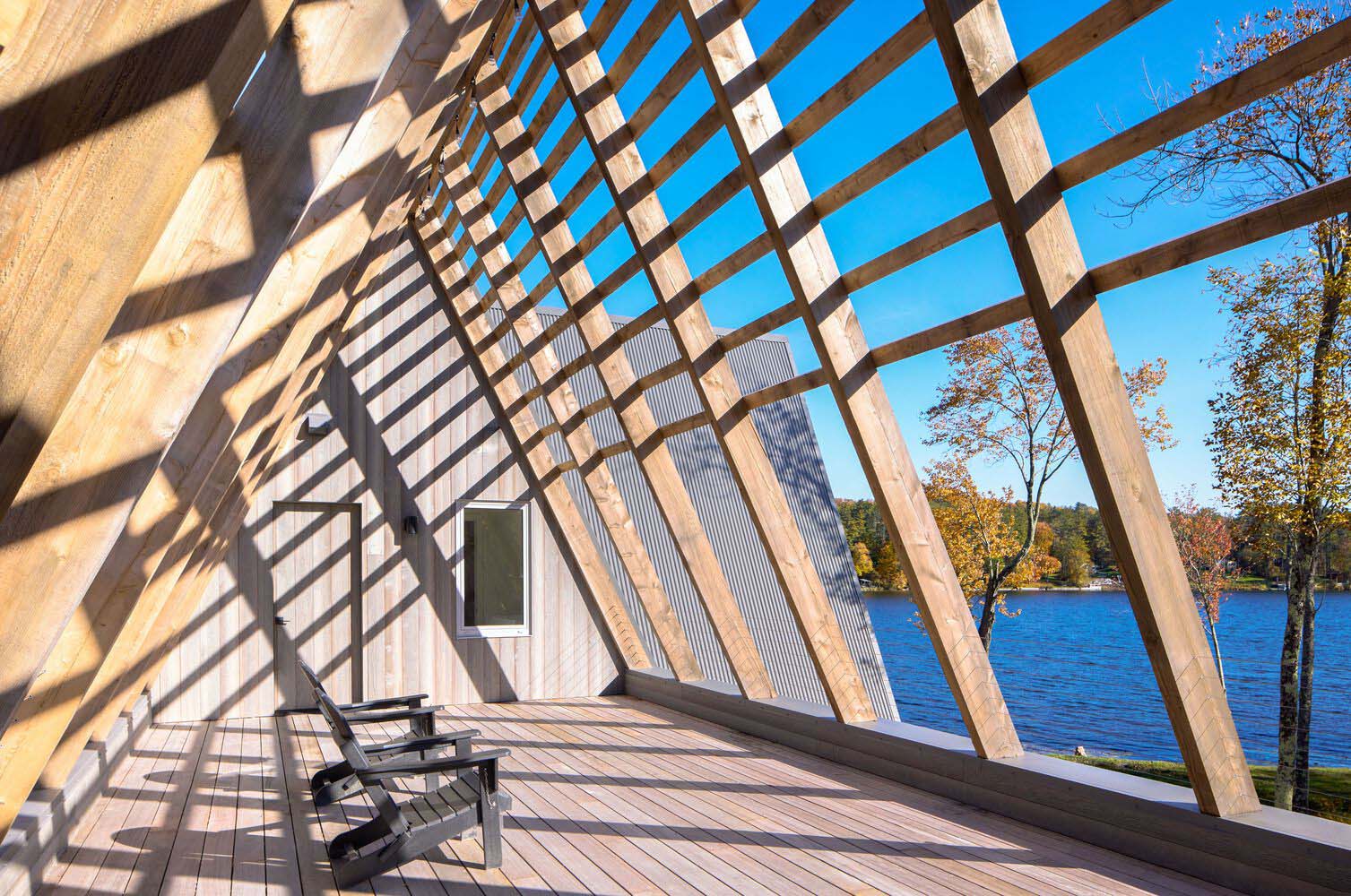 To ensure comfort year-round, the main living space incorporates an operable louver wall on the second floor, enabling natural ventilation and lighting. Exterior wood slats provide passive shading for south-facing windows, while fenestration is minimized on the north facade. During the winter months, an efficient gas stove supplements heating, and fresh air exchange is mechanically delivered through a whole-house HRV system. The landscape design preserves an existing wetland and minimizes plantings, creating a natural and seamless connection to the lake shore.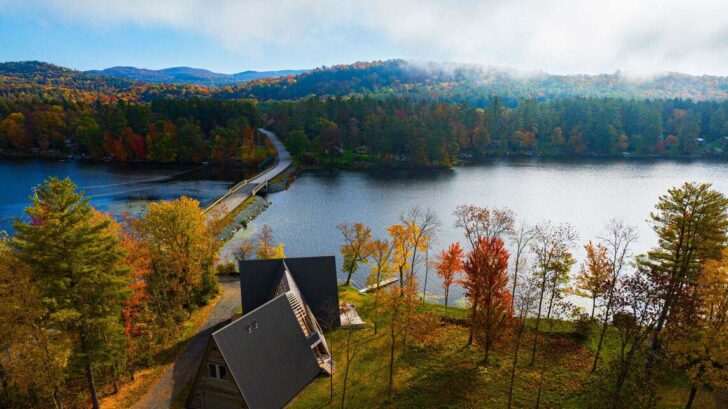 Project information
Architects: Birdseye – birdseyevt.com
Area: 3760 ft²
Year: 2022
Photographs: Erica Allen Studio, Ivar Bastress Photography, Birdseye
Manufacturers: AutoDesk, Benjamin Moore, Hewn Elements, Rais, Schuco
Lead Architect: Brian J. Mac
Structural Engineer: Artisan Engineering
Civil Engineer: Otter Creek Engineering
Mechanical Engineer: J.W. & D.E. Ryan
Project Manager: Jeff Kamuda
General Contractor : Silver Maple Construction
City: Castleton
Country: United States